We've been on a craft beer kick ever since we took a road and ferry trip to Alaska a few years back.  There aren't many wineries in the frozen North, so we went beer tasting at intriguing little breweries from Juneau to Homer.
Along the way, I developed a taste for stout.  It's the antithesis of light beer – one pint is enough to last me all evening – but I love its thick, creamy body and dark, bittersweet  flavors hinting of coffee and chocolate.
I never really thought of stout for dessert, though, until I tasted beer ice cream for the first time last October.  The hoppy kick of a good stout brought a pleasantly bitter edge along the lines of burnt sugar and dark caramel to the ice cream.
Since my efforts at recreating beer ice cream at that time were such a success, I've been musing about a cake with chocolate and beer for months.  A little  bite from fresh ginger seemed like a good idea, too.  St. Patrick's Day was the perfect excuse.
This cake is even better than I imagined.  It's dark and moist with a nice balance of chocolate and ginger underscored by the earthy notes of chocolate stout from Oregon's Rogue Ales brewery.  I'm sure it would work with Guinness, too, but this stout is exceptional.
The recipe is a mash-up of several ideas I picked up rummaging through my cookbooks.  The chief inspiration, though, was the gingerbread stout cake Rick Rodgers contributed to "Real Beer and Good Eats," by Bruce Aidells and Denis Kelly (Knopf, 1994).  I used it as a starting point for my experiments.
My first lesson in playing around with beer as a cake ingredient is that all the carbonation must be exhausted before you stir the beer into the  batter.  I had measured the beer out and let it sit for more than an hour before I made my first cake and that wasn't enough.
I knew I was in trouble when the batter started fizzing after the beer went in, but I just let it sit another half an hour before I scraped the batter into the pan, shoved it into the oven and crossed my fingers.  What a mess!  During baking, the batter rose so high, it overflowed the pan.  The cake was tall when I removed it from the oven but deflated as it cooled.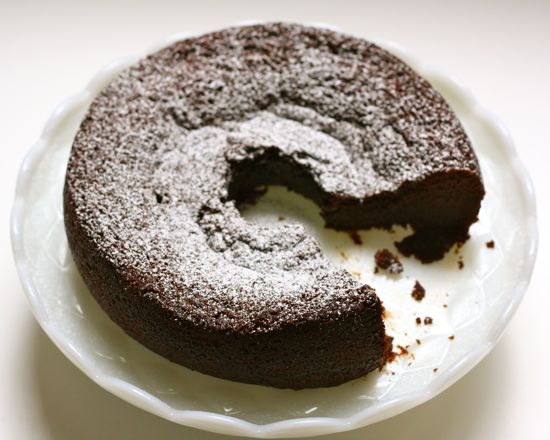 The flavor was a little too sharp and the texture was odd,  but it had possibilities.  So, the next day I set the beer out to go flat in the morning and mixed the batter with a different balance of cocoa, sugar, and ginger in the afternoon.  I substituted an organic corn syrup for half the molasses, too.
This cake was just what I was looking for, a substantial, not-too-sweet dessert with pronounced adult flavors.  It slumps a little in the middle because its so moist, but I consider that part of its homespun charm.
Of course, it pairs perfectly with beer although I prefer it with a nice cup of tea.
I'm sure the Irish would approve.
CHOCOLATE STOUT GINGERBREAD CAKE
Serves 8-10
2 1/4 cups all-purpose flour
1/4 cup natural, unsweetened cocoa powder
2 teaspoons cinnamon
1/2 teaspoon nutmeg
2 teaspoons baking soda
1/2 teaspoon kosher salt
1 cup (2 sticks) unsalted butter at room temperature
3/4 cup dark brown sugar
1/2 cup white sugar
2 large eggs at room temperature
2 teaspoons grated fresh ginger
1/2 cups dark molasses
1/2 cup light corn syrup
3/4 cup chocolate stout, totally flat, at room temperature
Powdered sugar
Preheat oven to 350 degrees. Butter and flour a deep tube pan.  Turn pan upside down and shake out any excess flour.
In a small bowl, sift together the flour, cocoa, cinnamon, nutmeg, baking soda and salt.  In the work bowl of a stand mixer, combine sugars and beat on high for 10 or 15 second.  Add butter and beat mixture until light and fluffy, about 1 minute.  Add ginger and molasses and beat until blended.  Reduce mixer speed to medium and beat in a third of the flour at a time, scraping down the sides of the bowl if necessary, until it is completely integrated into the batter.  Reduce mixer speed to low and stir in the flat stout until thoroughly blended.
Pour batter into prepared baking pan and bake about 45 minutes, until the cake begins to pull away from the sides of the pan and a toothpick inserted into the center comes out clean.  This is a very moist cake and it's important to get it baked through without drying it out.  If you want to be more precise, an instant read thermometer should register about 200 degrees when the cake is done.
Remove pan from oven and let rest on a wire rack until cool.  Transfer to a cake plate and dust with powdered sugar before serving.
Aleta Watson