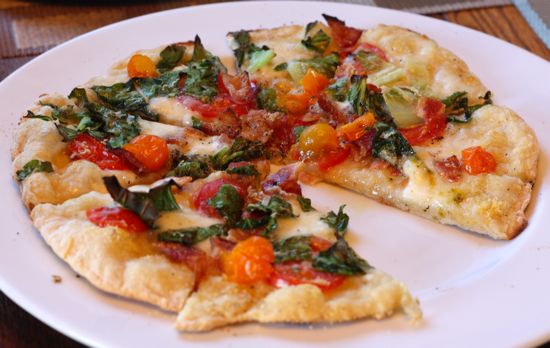 Late summer is my favorite time of the year in the garden. The flowers are fading, it's true. But the tomatoes are coming on strong and nothing beats a fresh tomato plucked straight off the vine.
This year, the tomato plants are going crazy in the raised beds we built in the parking strip between the sidewalk and the curb.  Even though we're in Portland, there have been plenty of hot, sunny days to turn our six plants into monsters threatening to reach out and grab passersby.
We have a  gazillion little Sungolds and the vines are drooping under the weight of the early-ripening Stupice, orange Jaune Flamme and almost purple Japanese Black Trifele.  Even the heavyweight Box Car Willies are beginning to ripen.
We've been gorging on tomatoes in every possible manner–salads, sandwiches, pasta, side dishes.  Then, the other day, I began fixating on the idea of a BLT pizza.  We'd cook it on the grill since it was much too warm in the house to turn on the oven.
The idea was to layer garlic, bacon, fresh mozzarella, tomatoes and–yes–lettuce on a round of pizza dough and top it with a shower of freshly grated Parmigiano Reggiano.  The lettuce would be crunchy Romaine, which I knew holds up nicely to a grilled Caesar salad.
My family was game to try but we were a little hesitant to go whole hog the first time out.  So we baked one pizza with a light sprinkling of romaine and topped another with fresh lettuce as it came off the grill.  The cooked lettuce won, hands-down.  Everyone was surprised by how good the grilled lettuce was.  It added an extra layer of texture and mild flavor, slightly sweet and a barely bitter, that played well against the tomatoes.
Next time out, we were much more generous with the lettuce before we slid the pizza onto the grill. It was even better.
If you've never grilled a pizza, you're in for a treat.  We've tried several approaches and prefer to use pizza stone tiles in our gas grill for convenience.  We put the tiles on the rack, preheat the grill to it's highest temperature–600 degrees in our case–and slide the unbaked pizza onto the stone.  About 7 minutes later, we have a great pizza with a crisp, properly charred crust and lightly browned toppings.
For easier handling, I usually place the rolled-out pizza dough on a piece of parchment paper atop a peel or rimless baking sheet before I add the toppings.  We slide the whole package onto the preheated stone, then pull the paper out a couple of minutes into the baking time.  If you're cooking several pizzas in succession, you'll want to give the grill a few minutes to recover lost heat before you put the second one in to bake.
You don't have to make your own dough.  I often use the fresh dough from the supermarket cold case.  But I get the best results when I make my own, preferably with low protein flour like King Arthur's Italian-style flour, which I found at Sur La Table.  This flour produces a soft dough that is easy to roll out and crisps up beautifully.  A warning, though:  it requires less water.  If you don't adjust your usual recipe a bit you'll end up adding a lot more flour at the end in order to roll out the floppy, sticky dough.
We've found some phenomenal pizza in Portland.  At the moment, though, this home-grilled BLT is our favorite.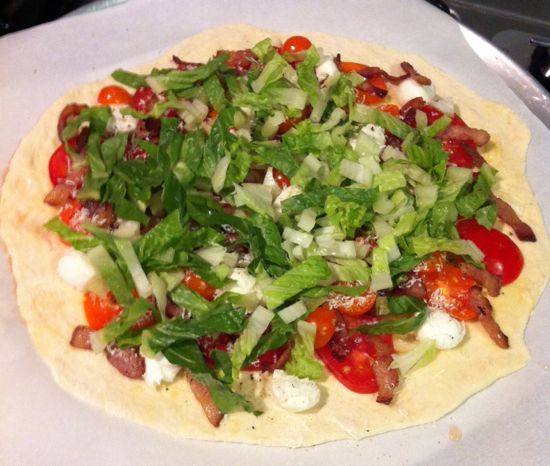 GRILLED BLT PIZZA
Makes two medium pizzas
1/2 pound bacon
1 pound pizza dough
2 tablespoons extra virgin olive oil
4 cloves garlic, chopped coarsely, or more to taste
5-6 medium salad tomatoes, sliced
8 ounces fresh mozarella
1 cup of small cherry tomatoes, halved
6-8 leaves romaine lettuce, coarsely chopped.
1/2 cup grated Parmigianno Reggiano, or more to taste
Salt and freshly ground black pepper to taste
Place pizza stones on rack of a covered grill and preheat on the highest temperature.
Cut bacon crosswise into 1/2-inch slices and place in a large skillet over medium-low heat.  Cook slowly, stirring often, until bacon is cooked through but not browned or crisp. Remove bacon with a slotted spoon and transfer to a plate lined with a couple of paper towels to drain.
Cut pizza dough in half and roll out as thinly as you can into two rounds.  Transfer the rounds onto large sheets of parchment paper and place each on a peel, rimless baking sheet, or the bottom side of a rimmed cookie sheet.  Drizzle the dough with olive oil and spread out with a pastry brush.
Divide the toppings in half and distribute evenly over the two rounds of dough, starting with the garlic. Layer on the sliced tomatoes, mozzarella torn into small pieces, bacon, cherry tomatoes and chopped romaine.  Sprinkle Parmigianno Reggiano over all and season with salt and pepper.
Quickly slide pizzas and parchment onto the stone–you may need to grill them separately–and close the lid.  You don't want to lose any more heat than necessary.  After a minute or two, raise the lid briefly and jerk the parchment out from under the pizza so the dough is in direct contact with the stone.  Close lid and check the pizza after 5 or 6 minutes.  It will be done when the bottom is crisp and charred in places and the cheese has melted and started to brown.  It usually takes a little more than 7 minutes on our grill.
Slide the pizza out of grill and onto a tray or platter.  Cut into pieces and serve.
Aleta Watson