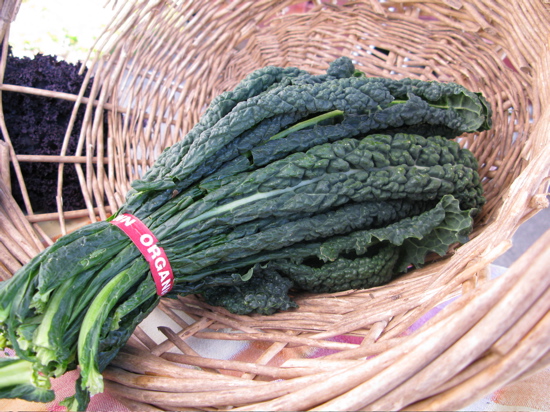 Italians call it cavalo nero, or black cabbage.
Here it's known as Tuscan, lacinato or even dinosaur kale – a relatively tender and mildly bitter member of the hardy brassica family. Although it's not as beautiful as some of its ruffled, brightly hued cousins, it's prized by cooks for its deep, savory flavor and meaty texture. It's all 0ver farmers markets at this time of year, a sturdy bearer of calcium, iron and vitamins C and A in the heart of winter.
Tuscan kale is the star ingredient in Italian dishes from robust ribollita soup to a wintery bruschetta. It has a real affinity for beans and grains, making it a favorite with vegetarians. But it also partners well with pancetta or bacon.
Simply braised, kale can be a bit austere. Paired with garlic, onions and a little red wine vinegar, it becomes more interesting. Dressed with olives, red pepper flakes and a little lemon, it becomes a delightful side dish for roasted meats and poultry. Continue reading Greens with an Italian accent →