No form of cooking intimidates beginning cooks quite like baking.  Because the chemistry must be precise for cakes to rise and cookies to achieve the right balance between chewy and crisp, there's very little room for error.
That doesn't mean it has to be mysterious or terribly difficult.   All aspiring bakers really need is someone to offer a little gentle guidance in the kitchen.
Pat Sinclair does just that in the newly revised second edition of "Baking Basics and Beyond" (Surrey Books, 2011).  She breaks all the steps in baking down into easy to follow instructions.  Sprinkled among the recipes and descriptions of ingredients and techniques are little tips I wish someone had shared with me long ago.  Who knew you could test whether the sugar has dissolved properly in a meringue by rubbing a little bit of the beaten egg whites between your fingers?
This cookbook has an old-fashioned feel and the recipes are not going to inspire adventurous bakers. But Sinclair covers all the homey baked goods most of us really crave, from biscuits and cobblers to brownies and tarts.
I might quibble with a few of her instructions.  I've never had much success using a pastry cutter as she recommends, although I've known home cooks – including my mother – who would swear by them.
My luck has been a lot better since I've learned to use my hands to blend the butter and flour.  I cut the butter into small cubes and rub them into the flour between my thumb and fingers with a quick motion, much like snapping my fingers.  It only takes a few minutes to produce a mixture resembling crumbled feta cheese with a few pea-sized chunks scattered about. I've described this hands-on approach in more detail here.
Scones are one of my weaknesses and this recipe attracted my attention because it includes cornmeal in the dough, which lends a nice crunch.  I've added a little lemon zest because I can't resist the combination of blueberries and lemon.
These little treats are simple to make.  You just stir them together, drop the batter on a cookie sheet and bake.  They come out of the oven with a crisp crust and fluffy interior.
Sunday brunch just got a whole lot easier.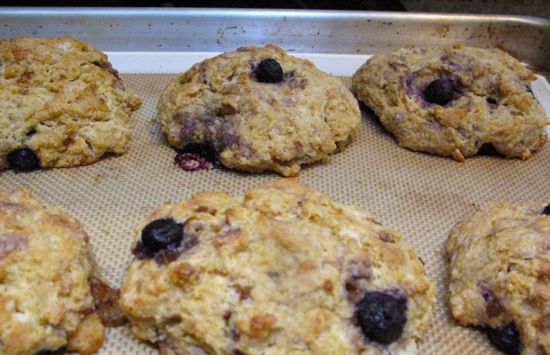 BLUEBERRY CORNMEAL SCONES
Makes 8 scones
1 3/4 cups all-purpose flour
1/2 cup plus 2 teaspoons cornmeal, divided use
1/3 cup brown sugar
1 tablespoon baking powder
1/2 teaspoon salt
1/3 cup butter, cut into 4 or 5 pieces
Zest of 1 lemon
2/3 cup milk
1/2 cup blueberries
Heat oven to 400 degrees with rack in the middle of the oven.  Grease a large cookie sheet or line with parchment paper or a silicone baking mat.  Sprinkle with about 2 teaspoons cornmeal.
Combine flour, cornmeal, brown sugar, baking powder and salt in a medium bowl.  Using a pastry blender or your fingers, cut butter into the flour mixture until it resembles coarse crumbs with some pea-sized pieces.  Stir zest into the milk and pour into the middle of the flour, stirring with a fork until a sticky dough forms.
Add blueberries and stir gently.  Drop dough on the baking sheet in 8 mounds of about 1/3 cup each.
Bake 16 to 20 minutes or until golden brown.  Serve warm or at room temperature.
Note: If you're substituting frozen berries for fresh, do not thaw berries before adding to the dough, and lengthen the baking time by a couple of minutes.
Adapted from "Baking Basics and Beyond," by Pat Sinclair