Tis the season of cookbooks.  Publishers wait until the last quarter of the year to release their best new culinary books in time for holiday giving and it's an exciting time for anyone as addicted as I am.
Still, I've had to put myself on a cookbook diet.  Only the books that really speak to me earn a spot on my overcrowded shelves now.  A few come over the transom as publisher releases.  Most I buy myself because I can't resist their siren call.
That means this year's collection of holiday cookbooks is an idiosyncratic lot.  The only celebrity chef in the bunch is Jacques Pepin, who earned his toque decades ago and has become a favorite.  The rest appeal to me because they teach me something new or offer a different perspective on a familiar theme.
There's a wide range here, from the gorgeous coffee table-worthy "The Food of Spain," by Claudia Roden, to the latest contribution from the ingenious "Five Minutes A Day" bakers, Jeff Hertzberg and Zoe Francois.  Take a peek.  These are cookbooks worth giving.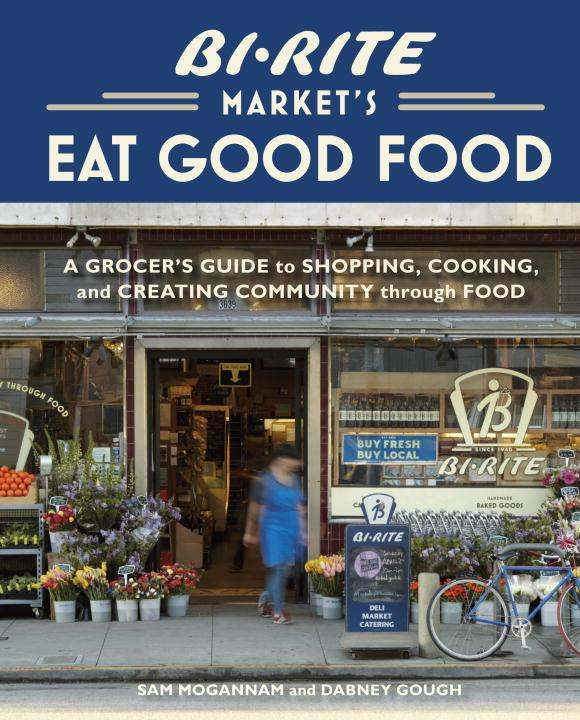 "BiRite Market's Eat Good Food," by Sam Mogannam and Dabney Gough (Ten Speed Press, 2011, $32.50)
Perhaps my favorite selection, this book is more about ingredients than recipes.  It's the story of a little neighborhood market that became a food lover's mecca in San Francisco's Mission district.   Owner Sam Mogannam, who cooked for a living before reluctantly taking up the family business, believes in local, seasonal and artisanal food.  He walks his readers through the jam-packed little market, sharing tips on shopping for everything from olive oil and sea salt to biodynamic wine.  The section on produce is organized by seasons and offers invaluable information on buying, storing and using fresh vegetables and fruit, starting with avocados and ending with pomegranates.  This is a reference book that already is getting a lot of use in my kitchen.
That would be reason enough to buy this book, but the recipes interspersed throughout are winners, too.  Spaghetti with tuna, capers, and chile flakes is one of the best pantry pastas I've ever made and I plan to pick up some Delicata squash at the farmers market this week to make the salad with arugula, fingerling potatoes and pomegranate seeds.
"The Food of Spain," by Claudia Roden (HarperCollins, 2011, $39.99)
When Claudia Roden writes, readers learn as much about history and culture as about cooking.  I've long relied on her cookbooks for the last word on Middle Eastern cuisine.  Now she's taken on Spain, tracing the culinary roots of a nation that more recently has built a reputation for adventurous cooking. The first section of the 610-page book is a beautifully photographed travelogue of Spain's major regions and their signature dishes.  Among the recipes are all the familiar classic dishes, including gazpacho and paella in several variations, as well as many dishes that will be new to anyone who hasn't been immersed in Spanish food.
I'm looking forward to spending more time with this treasure during the long, dark days of winter.  So far, though, I've eaten mostly with my eyes: the photographs are stunning.  When quinces were readily available, I made Roden's extremely simple dulce de membrillo, which roasts the astringent fruit slowly with sugar until it is transformed into a luscious, fragrant paste. Her spinach and chickpea soup from Castile, a Lenten specialty, is on my list for a rainy day in the near future.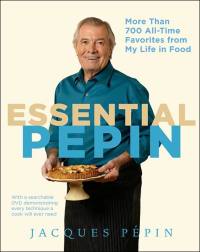 "Essential Pepin," by Jacques Pepin (Houghton Mifflin, 2011, $40)
I've never encountered a cookbook by Jacques Pepin that I didn't like.  He earned his reputation, making his name as a chef  long before he debuted on public television some 25 years ago.  He's a master who not only understands how to cook but also how to teach others to cook.
This new book is the culmination of a long career that has included more than 20 cookbooks.  It has the feel of a personal scrapbook filled with more than 700 updated recipes that span Pepin's wide-ranging food interests, from a classic fines herbes omelet to a Vietnamese-style soup.  In the place of the usual mouth-watering photographs are the chef's charming drawings.  Although recipes may be stripped down to match contemporary sensibilities, they're never simplistic.  I particularly liked his pumpkin au gratin, a luxurious dish made with eggs, cream and cheese that was far more than the sum of its parts.
On a modern note, Pepin has included a DVD  featuring videos on clarifying stock, trussing a chicken, making puff pastry and more.  Initially, I bought the Kindle version of the cookbook in order to view the videos on my iPad.  They were charming and very helpful, but the rest of the book didn't work that well in an electronic format.  So I bought the paper and ink version to browse and let inspiration strike.
"The Bonne Femme Cookbook," by Wini Moranville (Harvard Common Press, 2011, $24.95)
If your vision of real French food involves hours spent in front of the stove, it's time to meet Wini Moranville.  A freelance food editor and writer, Moranville and her husband have spent every summer since the early 1990's in France.  Along the way, she's picked up the secret of simple everyday French food a la bonne femme, French for "good wife."
This cookbook is packed with casual recipes with real French flair. They employ the same shortcuts French home cooks take all the time, frozen puff pastry and canned chicken broth among them.  I'm smitten by the chapter on poultry, which presents chicken in a delicious new light – just what we need at my house.  The osso buco-style chicken thighs with wine and tomatoes were great and the flavor was even better the next day.  I'm also looking forward to Moranville's streamlined version of coq au vin.  Desserts were a little disappointing, mostly simple fruit tarts and crepes.  That shouldn't have been a surprise, though.  The French leave elaborate pastries to the neighborhood patisserie, after all.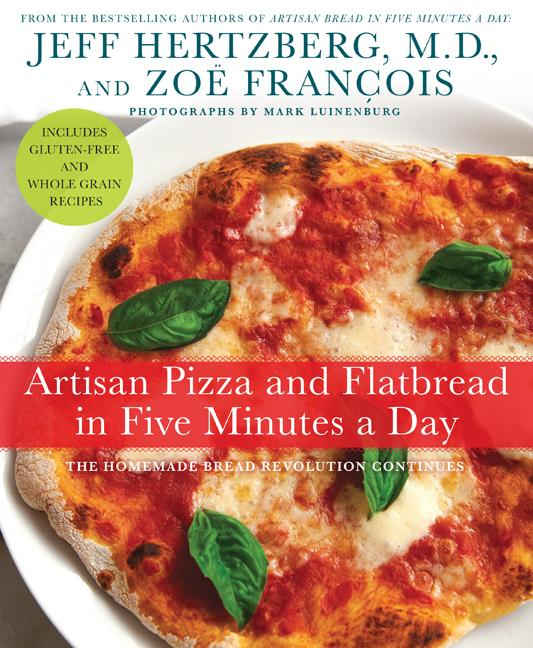 "Artisan Pizza and Flatbread in Five Minutes a Day," by Jeff Hertzberg and Zoe Francois (Thomas Dunne, 2011, $27.99)
The no-knead method of bread baking that Hertzberg and Francois popularized in their first cookbook was a stroke of genius.  It's very convenient to stir up a batch of dough and let it ferment in the fridge for a week or so until I'm ready to bake off a loaf.  However, I confess I've used the technique far more often for pizza than for loaves of bread or rolls.
So I jumped at the chance to review this new cookbook.  A number of the same or similar recipes can be found in the authors' two earlier cookbooks, but this one brings all of my favorites together under the same cover.  Plus there are new recipes, such as the one for stuffed naan and another for lahmacun, a Turkish spiced lamb flatbread.
I still haven't worked my way through all the pizza recipes but I can give two thumbs up to the individual breakfast pizzas.  What's not to like about sausage, spinach and cheddar cheese freshly baked on a pizza crust?   My husband really liked it with an egg on top, too.  This is going to be the go-to brunch dish at my house this holiday season.