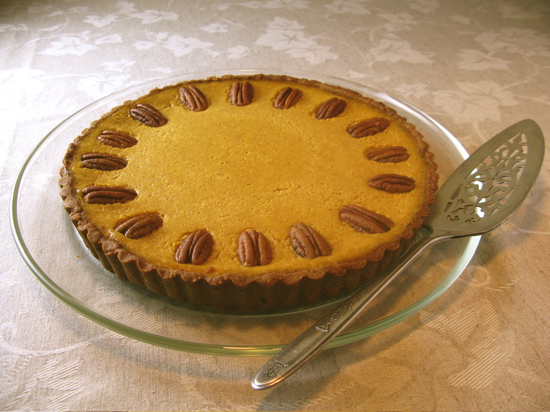 Most years, I reach for a can of pumpkin puree when I'm baking Thanksgiving pies. This fall, though, the cute little Sugar Pie pumpkins called out to me from their bins at the market.
They're locally grown, organic and perfectly packaged – the only waste goes straight into the compost bin. Plus they really do taste better, with a lovely, delicate flavor unsullied by tin can undertones. I've become a convert.
Preparing these little pumpkins isn't that difficult: Split them in half vertically, scrape out the seeds, and bake them in a 400-degree oven for about an hour, until a knife easily pierces the skin. Let them cool a bit, scoop out the pulp and whirl in a food processor and you're set. You could mash the pulp with a potato masher or put it through a ricer, but the processor makes a smoother puree for pies.
Although the tiniest pumpkins are appealing, look for one around 3 pounds or more. The 5 pounder I baked yielded almost 5 cups of puree.
Such luscious, fresh-tasting puree calls for something more special than my usual pie. So I created a new tart recipe that contrasts the pure pumpkin flavor of a silky custard with the dark and spicy character of a crisp gingersnap cookie crust. Continue reading Fresh pumpkin tart for Thanksgiving →