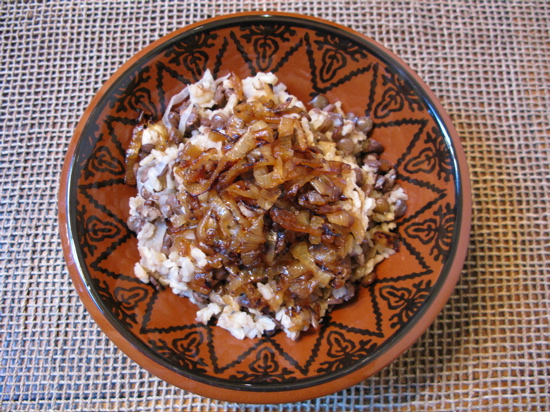 Times are tough. Unemployment is growing, the Dow Jones is plummeting and my 401K is a mere shadow of its former self. (Yes, I did peek at the online statement last week and, no, that wasn't such a great idea.)
What we need now is some good, cheap food that doesn't leave us feeling even poorer when we get up from the table. My candidate is a wonderful dish of rice, lentils and onions beloved in the countries rimming the Mediterranean from Greece to Morocco.
I first tasted this earthy pilaf at a Lebanese cafe in Portland, Oregon. Smitten, I knew I wanted to make it at home and I found numerous recipes with different spellings of the name, mujadra. They were all very similar. My version uses brown rice to boost the nutrition.
This is one case where the whole really is greater than the sum of its parts. Continue reading Good food for a bad economy →