I've yet to meet an Asian salad I didn't like.  The sour, sweet and salty flavors in combination with crunchy textures are so intensely satisfying.  Green papaya salad, noodle salad, Cambodian shredded cabbage salad, even that old standby, Chinese chicken salad – they all get my vote.
My latest obsession is this Asian salad made with crisp radishes and fat green onions, some of the best produce of the season.  The English cucumbers grow in Watsonville greenhouses year-round, so I include them and the fresh herbs in seasonal produce, too.  Throw in poached chicken, some glass noodles, a little chile and cashews and I'm happy.
This recipe began in a terrific cookbook by the revered British cookery writer, Simon Hopkinson,  The original is semi-vegetarian.  By that, I mean Hopkinson uses fish sauce in the dressing.  Neither meat nor poultry make an appearance, however, in "The Vegetarian Option"  (Stewart, Tabori & Chang, 2010).
Still, I'm a self-confessed carnivore and if I'm making an elaborate salad for dinner, I like to include a little protein to tide me over til morning.  This recipe just called out for chicken thighs poached with Asian spices.
I didn't make the ginger syrup and sesame paste recipes that the author specifies.  Not only do fear my old food processor is not up to the job of grinding sesame seeds, but I also can't see devoting so much energy to an ingredient of which I'm only going to use one tablespoon.
Thankfully, the juice from a jar of pickled ginger and some roasted sesame tahini made acceptable substitutes after they were dressed up with a little sugar and chile flakes.  I'm sure the originals are better but life is short, even for the food-obsessed.
What makes this salad work so beautifully is the interplay of textures, sparked by chile, lime juice and fresh mint.  Every bite has the clean, fresh flavors I crave at this time of year, when you never know whether spring or winter will show up tomorrow.  With this salad, I'm casting my lot with spring.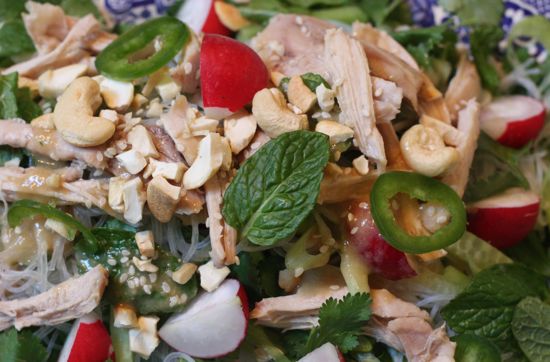 ASIAN CHICKEN SALAD WITH RADISHES
Serves 4
1 pound chicken thighs or breasts
1/2-inch slice fresh ginger
1 star anise pod
4-5 Sechuan peppercorns
1 small shallot, peeled
3-4 ounces bean thread noodles (also called glass noodles), broken in half
1 tablespoon juice from pickled ginger
1 tablespoon roasted sesame paste (tahini)
Juice of 2 limes
1 tablespoon fish sauce
1 tablespoon toasted sesame oil
1/2 teaspoon sugar
1/8 teaspoon red pepper flakes, or more to taste
1/4 cup raw cashews
Small bunch radishes
Small bunch green onions
1/2 English cucumber, peeled
Handful of mint
Handful of cilantro
1 jalapeño chile
2 teaspoons toasted sesame seeds
Poach the chicken:  Pour enough cold water in a large saucepan to cover the chicken.  Add ginger, star anise, peppercorns and shallot.  Bring liquid just to a boil over medium high heat, then turn temperature down and add chicken, using a saucer or other weight to keep the pieces submerged.  Partially cover pan with a lid and simmer chicken very slowly for about 30 minutes.  Check to ensure chicken is cooked through and cook a little longer if necessary.  Turn off heat and let chicken cool in poaching liquid for half an hour before removing to a plate.  When chicken is cool enough to handle, shred meat into strips.
Soak noodles:  While the chicken is cooking, cover noodles with cold water in a medium bowl and let soak for half an hour.  Drain off cold water.  Cover noodles with boiling water and, using a fork, lift and separate noodles for a few minutes until soft.  Drain off hot water, rinse in cold water until cool, and set aside.
Toast nuts:  In a small skillet, toast cashews over medium heat for a few minutes until golden brown.  Sprinkle with salt and remove to a small dish.  When cool, chop roughly.   Add sesame seeds to pan and toast briefly until lightly browned.  Transfer to a dish to cool.
Make dressing:  In a small bowl or measuring cup, whisk together the pickled ginger juice, sesame paste, lime juice, fish sauce, sesame oil, sugar and pepper flakes.
Make salad:  Trim and cut radishes into small wedges or slices.  Slice onions thinly on a diagonal.  Cut cucumber into slender matchsticks.  Combine cut vegetables in a large bowl with noodles.  Tear mint and cilantro leaves and add to the mixture.  Seed and chop chile and toss with vegetables and noodles.  You may need to use your hands to blend the ingredients well.  Add chicken and toss.
Serve: Arrange salad on a large platter or individual plates and sprinkle with cashews and sesame seeds.
Inspired by Asian salad in "The Vegetarian Option," by Simon Hopkinson