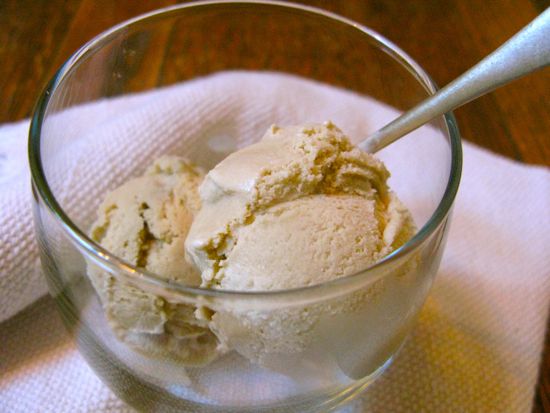 Most Oktoberfest menus are pretty predictable – oceans of beer, mountains of sausage, sauerkraut, and maybe freshly baked pretzels.
Santa Cruz, though, takes pride in leaning off-center.  The music at Santa Cruz Mountain Brewery's fifth annual Sausagefest last weekend was country.  Frauleins sported elaborate tattoos with their flirty barmaid drindls.  And the popular Penny Ice Creamery served beer ice cream.
There weren't a lot of takers  for the Devout Stout-flavored ice cream early in the evening, but I couldn't resist.  A scoop in a pint jar with a little of the same beer was the best thing I had all night.  It was thick, creamy and lightly sweet with flavors of coffee, caramel and a pleasantly bitter hint of burnt sugar.  Even before I left, I knew I was going to have to try to make it at home.
It turns out that beer ice cream isn't that rare.  Mentions can be found all over the Internet.  Most of the recipes don't sound very appealing, however.  Some don't bother to cook the eggs.  Others add molasses or chocolate to round out the beer flavors.
I decided to riff off a basic French-style vanilla ice cream.  First, I reduced some good dark beer with a little brown sugar to make a syrup and cook off most of the alcohol.  Then I substituted the beer syrup for some of the cream in the formula.  It turned out even better than I hoped.
The secret to good beer ice cream, of course, is good beer.  A can of Bud just won't do. But any well-crafted stout or porter is worth a try.
The artisan Devout Stout is a wonderful, dark and deeply flavored brew.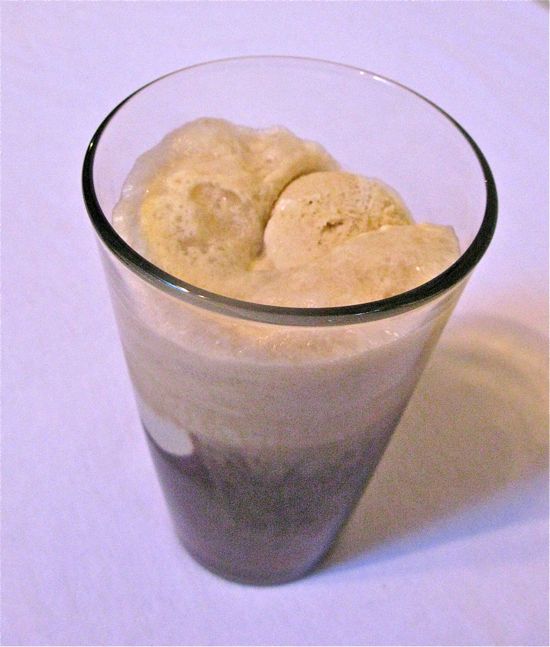 I would have used it if we could have found any in all the usual places.  When we didn't, I turned to that reliable supermarket standby, Guiness Extra Stout, for the first batch.
It was very nice although a little rough around the edges.  If I hadn't tasted the Devout Stout ice cream, I would have declared it a winner.
Still, I knew the ice cream could be better.  So I snagged some Black Butte Porter, my husband's favorite, for the next try.  Smoother and more nuanced, it was just right.
The only thing better than this ice cream is a float made with the same beer.  Give it a try. You'll be amazed.
BEER ICE CREAM RECIPE
Makes 1 quart
1 cup good stout or porter beer
2 tablespoons brown sugar
1 cup whole milk
1½ cups heavy cream
½ cup superfine sugar
4 large egg yolks
1 teaspoon vanilla
In a small saucepan, stir brown sugar into beer and bring mixture to a  simmer over medium low heat. Watch it carefully and reduce heat if beer foams and looks as if it will boil over.  Cook until beer has reduced to about ½ cup.  Set aside to cool.
Pour ½ cup of cream and cooled beer into a large bowl or 4-cup glass measure and place a mesh strainer over the top.   In a medium bowl, beat together the egg yolks with a whisk or fork.
Combine milk, superfine sugar and remaining cream in a medium saucepan  and warm over medium heat for a few minutes until tiny bubbles begin to form on the sides of the pan.  Pour the cream slowly into the egg yolks, whisking as you pour, then return mixture to the saucepan.  Place saucepan over medium heat and cook, stirring constantly, until the mixture thickens and coats the back of a spoon.  (The temperature should read about 170 degrees on an instant read thermometer.)
Pour the hot custard through the strainer into the cream and beer.  Add vanilla and stir.  Chill for at least two hours.
Freeze in ice cream maker according to manufacturer's instructions.
Aleta Watson