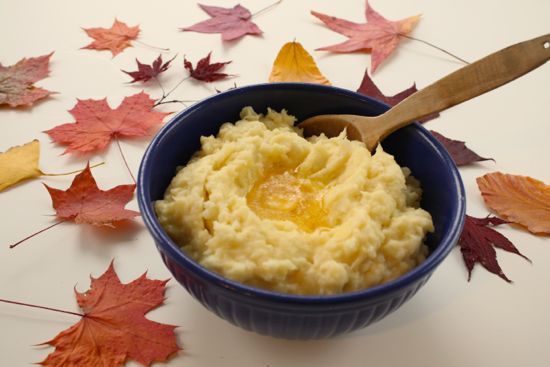 Apart from the turkey, few dishes are sacrosanct on our holiday table. Mashed potatoes are one of them.
It just wouldn't be Thanksgiving without a big bowl of fluffy mashed potatoes to serve as a counterpoint to all the bold, savory flavors of the feast.  We may steer away from spuds most of the time in the interest of limiting carbohydrates, but not on the fourth Thursday of November.
For years, only one variety of mashed potatoes ever graced our table–the "Silver Palate" recipe introduced to us by a co-worker at the Mercury News.  It's an indulgent dish, loaded with butter, and cream cheese that's hard to beat.
Then I ran across this recipe for Cauliflower, Aged Gouda, Mashed Potatoes while checking out the new "Le Pigeon: Cooking at the Dirty Bird" by acclaimed Portland chef Gabriel Rucker (Ten Speed Press, 2013).  It's definitely going to be on the Thanksgiving menu.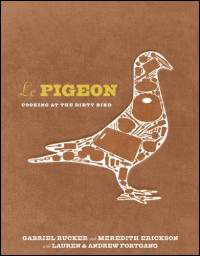 Although the cookbook is great fun, with an irreverent narrative and truly imaginative recipes, I knew I wasn't likely to be making lamb tongue fries, smoked rabbit pie or beef heart with broccoli and Parmesan anytime soon.
These mashed potatoes, though, caught my eye.  The recipe was so simple and the flavors so intriguing.  Rucker specifies aged Gouda for its deep, almost caramel taste.
The finished dish was amazing.  It was mashed potatoes but more–the earthy potato flavor balanced with sweet top notes from the cauliflower and the deep bass undertones of  savory cheese.  Rucker doesn't stint on the butter or cheese either.
Perhaps best of all for the harried holiday cook, these are some of the easiest mashed potatoes I've ever made.  Everything is done in one pot and, although you could use a ricer for a more elegant, velvet texture, an old fashioned hand masher does a great job of smooshing everything together. I actually prefer the more rustic texture.
If that weren't enough, the potatoes reheat beautifully.  You could make them ahead, refrigerate them, and return them to the oven to warm up while the turkey is resting before it's carved.
As long as we're talking about cooking ahead, why not make the turkey gravy in advance, too.  This Kitchn recipe, adapted from the New York Times, is terrific, although you may want to increase the roux a bit to thicken it a little more.   I stashed a quart of it in the freezer last week.
Next up: Pumpkin rolls

Cauliflower & Aged Gouda Mashed Potatoes
A simple recipe with earthy potato flavor balanced with sweet top notes from the cauliflower and the deep bass undertones of savory gouda cheese
Author:
Gabriel Rucker (adapted by Aleta Watson)
Ingredients
3 pounds russet potatoes, peeled and quartered
1 medium head cauliflower, cut into florets
½ cup unsalted butter
½ cup heavy cream
4 ounces aged Gouda, grated
Sea salt and freshly ground pepper
Instructions
In a large pot of salted water, combine potatoes and cauliflower and bring to a boil. Turn down to a simmer so the potatoes don't explode. Cook until potatoes are fork tender, about 15 minutes and drain in a colander.
In the cooking pot, off the heat, combine the butter, cream and grated cheese. Return potatoes and cauliflower to the pot and mash them with a potato masher, rotating the masher and stirring as you work to mix the ingredients well. Season to taste with salt and pepper and serve.
Adapted from "Le Pigeon: Cooking at the Dirty Bird," by Gabriel Rucker