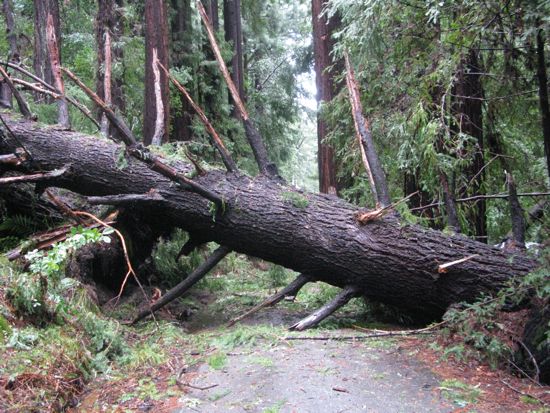 Life has thrown me a few curve balls in recent days.  One of the most inconvenient was the loss of power, water and access to the files on my desktop computer for nearly a week.
I do have an appetizing food photo to go with this post, truly I do.  Sadly, it's still locked up on the other computer, though. So I'm going to beg your indulgence and offer this shot of the culprit in all this–the 200-year-old fir tree that decided to depart this life during a blustery storm last week.  It uprooted and fell with a tremendous thud, crushing our water tank, blocking the road and taking down power and cable lines.
Thankfully, I had already worked out this recipe for oricchette with broccoli rabe.   Just thinking about this dish brightens my day.
It's a variation on the Italian classic and one of the best ways I know to use that leafy vegetable also known as rapini.  The name of the pasta translates to "little ears" and the wilted greens of the sauce cling nicely to the small, cupped shapes.  Penne, ziti or rotelle will do the job nearly as well, however, if you can't find oricchete at your market. Continue reading Pasta with broccoli rabe & goat cheese brightens gloomy winter days →