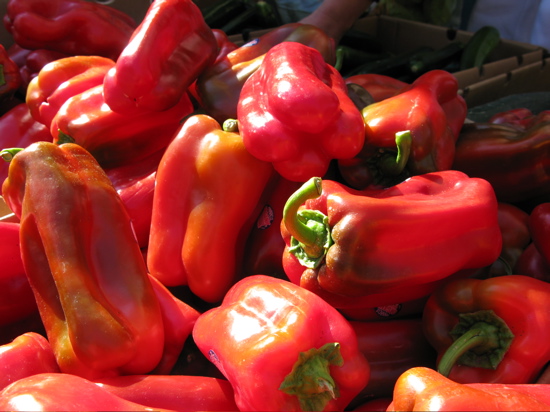 We can buy red and yellow bell peppers year-round at my neighborhood grocery store. Usually hot house-grown, frequently imported, they contribute welcome color and crunch to our salads during the dreary winter months.
They have little in common, however, with the gorgeous vine-ripened bells that overflowed the bins at our local farmers market last weekend. Large, glossy and richly colored, these thick-walled peppers were meaty and packed with sweet flavor.
Such luscious peppers are among the last gifts of summer. They almost make up for the fact that this year's tomato harvest is in its waning days. Soon the warm weather produce will be gone and all that will be left in the market will be the sturdy greens, squash and root vegetables of fall and winter.
With such an abundance of appealing peppers at bargain prices, I couldn't resist buying a bagful to cook in the Italian manner with garlic and olive oil. To make the most of their sunny flavor, I cooked the bells slowly and gently until they almost melted into a savory jam perfect for spreading on bruschetta, topping polenta or accompanying pan-roasted chicken. A few capers and olives provided textural interest and seasoning.
If you like roasted peppers from a jar, you'll be impressed with how much livelier the flavor is when you prepare them yourself.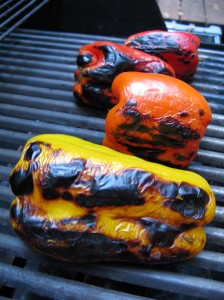 The first step is to char the peppers. I like to do this on a gas grill, where I have more control of the process. But you can do it over a stove burner or under a broiler. Don't be afraid to get them black all over. The skin is so much easier to remove when the pepper has been thoroughly charred.
Next put the the charred peppers in a bowl, cover it tightly with a plate or plastic wrap and let them steam for about 15 minutes. This releases the peel from the flesh. When the peppers have cooled, rub the skin off with your hands. Resist the urge to rinse the peppers under running water to speed up the process and get off every last bit of peel. This will just dilute the flavor.
Carefully remove the core and seeds, then slice as directed for the recipe.
All that remains is to simmer the peppers slowly over medium to low heat for about half an hour to caramelize the natural sugars and intensify flavors. Serve warm or at room temperature.
ROASTED PEPPERS WITH GARLIC, CAPERS AND OLIVES
Serves 4
4 large ripe bell peppers
2 tablespoons olive oil
2 cloves garlic, smashed, peeled and coarsely chopped
3 tablespoons water
2 tablespoons capers, rinsed
8 Nicoise olives, pitted
6 large basil leaves, shredded
Salt and freshly ground black pepper
Char, peel and remove core and seeds from peppers. Slice lengthwise into 1-inch strips.
Warm olive oil over medium heat in a medium-sized skillet. Add garlic and cook, stirring, until it begins to brown. Add peppers, water, capers, olives and basil. Bring to a slow simmer, reduce heat to low and cook for about 30 minutes, stirring occasionally, until peppers are tender and juices have thickened. Season to taste.
Serve warm or at room temperature.
Aleta Watson