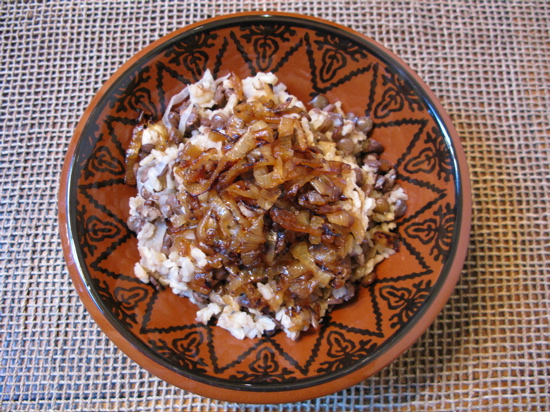 Times are tough. Unemployment is growing, the Dow Jones is plummeting and my 401K is a mere shadow of its former self. (Yes, I did peek at the online statement last week and, no, that wasn't such a great idea.)
What we need now is some good, cheap food that doesn't leave us feeling even poorer when we get up from the table. My candidate is a wonderful dish of rice, lentils and onions beloved in the countries rimming the Mediterranean from Greece to Morocco.
I first tasted this earthy pilaf at a Lebanese cafe in Portland, Oregon. Smitten, I knew I wanted to make it at home and I found numerous recipes with different spellings of the name, mujadra. They were all very similar. My version uses brown rice to boost the nutrition.
This is one case where the whole really is greater than the sum of its parts. Cooked together, the humble trio of ingredients produces a pleasing contrast of textures and a delightful interplay of mellow rice, nutty lentils, and impressively sweet, caramelized onion. The rice and lentils create a complete protein much in the same way as beans and rice or cornbread and black-eyed peas. And the cost is minimal. A one pound bag of lentils costs as little as $2. Buy them in bulk and they're even less.
What makes this dish extraordinary is the care that's lavished on such simple ingredients. You could just chop up the onions and fry them in a few minutes but they wouldn't compare to sliced onions slowly cooked until they're golden brown, silky and amazingly sweet. Likewise, the rice and lentils can be cooked together to speed things up, but the lentils are likely to turn mushy. Stir them together at the last minute and they retain their texture.
Mujadra is not difficult to prepare but it does take a little time, particularly if you use brown rice as I recommend for better flavor and nutrition. Fragrant brown jasmine is an especially nice choice. On the other hand, it makes great leftovers and tastes even better the second day. Yogurt is a good accompaniment but not essential. Neither is the parsley.
Claudia Roden, writing in The New Book of Middle Eastern Food
(Knopf 2000), notes that this dish was so popular in Cairo that when her aunt apologized for serving the "food of the poor" to guests they assured her they preferred it to the food of kings. I don't know if I would go quite that far but I do know I never feel deprived when I eat mujadara.
I hope you enjoy it, too. Just don't try to substitute red lentils, which often disintegrate during cooking, for the more sturdy brown or green varieties.
And be patient. A dish this good is worth a little effort.
MUJADRA
Serves 6
3 large onions
4 tablespoons olive oil
1 cup brown long-grain rice
1 cup brown or green lentils
Pinch cumin
2 tablespoons minced parsley
Salt and pepper
1 cup Greek yogurt (optional)
If you are using a rice cooker, start the rice first, following the manufacturer's instructions. It can take an hour and a half or more.
Slice onions in half vertically and then into ¼-inch slices. Heat olive oil in a large, heavy skillet or Dutch oven over medium heat. Add onions and toss in oil. Cover pan and let onions sweat for about 10 minutes, stirring occasionally. Remove lid and continue to cook uncovered about 10 minutes until they begin to color a pale golden brown.
Remove about half of the onions from the pan, reserving the rest, and stir into the brown rice if it is already cooking. If you're cooking rice on the stove top, start it now. Bring 2½ cups of water to boil in a medium saucepan with a tight fitting lid. Stir in rice and onions, cover pan and reduce heat to a simmer. Cook for about 35 minutes, until rice is tender and water is absorbed. It may take longer.
In the meantime, pick over lentils, rinse in cold water and drain. Place in a medium saucepan with cumin, add water to cover lentils by 1½ inches and bring to a boil. Simmer, covered, until tender but not mushy, about 30 minutes. Add more water if necessary so they don't stick to the pan.
About 15 minutes before you expect the lentils to be done, bring the reserved onions back on the heat and cook slowly over medium to low heat until they turn a deep brown. They should be soft, sweet and caramelized.
When the rice is cooked, stir with a fork to fluff up the grains. Drain lentils if necessary and carefully fold them into the rice. Season to taste with salt and pepper. Turn rice into a wide serving bowl, top with the caramelized onions and sprinkle with parsley. Pass yogurt, if using, as an accompaniment.
Aleta Watson