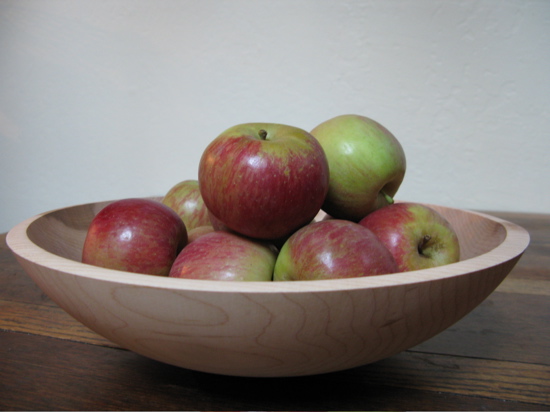 If the sun is beginning to ride low in the sky and the evening breeze carries a hint of frost now and then, it must be apple harvest time. This is one of my favorite seasons of year, when apple growers start bringing their crisp Fuji, tangy Arkansas Black Twig, mellow Mutsu, and crunchy Newtown Pippin apples to the farmers market. If I'm lucky, there will be a few Winter Banana and Esopus Spitzenberg varieties in the mix.
Just-picked apples are vibrant testimony to the glories of locally grown fruit in season. Bite into a Fuji fresh off the tree and that imported Granny Smith from the supermarket seems bland and boring by comparison. The green and red striated Fuji, with a touch of russet at the shoulders, is so crisp its flesh almost cracks at the bite. Its bright flavor is nicely balanced between sugar and acid. No wonder it's become so popular since it was first introduced into the U.S. from Japan in the 1980s.
I'm lucky I live near California's Pajaro Valley, where apple trees have dotted the gently rolling hills since the mid-19th century. Although many apple orchards have been supplanted by high-profit strawberry fields, some growers continue to raise uncommon varieties such as the Arkansas Black Twig with its firm flesh and complex, wine-like flavors. The tart, green Newtown Pippin, America's first export apple in the 18th century, still grows in many area orchards. Although most of the crop goes into juice, it's a great pie apple.
Finding one of these old varieties among a farmer's boxes is like reuniting with an old friend. Each has a distinct, endearing personality.
At the beginning of the season, it's delight enough to munch on a fresh, crunchy apple. But I'm a cook and I can't resist the prospect of pies piled high with apples. For years, I've made a rustic pie based on my late mother-in-law's unwritten recipe. She would roll out enough dough for a double crust pie, lay it in a pie pan and fill it as high as possible with thickly sliced apples. A squirt of lemon, a little sugar, a bit of flour and a dusting of cinnamon were the only additions. Then she would fold the crust up around the pyramid of apples, leaving a small hole at the summit, and bake it.
Firm, tart apples star in this pie. The flaky crust, although terrific, plays a supporting role. So when I spotted a recipe for a crustless apple crumb pie in a copy of Rose Levy Beranbaum's The Pie and Pastry Bible
(Scribner, 1998) that I picked up in a used book store, I was intrigued.
Levy has taken the humble crisp and given it a refined twist, caramelizing the juices, then baking the apples before adding a nutty, not-too-sweet crumb topping during its last 20 minutes in the oven. There's no flour or cornstarch thickener to interfere with the fruit flavor and less sugar than usual. Increasing the proportion of apples makes it even better.
I've modified the recipe slightly by substituting maple syrup for the brown sugar in the apple mixture. I think it introduces a more subtle taste that complements the apples. I like to use the darker Grade B maple syrup for its deeper flavors.
For best results, use a crisp apple that will hold its shape when cooked. Fujis and Newtown Pippins are good choices. But Gala, Braeburn or Honeycrisp apples would also work well. Among the supermarket selections, very fresh Golden Delicious are a sure bet and Granny Smiths are usually reliable, if not inspiring.
CRUSTLESS APPLE CRUMB PIE

serves 6
FOR APPLES:
2½ pounds baking apples
1 tablespoon freshly squeezed lemon juice
3 tablespoons maple syrup
3 tablespoons sugar
1 teaspoon ground cinnamon
1/8 teaspoon nutmeg, freshly grated if possible
1/8 teaspoon salt
1½ tablespoons unsalted butter
FOR TOPPING:
2 tablespoons plus 2 teaspoons light brown sugar, packed
1 tablespoon sugar
½ cup walnut halves
1/16 teaspoon salt
¾ teaspoon ground cinnamon
½ cup all-purpose flour
¼ cup unsalted butter, slightly softened
¾ teaspoon pure vanilla extract
Combine apples, lemon juice, maple syrup, sugar, cinnamon, nutmeg and salt in a large bowl and toss to mix. Set aside and let stand for 30 minutes to an hour.
Preheat oven to 400 degrees.
Make topping by placing sugars, walnut halves, salt and cinnamon in a food processor work bowl fitted with a metal blade. Pulse until the nuts are coarsely chopped. Add flour, butter, and vanilla and pulse until mixture is crumbly. Transfer mixture to a small bowl and use your fingertips to lightly pinch the ingredients together into small clumps. This will be easier if the butter is not too cold when you begin.
Strain off juices that have accumulated from the apples into a small saucepan. You should have about 1/3 cup. Add butter, bring to a boil over medium high heat and reduce juices to about 3 tablespoons. The liquid will be dark brown and thick.
Place apples in a 9-inch pie pan set on a foil-lined cookie sheet. Drizzle with the reduced juices. Cover pan with aluminum foil and make a small slash in the center to allow steam to escape. Bake apples 40 minutes.
Remove pie pan from over, take off foil and sprinkle apples evenly with crumb mixture. Return pie to oven and bake for 20-25 minutes more, until the topping is golden brown and crisp and the apples feel tender when pierced with a small, sharp knife. Cool on a rack.
Serve warm or at room temperature. A scoop of vanilla ice cream is the perfect accompaniment.
Adapted from "The Pie and Pastry Bible," by Rose Levy Beranbaum.