Every holiday deserves a cookie in my book.
Others may associate Halloween with hermetically sealed commercial candy. I think of the cookies frosted in orange icing that my mother and I made when I was a child.
She would roll out the dough and I would help cut out the rounds and bake them. When they were cool, we would frost them with orange buttercream and decorate them with raisins to make jack-o-lantern faces. Then we would pack them up, two at a time, in waxed paper sandwich bags to give to the trick-or-treaters who knocked on our door.
My father was in the service at the time and, although we moved every two years, we usually lived on or near a base in a community with other Navy families. Everyone knew everyone else and no one worried about sickos putting razor blades in apples or drugs in candy at Halloween. The sacks of little wannabe witches and pirates were stuffed with homemade cookies, popcorn balls and caramel apples.
One of my fondest memories revolves around Halloween and my mother's cookies. I was four years old and recuperating from an illness. Mom decided I couldn't go trick-or-treating and I was devastated, but she had a plan. We had made cookies as usual and I passed them out to the littlest kids, who arrived early in the evening. Once the first wave had passed, Mom closed the door, turned off all the lights and we crept into the bedroom – with a plate of cookies. While older tricksters roamed the neighborhood, we sat in the dark, eating cookies and telling stories. It was the best Halloween ever.
My tastes have matured a bit since then. I no longer consider raisin faces the peak of artistic expression. But I still love cookies. So I created these pumpkin cookies in honor of that Halloween years ago. This time, there's really pumpkin in the soft, cake-like rounds spiced with cinnamon, allspice and nutmeg. The fluffy icing contains cream cheese and orange zest for even more flavor.
It's too bad treats like these are no longer acceptable as goodies for young ghosts and goblins. Still, they're just the thing for a Halloween party. With their classic fall flavors, they also could star at any holiday event between now and January. Enjoy.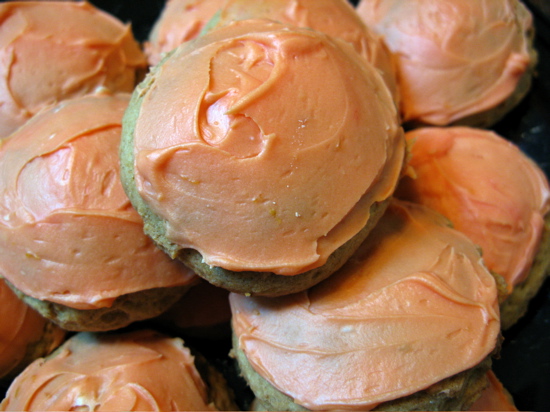 PUMPKIN COOKIES
Makes about 40 cookies
4 cups flour
1 teaspoon baking soda
1 teaspoon baking powder
1 teaspoon Kosher salt
1½ teaspoons cinnamon
½ teaspoon nutmeg
½ teaspoon allspice
1 cup butter, softened
1 cup brown sugar
1 cup white sugar
2 eggs
1 cup canned pumpkin puree (not pie filling)
Cream cheese icing (recipe follows)
Preheat oven to 375 degrees. In a medium bowl, whisk together flour, baking soda, baking powder, cinnamon, nutmeg and allspice.
In the work bowl of an electric mixer, cream sugar and butter together on high speed until light and fluffy. Whisk eggs in a separate bowl and stir in pumpkin. On low speed, alternately add flour and pumpkin mixtures to the creamed sugar and butter until just mixed.
Drop 2-tablespoon dollops of batter (I use a small ice cream-style scoop) about 2 inches apart onto ungreased baking sheets. Dampen fingers with a little water and gently flatten balls of dough into rounds. Bake for about 14 minutes, rotating pans halfway through the baking time. Cookies should be a light golden brown and firm to the touch.
Frost with cream cheese icing and serve. Store in airtight container and eat them quickly. They'll grow stale in 3 or 4 days.
CREAM CHEESE ICING
3 ounces cream cheese, softened
2 tablespoons butter, softened
½ teaspoon orange zest
2 cups sifted confectioners' sugar
Orange food coloring
Beat cream cheese, butter and orange zest together until smooth in the bowl of an electric mixer set on high speed. Reduce speed to low and beat in the sugar until smooth. Add just enough food coloring to get the orange tint you prefer and beat until the color is even.
Aleta Watson