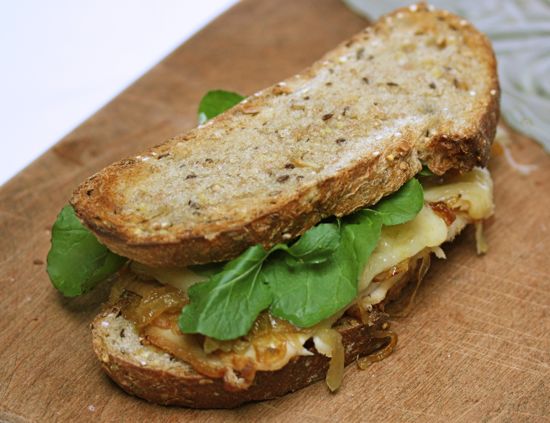 Right now I'm up to my eyeballs in Thanksgiving preparations.  There are groceries to buy, rolls and pies to make ahead, a turkey to dry brine a la Russ Parsons, and a thousand little details to attend to before the big meal on Thursday afternoon.
By the time all the dishes are washed, dried and put away that night,  I'll be ready to get out of the kitchen for a couple of days.  I don't know about you but I rarely have the energy or dedication to rework leftovers from the biggest culinary marathon of the year into elaborate new dishes.
I'd rather make some sandwiches and give myself time to get out on a mountain trail or off to the beach after so many hours in front of the stove.  (Just the thought of shopping on Black Friday sends me into a panic.)
That doesn't mean I'm content with a slab of turkey shoved between slices of squishy white bread with nothing but a dab of mayo.  There are still standards to maintain after all.  Chefs like Nancy Silverton and Tom Colicchio have taught us that even the humble sandwich can make an exceptional meal when it's put together with great ingredients.
Turkey is a given, of course, and there's little question that the fowl you've roasted at home will be better than anything you can find in a supermarket deli case.  Slice it at least 1/8-inch thick to preserve the moisture in the meat. The bread should have character – I like the multi-grain loaves from La Brea Bakery s0ld at Costco but any good country style bread or ciabatta roll will do.  Condiments should be top notch – stone ground mustard or perhaps a spoonful of minced chipotle peppers or some garlic and lemon juice stirred into Best Foods mayonnaise.   Then add a touch of the unexpected.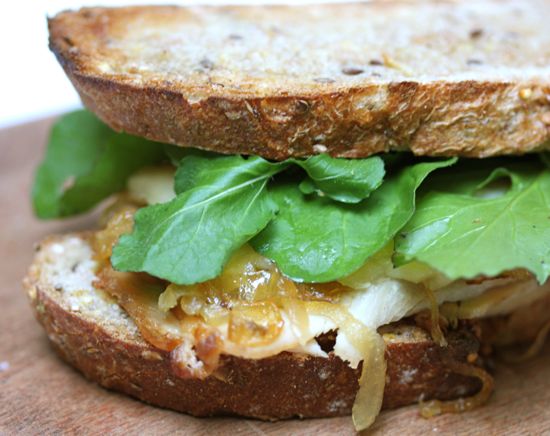 For this sandwich, I've layered sturdy bread with a smear of whole grain mustard, sliced turkey, caramelized onions and Swiss cheese.  It goes open-faced into the toaster oven or under the broiler just until the cheese melts and the bread gets nicely browned and crisp around the edges.  Then a pile of fresh arugula is added for peppery bite and the top layer of bread is slapped on. It's a truly memorable post-Thanksgiving sandwich.
The grace note here is the tangle of sweet and sour onions caramelized slowly in the oven.  You can cook them early in the week while you're doing advance work on the Thanksgiving menu and stash them in the fridge for a week or so until you need them.  They're also great on pizza, atop lentils and rice or nestled next to a steak.  Best of all, the cooking technique is far easier than caramelizing onions on the stove top, where you have to keep diligent watch to avoid burning them.

The process was inspired by a recipe for balsamic-roasted whole onions in the new "Gourmet Today" cookbook by Ruth Reichl and the staff of the dearly departed Gourmet Magazine (Houghton Mifflin Harcourt, 2009).  The balsamic flavor turned out to be too strong, overpowering the other ingredients, so I fiddled with it and came up with a version made with white wine vinegar, preferably Champagne.  You only need to stir the onions three times in a hour of oven roasting.  Just keep a close eye on them in the last 10 minutes of cooking to make sure they don't burn.
If you have a little extra energy, throw the turkey carcass into a big pot with chopped onions, carrots and celery and simmer for a couple of hours to make a soup to go with the sandwiches.  Or just toss that carcass into the freezer, sealed in a large plastic bag, and deal with it later.
Leftovers ought be a gift, not a burden, for the exhausted cook.
OVEN-CARAMELIZED ONIONS
Makes about 2 cups
2 medium yellow onions (about 1 pound)
3 tablespoons white wine vinegar (preferably Champagne)
1-2 tablespoons brown sugar, to taste
2 tablespoons olive oil
Pinch of salt
Freshly ground black pepper
Preheat oven to 375 degrees.  Peel onion and cut each in half from root to stem then slice about 1/8-inch thick.  In a small bowl, whisk together the vinegar, brown sugar, olive oil, salt and a couple of grinds of pepper.  In a large, lidded skillet, toss onions with the other ingredients and spread evenly over bottom of the pan.  Cover and roast in oven for 30 minutes.  Remove lid, stir onions, and continue cooking uncovered for 10 more minutes.  Stir again, and cook 10 minutes more.
Check to make sure onions are not browning too quickly. They will become bitter if they burn.  Cook for an additional 10 minutes , until onions are golden brown, soft and sweet.
Remove from oven and let cool.  Transfer to a covered storage container and refrigerate up to a week.  May be served warm or at room temperature.
–Aleta Watson