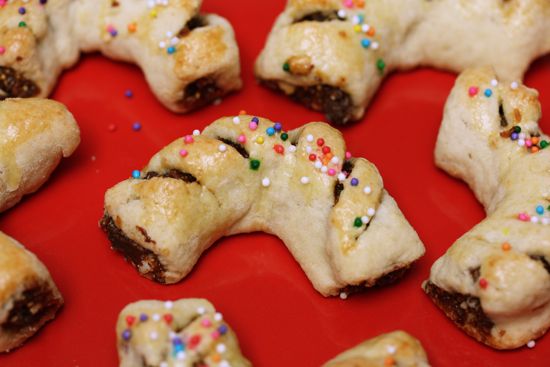 Bakers, fire up your ovens.  Cookie season is upon us.
In the coming weeks, even people who usually buy their cookies in packages will be pulling mixers out of storage and dusting off baking sheets in preparation for their annual fling with butter, flour and sugar.   For some, it's enough to recreate the chocolate chip cookies from their childhood, working from the recipe on the back of the Nestle Toll House package.   Others will spend hours decorating fanciful shapes cut out of buttery shortbread or pressing spritz cookies onto baking sheets.
Every year, I try to add a new cookie to my repertoire.  This season, it's cucidati, elegant filled cookies originally from Sicily that I first tasted at Lupretta's Delicatessen nearly a decade ago.  At that time the family business was still located on Stevens Creek Boulevard in San Jose.  It moved to the village of Saratoga a few years later but recently closed its doors.
Daryle Lupretta's mom made her own cucidati for the holidays, meticulously wrapping pastry around a luscious filling of ground figs and nuts before baking them.  They were amazing cookies, unlike anything I had ever tasted before–not too sweet and hauntingly complex.   I was crestfallen to learn they weren't available year-round.
My search for an authentic cucidati recipe this fall, led me to "Cookies Unlimited," by Nick Malgieri (Harper Collins, 2000).   Malgieri is a a noted cooking teacher who showed Julia Child how to make a version of these cookies, cut in a distinctive X shape, on her PBS show, "Baking with Julia."  His detailed instructions make it easy to recreate the cookies of my memory.
In the course of my research, though, I also found several variations, usually called Sicilian fig cookies.  I combined recipes to come up with a cookie that reminds me most of my first taste of cucidati.
Chopped semisweet chocolate, dark rum and espresso powder give these cookies a remarkable depth of flavor, balanced by a bright shot of orange zest.  They pair happily with a glass of wine.
Making cucidati can be a bit of a production.  But the recipe produces about 5 dozen and you can space out the work–making the dough one day, the fig filling the next and then shaping and baking the cookies on a third day.
Or invite some friends to help and make a party of it, which each person taking on a different step in the shaping process.  Once you pop the first batch of cookies into the oven, they fill the house with a tantalizing aroma of orange and spice.
The results are worth the effort.  With their graceful crescent shapes and festive sprinkling of colorful nonpareils,  cucidati will make a dramatic statement on any holiday dessert platter.
CUCIDATI
Makes about 60 cookies
For dough:
4 cups all-purpose flour
2/3 cup sugar
1 teaspoon baking powder
1 teaspoon salt
1 cup cold unsalted butter (2 sticks) cut into 16 pieces
4 large eggs
For filling:
12 ounces (about 2 cups) dried Calimyrna figs
1/2 cup raisins
Grated zest of 1 large orange
1/3 cup whole almonds, lightly toasted and chopped
3 ounces semisweet chocolate, chopped into 1/4-inch pieces
1/3 cup apricot preserves
3 tablespoons dark rum
1 teaspoon instant espresso powder
1/2 teaspoon ground cinnamon
1/4 teaspoon ground nutmeg
For wash:
1 large egg
pinch salt
For decorating:
1 cup confectioner's sugar
1/2 teaspoon vanilla extract
1 1/2-2 tablespoons fresh orange juice
Multi-colored nonpareils for sprinkling
To make dough: Place flour, sugar, baking powder and salt in the work bowl of a food processor fitted with a metal blade and pulse two or three times.  Add butter and pulse until the mixture is powdery and all the lumps of butter have been incorporated.  Crack the eggs into a measuring cup.  With processor running, add eggs all at once through the feed tube, then pulse until the dough begins to form a ball.  Scrape dough onto a floured surface and use a large piece of plastic wrap to gather up the dough and shape into a square about 1-inch thick.   Wrap dough tightly and chill for at least half an hour or up to three days.
To make filling: Stem figs, dice and place in a large bowl.  (If the figs are dry and hard, cover with water in a small saucepan, bring just to a boil over medium heat, drain in a strainer and allow to cool before moving to the next step.)  Add raisins, orange zest, chopped almonds, chopped chocolate, apricot preserves, run, espresso powder, cinnamon and nutmeg to bowl with figs; stir together.  In work bowl of processor fitted with metal blade, pulse the fruit mixture repeatedly to grind the ingredients finely.  Scrape mixture back into the bowl in which it was stirred together initially.  Can be covered and chilled for up to a week.
The day of baking: Place racks in the upper and lower thirds of the oven and preheat to 350 degrees.  In a small bowl, beat egg with salt until well blended and set aside. Line 2 or 3 large cookie sheets with parchment paper or silicone mats.
Remove dough from refrigerator, unwrap and place on floured work surface.  Knead lightly if necessary to make it pliable.  Roll dough into a cylinder and cut into 12 equal pieces.   On the floured surface, roll out one of the pieces into a rectangle about 12 inches long and 3 inches wide.   Brush surface with a little bit egg wash and evenly distribute a scant 1/3 cup of filling along the center of the long side.  (Be careful not to use too much filling or you will run out while you still have dough to fill.)
Bring the edges of the dough up from each long side to enclose the filling and pinch the edges together to form a sealed cylinder.  Use your palms to roll the cylinder out to 15 inches long, then cut into 3 inch lengths.   To shape each cookie, slash six or eight diagonal cuts in the top of each cook with a small, sharp knife.  Place cookies on prepared pan about 1 inch apart and gently form each into a horseshoe curve.  Repeat with the remaining pieces of dough.  You will have to work in batches.
Before baking, brush each cookie lightly with egg wash.  Bake for about 20 minutes or until a light golden brown.  Remove cookies to wire racks and let cool for a few minutes while stirring together the confectioner's sugar, vanilla and orange juice in a small bowl to make a pourable icing.  Brush icing on warm cookies, sprinkle sparingly with nonpareils and let cool completely.
Store cookies between layers of waxed or parchment paper in airtight container for up to a week or freeze for up to a month.
–Adapted from "Cookies Unlimited," by Nick Malgieri