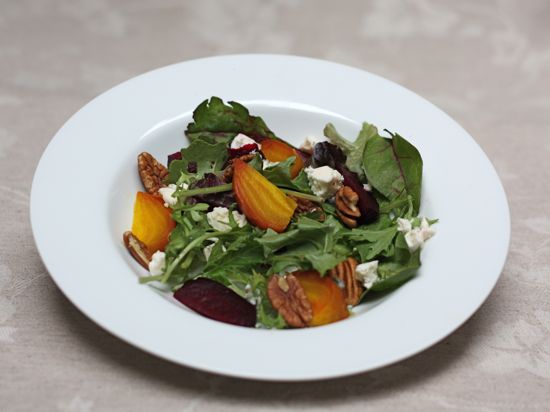 As much fun as it is to watch the pros race from pantry to stove on shows like Top Chef, I have no desire to emulate them during the holidays.
Thanksgiving is hard enough with more people than usual in the house–all wanting to help, chat with the cook, or just stand around the kitchen.   (Did I mention how small my kitchen is?)  I'd plummet right over the edge if I tried to cook everything from scratch on the big day.
That's why I look for side dishes that can be prepared ahead and finished off with just a few touches at the last minute.  A beautiful salad that can be handed off to a helpful guest for final assembly is a real lifesaver when you're trying to get the turkey out of the oven, the gravy made, the potatoes mashed and the rolls heated all at the same time.
This year, I'll be serving this extraordinary beet salad with goat cheese, pecans and a  balsamic vinaigrette.   It's a takeoff on a recipe I ran across in "Kitchen Seasons," by Australian food writer Ross Dobson (Ryland Peters & Small, 2007).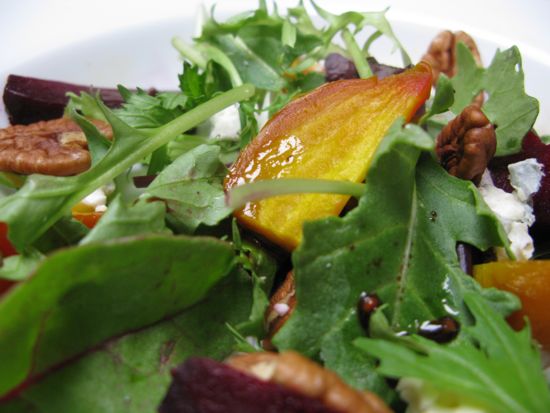 This salad hits all the right notes:  crisp baby greens, sweet roasted beets, soft goat cheese for tang and toasted pecans for crunch.
The dressing is based on excellent  balsamic vinegar, bringing a complex blend of sweet and tart flavors to the dish. If all you have in your cupboard is decent commercial balsamic, however, you can produce an acceptable substitute by boiling half a cup of the vinegar with a teaspoon of brown sugar and reducing the volume by half.
The beets are roasted, peeled and cut up a day or two ahead of time.  The greens are washed and spun dry and the pecans toasted the day before.  The dressing can be whisked together in the morning.  Assemble it all decoratively on the plates just before serving, drizzle with dressing and it's ready for prime time.
If only the whole meal were this easy.
ROASTED BEET, PECAN AND GOAT CHEESE SALAD
Serves 4
4 medium or 8 baby beets
Olive oil
4 ounces mixed baby greens
2/3 cup pecans, lightly toasted
3-4 ounces firm goat cheese, crumbled
1 bunch chives, snipped
For dressing:
1 tablespoon artisanal balsamic vinegar (see Note)
3 tablespoons extra virgin olive oil
2 tablespoons champagne vinegar
1 teaspoon whole grain mustard
Sea salt and freshly ground black pepper to taste
Preheat oven to 400 degrees.  Scrub beets, dry and rub with a light coat of olive oil.   Place on a baking sheet lined with parchment and bake for about 1 to 1½ hours, depending on the size.  (Baby beets will take less time, perhaps as little as 30 minutes.)  Test for doneness with a small, sharp pairing knife.  The blade should easily pierce the thickest part of the beets. Let beets cool until easy to handle. Slip off the skins and slice each one into eighths or quarters, depending on the size.
Make dressing: In a small bowl, whisk together balsamic vinegar, olive oil, champagne vinegar and mustard with salt and pepper to taste.
To serve, place greens, beets and pecans in a large bowl and toss with half the dressing.  Arrange decoratively on individual salad plates and top with goat cheese and snipped chives.  Drizzle with remaining dressing.
Note: As a substitute for expensive artisanal balsamic vinegar, combine ½ cup good commercial balsamic with 1 teaspoon brown sugar in a small pan and boil until volume is reduced by half.  Use 1 tablespoon of the reduced balsamic in this recipe and reserve the remainder for future salads.
–Aleta Watson