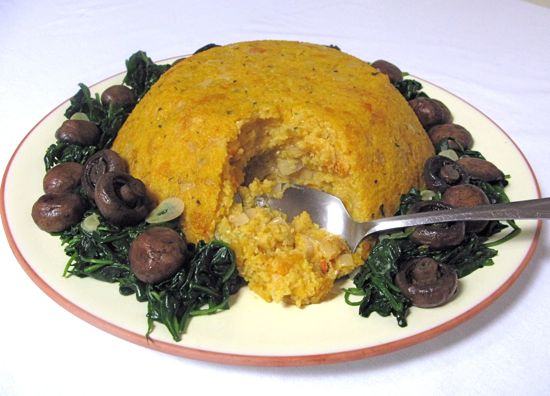 The biggest challenge facing many cooks this Thanksgiving may well be finding a vegetarian entree worthy of the annual feast.
Particularly in California, it's not unusual anymore to find among the guests at the holiday table relatives and friends who have forsworn meat.  Often they're  left to fend for themselves, picking among the side dishes in search of something that wasn't made with broth, bacon or gelatin. Either they leave the table still hungry or depart in a carbohydrate-induced stupor.
This elegant polenta torta, sweet with caramelized onions and creamy with roasted butternut squash and mascarpone cheese, is just the dish for omnivore hosts who want to show their appreciation for vegetarian guests.  It tastes like fall on a plate and has wide appeal, unlike Tofurky and other meat substitutes.
I came across the recipe in "The New Vegetarian Epicure," by Anna Thomas (Knopf, 1996), a couple of years ago when I was writing an article about vegetarian entrees for the holidays.  Not only was it gorgeous and substantial enough to compete with the turkey for centerpiece honors, but it also offered great flavor and texture.
The original calls for dried thyme and goat cheese, but I like it with aromatic fresh sage and silky mascarpone.  If you have vegans on your guest list, you probably could skip the butter and use tofutti for the creamy cheese element. Parmesan could be served on the side for diners to add as they wish. I'd cut the quantity back to 2 ounces, however.
Perhaps the best part of this dish for the harried Thanksgiving cook  is that it can be prepped a day or two ahead and then baked at the last minute.  It also reheats quite nicely.
Although it looks more festive ringed with mushrooms and simply sauteed spinach and garlic, it's good enough to stand alone.
You don't have to be a vegetarian to crave second helpings of this torta.
POLENTA TORTA WITH ROASTED SQUASH
Serves 10
2 large yellow onions, chopped
1 tablespoon olive oil plus more to brush on top
1 teaspoon butter
Salt
1 tablespoon finely chopped fresh sage
2 tablespoons Marsala
3 cups vegetable broth
3 cups water
1½ cups coarse-ground polenta
2  cups thick puree of roasted butternut squash (see Note)
4  ounces mascarpone cheese
Parmesan cheese, grated
In large, non-stick pan, cook chopped onions slowly in the olive oil and butter, with a generous sprinkle of salt, until very soft and golden brown, about 45 minutes. Stir from time to time. When the onions are caramelized, add Marsala, swirling it around quickly to deglaze pan.
While onions cook, combine vegetable broth and water in large pot and bring to boil.  Whisk in polenta. Reduce heat to  simmer and cook, stirring frequently, at least 30 minutes, until very thick.  Stir in caramelized onions, squash, mascarpone and sage until cheese is melted and everything is well-blended.  Taste and add  a bit of salt if needed.  Pour polenta into a buttered big round casserole or shallow bowl and allow to cool completely and set.  You can refrigerate it, tightly covered, for a day or two at this point.
Before serving:  Preheat oven to 375 degrees.  Turn polenta torta onto an oiled baking sheet, brush it with olive oil and bake about 45 minutes. Transfer to large serving platter. Surround with sauteed spinach and garlic or roasted vegetables and cut into wedges to serve.  Pass grated Parmesan cheese.
Note: To prepare squash, cut in half lengthwise, scrape out seeds and place–cut side down–in large baking pan.  Roast at 400 degrees until it collapses when pushed with a wooden spoon, about 1 hour.  Allow squash to cool. Scoop out flesh with a spoon.  It should be so soft that you can puree it with a couple of stirs.
– Adapted from "The New Vegetarian Epicure," by Anna Thomas