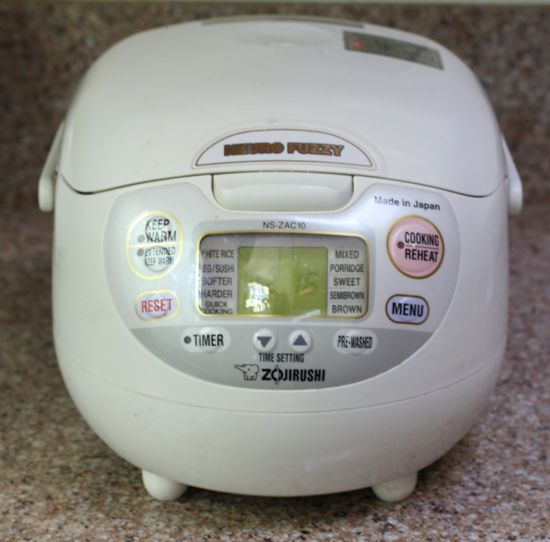 Meet one of my favorite kitchen helpers.
If I were heading off for college this fall, a rice cooker is the one appliance I would pack for the dorm.  No one-trick gadget, it can cook everything from macaroni and cheese to pot de creme.
Rice, of course, is what it does best.  I made rice in a saucepan for years and most of the time it came out just fine.  Now, however, everyone in my family can make good rice every time.  We also make terrific polenta, which only requires a few stirs while cooking.
My mainstay this summer was this super easy recipe for Rice Cooker Chicken with Ginger from Chef Laurent Gras that I spotted at the bottom of a page in Food and Wine.  I hesitated writing about it since it came from a magazine. But it was so simple and so good that I can't keep it to myself.
Gras transforms jasmine rice with slender matchsticks of ginger, chunks of chicken thighs, fresh spinach and coconut milk.   Layer them in the cooker, turn it on and a delectable one-dish meal is ready in under an hour with no additional effort on the cook's part.
I'm addicted.  Whenever I'm facing a tough day with little time to cook, I turn to this dish.  I could say the ginger is the secret, providing wonderful texture and fresh taste to what is potentially a bland dish, but the coconut milk contributes haunting aroma and complex flavor.
The recipe is fairly flexible.  Regular long-grain rice can be substituted for jasmine if that's all you have on hand.
I've even made it with brown basmati rice and cubes of tofu, but that requires increasing the liquid slightly and adding the chicken and spinach about halfway through the cooking cycle since brown rice takes longer to cook.  Introduce about 8 ounces of tofu, cut into 1/2-inch cubes, in the last 15 minutes.
Don't be tempted to substitute chicken breast meat for the thighs, however.  It gets horribly dry with the long cooking.
You don't need a fancy fuzzy logic cooker like mine. It's nice but fairly expensive.
Roger Ebert, the Pulitzer-winning film critic, swears by a simple pot with "cooking" and "keep warm" temperature settings in his new cookbook, "The Pot and How to Use It: The Mystery and Romance of the Rice Cooker" (Andrews McMeel, 2010), released this week.   Although Ebert lost his jaw to cancer and now receives his meals through a tube into his stomach, he used to carry a rice cooker with him when he traveled.  He offers recipes for beans, curries, chili, jambalya, beef stew and more in his cookbook.
The book I turn to for all my questions about using a rice cooker is "The Ultimate Rice Cooker Cookbook" (Harvard Common Press, 2002) by my friends and former colleagues, Beth Hensperger and Julie Kaufmann.  This is where I learned to make the soft Italian style polenta I love.  I usually cut the butter a little and stir in 2-3 ounces of goat cheese after the polenta has finished cooking.
If you like polenta but hate the stirring, try this recipe.  You'll be a convert, too.
ITALIAN POLENTA
Serves 4
4 cups water
1/2 teaspoon salt
1 cup coarse-grain yellow polenta
Freshly ground black pepper
2 tablespoons butter
2-3 ounces fresh goat cheese, to taste
¼ cup freshly grated Parmesan cheese
Place water and salt in rice cooker bowl.  Whisk in polenta until well-mixed.  Close lid and set rice cooker for regular cycle or porridge cycle if you have a fancier model.
About 10 minutes into the cooking time, open lid and quickly whisk again. It helps to use a paddle-style whisk with widely-spaced wires.  If your whisk clogs up with the thickening polenta, switch to a wooden spoon and stir briskly.  Close cover and continue cooking.   Repeat about 20 minutes later.
If you use the porridge cycle, you'll want to reset for a second cycle when the cooker buzzes that it's ready.  This cycle usually lasts only 5-10 minutes.  Otherwise, wait for the regular cycle to finish.
Whisk or stir again to smooth out the mixture, then stir in pepper, butter, goat cheese and Parmesan, mixing well.  Adjust seasoning and serve.
Polenta will hold on the "keep warm" setting for about an hour, thickening as it waits.  If it gets too thick, stir in a little hot water until it reaches the consistency you prefer.
Adapted from "The Ultimate Rice Cooker Cookbook" by Beth Hensperger and Julie Kaufmann