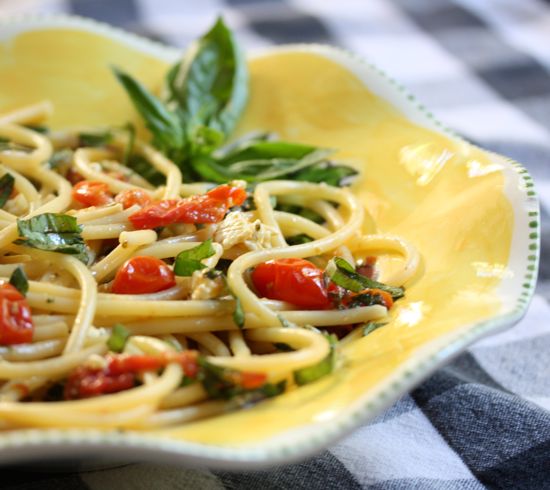 This was not the greatest tomato season where I live. Until the last couple of weeks, the weather was just too cool for regular size tomatoes to ripen properly.  But the cherry tomatoes have been just fine.
So, more often than not, when I've wanted a  quick and easy pasta sauce with the tang of fresh tomatoes this season, I've turned to the beautiful little Sweet 100s or orange Sun Golds lined up in baskets at the farmers market.  Not only do they add a bright shot of flavor to every dish, they don't need chopping or peeling.
For this recipe, I roast the baby tomatoes in plenty of olive oil with slivers of garlic, a dried chile, oregano and chopped parsley until they're beginning to split and release their juices.  When the weather is as hot as it's been for the last couple of days, though, I would cook them slowly on top of the stove in a wide skillet.
Any long skinny pasta will do, but I love the chewy snap of the bucatini now available at my local grocery story.  Although bucatini looks like fat spaghetti, the strands are formed with a hole in the center – just like a straw – and seem to suck up any sauce with which they're tossed.
Curds of salty feta cheese and a shower of shredded basil bring the dish together.  Dinner couldn't be easier.
BUCATINI WITH ROASTED CHERRY TOMATOES
Serves 4
2 pints small cherry tomatoes, rinsed and stemmed
4-6 cloves garlic, to taste
½ teaspoon oregano
4 tablespoons chopped parsley
1 small dried red chile pepper
¼ cup extra virgin olive oil
Salt and freshly ground black pepper to taste
1 pound bucatini or spaghetti
1 cup basil leaves
1 cup feta cheese, crumbled
Grated Parmesan for passing.
Preheat oven to 350 degrees.  Place whole cherry tomatoes in a baking dish or ovenproof skillet large enough to contain them in a single layer.  Slice garlic vertically into thick slivers and scatter over tomatoes.  Add dried chile pepper.  Sprinkle oregano and chopped parsley over all.  Drizzle with olive oil, season to taste, and toss to coat.  Roast tomato mixture on the center rack of the oven for about 30 minutes, until tomatoes are hot through and beginning to burst.
In the meantime, bring a large pot of generously salted water to a boil.  About 10 minutes before tomatoes are expected to be done, drop bucatini in the boiling water, stir to separate the strands and cook according to the package directions, about 8 minutes.  Stack the basil leaves together in bundles, roll up like cigars and shred finely across the grain. Remove tomatoes from oven and smash then with a fork.  Add a little pasta cooking water if necessary to get a saucy consistency.
When pasta is al dente, drain and place in a serving dish.  Pour smashed tomatoes and sauce over pasta, top with feta and toss.  Add shredded basil and toss again.  Serve, passing grated Parmesan for diners to add if desired.
Aleta Watson