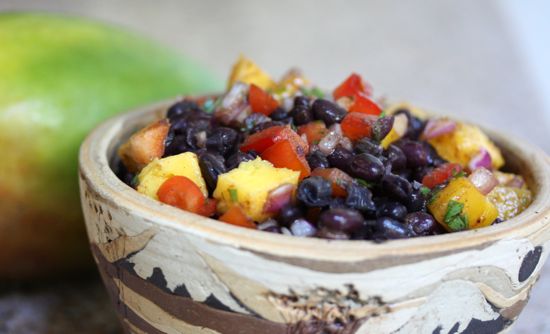 California mangoes are back in season at last.  Just in time, too.  I've been aching to make this black bean and mango salad but couldn't bring myself to buy imported fruit.
Not only do imported mangoes travel thousands of miles to get to the local supermarket, they're picked green and are usually bathed in hot water before they're allowed into the U.S.  California mangoes, grown in the Coachella Valley, spend more time ripening on the trees. Many are even grown organically.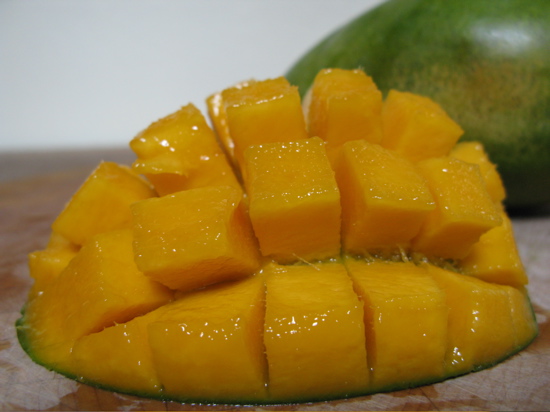 By far, the most common California variety is the Keitt, which is still green when ripe.  Every one I've eaten has been sweet and succulent with the silky texture of velvet and a bright, tropical flavor hinting of pineapple.  There's little of the fiber that mars so many other varieties.
The season is short, though, and only runs September-October.  So you have to eat them while you can.
I found organic Keitts at Whole Foods for $3.99 a pound – and worth every penny.
This flavorful salad, spiked with lime, cumin and chile, is one of the best ways I know to eat mangoes.   The soft, sweet fruit makes a delightful counterpoint to the mellow black beans and crisp red bell peppers and onion.
The recipe comes from my friend Griff Palmer, a data whiz who used to bring this salad to every potluck at the Mercury News.  It was always a hit.
Griff is at the New York Times now but he was kind enough to send me the recipe via Facebook.  He says he found it in Self Magazine in the 1980s but the online archives apparently don't go back that far.
Although the recipe calls for canned beans, I like it better with freshly cooked beans.  It does take a little longer, but if you soak them overnight, the beans should cook in less than an hour with very little tending.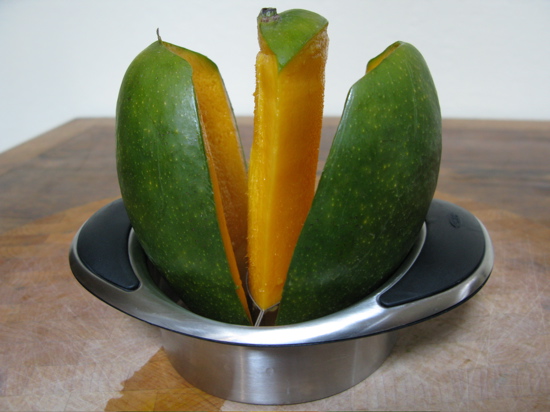 Perhaps the biggest challenge of cooking with mangoes is removing the flesh.  I've solved that by using an OXO mango splitter, one of the few single-purpose gadgets that I find worthwhile.  You also can use a knife to slice the fruit lengthwise on either side of the large pit, but it can be a slippery exercise.  Then score the flesh and push the skin inside out to get uniform cubes of fruit.
Whatever you do, don't miss this opportunity to experience these great mangoes.  There's good reason mangoes are one of the world's most popular fruit.
GRIFF'S MANGO AND BLACK BEAN SALAD
Serves 8
4 cups cooked black beans (about 1½ cups dry)
or 2 cans black beans, drained and rinsed
2 ripe mangoes, cut into chunks
1 medium red onion, chopped
1 large red bell pepper, chopped
¼ cup chopped cilantro, or to taste
½ cup fresh lime juice
¼ cup olive oil
1 tablespoon ground cumin
1 tablespoon chile powder
In a large bowl, combine beans, mangoes, onion, bell pepper and cilantro.  Whisk together lime juice, olive oil, cumin and chile in a separate container.  Pour dressing over the bean mixture and toss well.  Serve.
Note:  Flavors are best if the salad is allowed to stand at room temperature for at least half an hour before serving.
Self Magazine via Griff Palmer