Never mind the calendar or even the weather forecast. I know it's spring when rhubarb shows up in the farmers market.
Those first fuchsia pink stalks are always cause for celebration. After a winter of root vegetables and bitter greens, their tart flavor breathes fresh life into bored palates.
Eaten raw, rhubarb is an acquired taste with a mouth-puckering quality rivaling lemons.  Cook it with a little sugar, though, and it blossoms.  I think it's best in simple dishes that capitalize on its bright acidity.
Crisps and pies are naturals, but I've also made rhubarb into a filling for crepes and substituted it for cherries in a clafloutis.  This spring, I've been playing around with a rhubarb upside down cake based on the homey French yogurt cake.
It's a practically fool-proof dessert, best baked in a cast iron skillet for even cooking.  The only tricky part may be flipping the baked cake out of the hot skillet onto a plate.
You cook the caramel base quickly in the skillet and top it with diced rhubarb and walnuts.  Then you stir the wet and dry ingredients for the cake together as easily as if you were making muffins, spread the batter evenly over the rhubarb and shove it into the oven.  That's all there is to it.
It's a pretty forgiving recipe.  I like it with a balance of rhubarb and walnuts, but you could increase the rhubarb if you wish.  Or, God forbid, you could substitute another fruit  –  like fresh cherries.
The cake is even good without the topping.  It's a variation of the classic cake that French home cooks make for birthdays and family celebrations.  They measure the ingredients out in yogurt containers.  Since their containers are not the same size as American yogurt cups, I've translated the recipe into standard measures.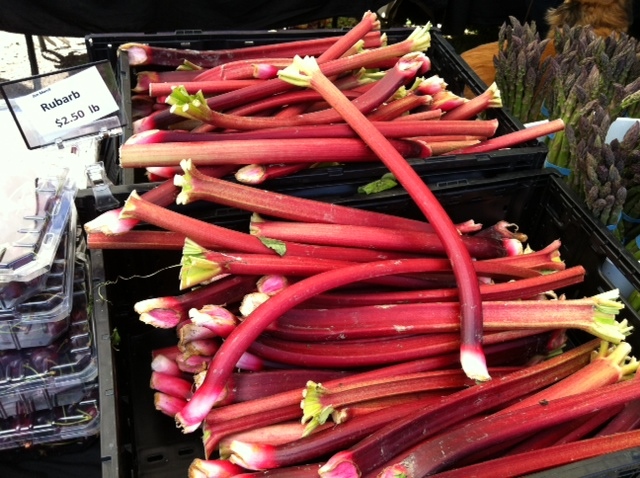 Although you can  make this cake with ordinary low fat yogurt, I prefer to use a full-fat Greek variety for more body and better texture.   Besides, it's a celebration.
Spring is here at last!
RHUBARB UPSIDE DOWN CAKE
Serves 8-10
1/2 pound rhubarb (about 4 medium stalks)
1 tablespoon cornstarch
1 1/4 cups granulated sugar, divided use
1 1/2 cups all-purpose flour
1 teaspoon baking soda
Pinch of salt
1/2 cup full fat Greek yogurt
3 eggs
2 tablespoons orange juice
2 tablespoons olive oil
4 tablespoons (1/2 stick) unsalted butter
1/2 cup brown sugar
1/2 cup walnuts, coarsely chopped
Preheat oven to 350 degrees and get out a 10-inch cast iron skillet or 10-inch cake pan.  (If using the cake pan, butter it well, line bottom with parchment paper, and butter the paper, too.)
Wash and trim rhubarb and dice into 1/2-inch cubes.  (You may want to peel the stalks if stalks they are very thick or tough.) Toss with cornstarch and 1/4 cup granulated sugar in a medium bowl and set aside.
In a large bowl, whisk together flour, baking soda, salt and remaining 1 cup of granulated sugar for the cake batter.  In a separate bowl or glass measure, whisk together yogurt, eggs, orange juice and olive oil.  Make a well in the center of the dry ingredients and pour the wet ingredients into it. Stir together with a spatula or wooden spoon until all the flour disappears and the mixture is smooth. Set aside.
In the skillet, over medium low heat, melt the butter.  Reduce heat to low and stir in the brown sugar, cooking and stirring constantly until the sugar melts, about 3 minutes.  Remove from heat. (For cake pan, melt butter and dissolve sugar in a small saucepan then spread over bottom of the prepared pan.)
While sugar mixture is still hot, stir together rhubarb mixture and walnuts.  Spread topping evenly over the melted sugar.  Spoon cake batter evenly over the topping and smooth out with a spatula to the edges of the skillet.
Bake on the center rack of the oven for about 30 minutes, until the top is deeply browned.  It's done when a small sharp knife comes out clean after it's inserted into the center of the cake.
Remove cake from oven, run a knife around the inner edge of the pan and immediately invert over a large plate.  This can be a little tricky since the skillet is heavy and very hot.  Be sure to use oven mitts and work quickly before the caramel starts to harden.  The cake pan will be slightly easier to manage.
Serve warm or at room temperature.
Aleta Watson