Rhubarb, strawberries and cherries, oh my!
How I love this time of year, when my favorite fruits are in season.  (Let's not quibble about rhubarb. It may be a vegetable, botanically speaking, but it cooks up like a fruit.)
I have no desire to spend hours in the kitchen fussing with this bounty, however.  A simple, old-fashioned crisp is just what's called for when the days are long and the weather balmy.
Rhubarb is the star of this dessert.  Bright and sassy, its refreshingly sour flavor balances out all the sugar in the topping.  I like it paired with the soft, sweet flavors of ripe strawberries and cherries, but it works beautifully all by itself, too. A lively burst of fresh ginger adds character.
Although rhubarb is most commonly associated with early spring, the season runs through the summer in Northern California, New York and the Midwest.  It can be hard to find nonetheless.
Specialty markets such as Whole Foods carry it and now and then, but farmers markets are more reliable.  I get mine from Darlene Mora's Mellody Ranch of Watsonville, which sells at farmers markets in Downtown Santa Cruz, Aptos and Monterey.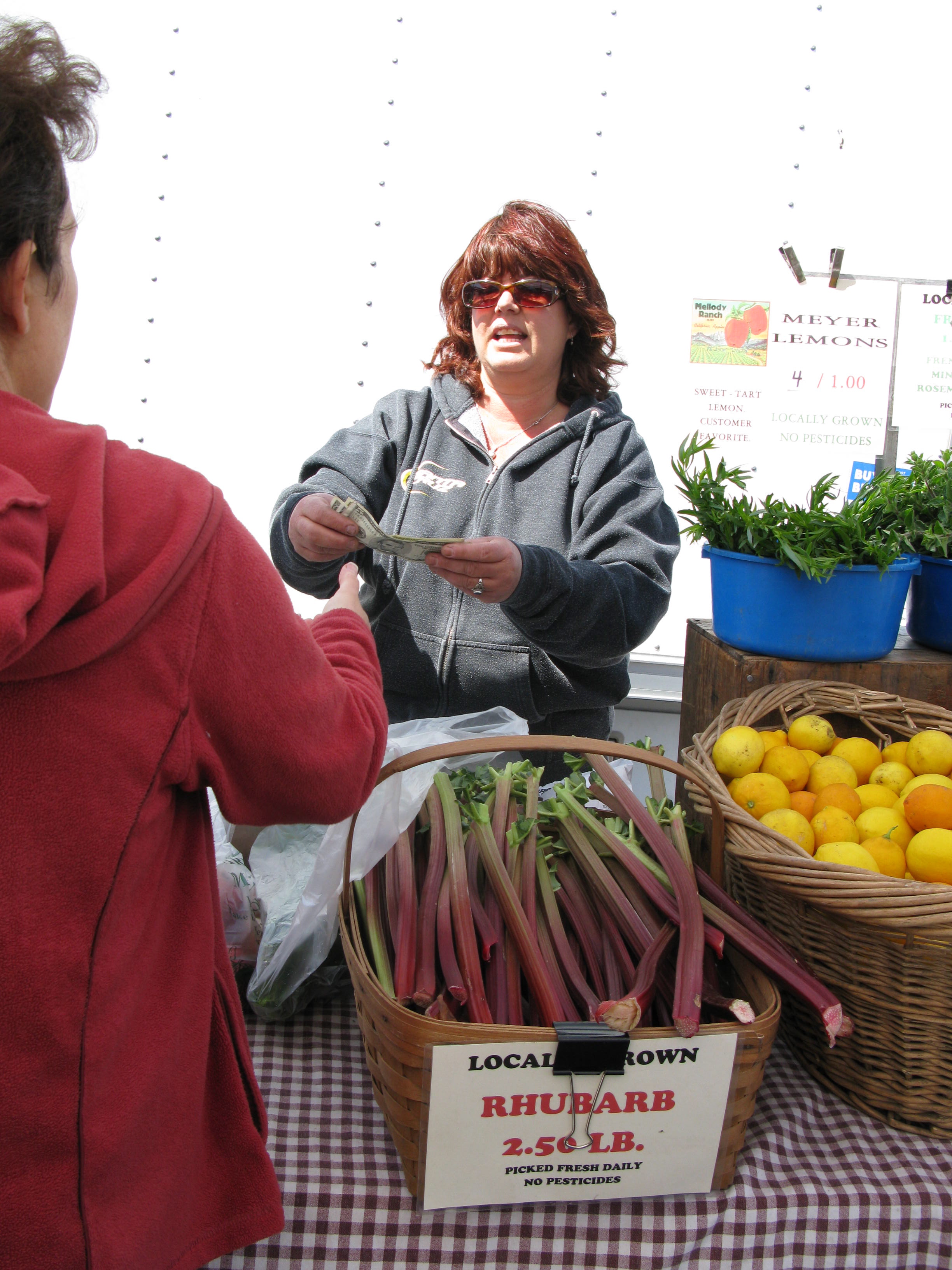 The long red and green stalks look a bit like celery and are at their best when slender and tender.  The thick stalks of mid-summer can be stringy and should be peeled before cooking. Choose stems that are firm and crisp.  Bright red color is not essential, but it makes any dish more appealing.
Trim off the tough, dried ends before cooking and be sure to discard any leaves. They contain concentrations of oxalic acid and other toxic chemicals and the National Institutes of Health lists them as a poison that can bring on digestive problems, breathing difficulties, kidney stones and coma.
This crisp is eminently versatile.  You can change the proportions of fruit around, adjusting the sugar when necessary.  Or you can substitute any other fruit you like, say nectarines and blueberries or even apples and cranberries.  Just be sure to slice up the fruit into fairly uniform pieces so it all cooks at the same rate.
I still say it's hard to beat the triumvirate of rhubarb, strawberries and cherries, though.  In June, they rule.
RHUBARB, STRAWBERRY, CHERRY CRISP
serves 6
1 pound rhubarb, sliced ½-inch thick (about 4 cups)
¾ cup plus 3 tablespoons granulated sugar, divided use
1 pint strawberries, halved
1 cup sweet cherries, halved and pitted
1 tablespoon grated fresh ginger
½ cup plus 2 tablespoons unbleached all-purpose flour, divided use
½ cup old-fashioned rolled oats
½ cup packed brown sugar
1 teaspoon ground cinnamon
6 tablespoons butter
Preheat oven to 350 degrees and butter an 8-inch square baking dish.
In a large bowl, toss rhubarb slices with ¾ cup granulated sugar and let stand while you prepare the strawberries and cherries. (I use the unbent paperclip trick mentioned in an earlier post to pop out the cherry pits.)  Add strawberries, cherries, ginger and 2 tablespoons flour to the rhubarb and gently mix. Pour fruit into the prepared baking dish.
In a medium bowl, combine ½ cup flour, oats, brown sugar, 3 tablespoons granulated sugar and cinnamon.  Cut butter into small pieces and work into the flour and oats mixture with a fork or your fingertips until it becomes crumbly.
Sprinkle topping evenly over the fruit mixture in baking dish.  Place dish on a rimmed baking sheet and slide onto center shelf of the preheated oven.  Bake for about 45 minutes, until the topping is well browned and the fruit is bubbling up around the edges.  Let cool on a wire rack for about 15 minutes before serving.
This crisp is best warm, served with a scoop of vanilla ice cream melting on top.  But I also like it for breakfast served straight out of the refrigerator.
Aleta Watson