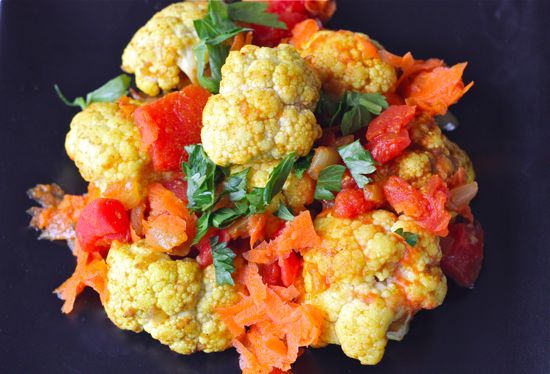 The last weeks before the local asparagus and strawberries arrive may be the most discouraging of the year for those of us who try to cook local.
The sun is shining, the tulips are blooming, and the fruit trees are breaking out in clouds of pink and white blossoms.  But the produce aisles of most markets are still dominated by sturdy greens, roots and cruciferous vegetables.
At times like these, I really welcome new ideas for preparing old standbys.  This cauliflower curry is one of the best.
With just a few pantry staples and a head of cauliflower, you can put a tempting side dish on the table in no time.  The flavors are bright and a little sweetness from the carrots balances out the curry.  It's flavorful but mild enough to serve to heat-adverse family members.  Just add more curry powder if you crave extra spice.
The recipe comes from "Made With Love: The Meals on Wheels Family Cookbook," by Enid Borden (Ben Bella Books, 2012).  A fundraiser for the organization that delivers meals to shut-in seniors, this is a slick, hardback version of the familiar community cookbook filled with contributors' favorite family recipes.  In this case, though, many of the contributors are celebrities, from Martha Stewart and Mario Batali to Cokie Roberts and Helen Mirren.
For the most part, the recipes are of the homey, quick cooking variety.  A number rely heavily on canned goods and packaged foods. Those hold little appeal for me although I do make an exception for canned tomatoes, which are the only decent alternative at this time of year.
But there are gems here.  Patti LaBelle's Baja Fish Taco recipe makes even tilapia taste good.  The Thai Tuna Salad from former Washington Post food writer Walter Nicholls gives an exotic spin to canned tuna.  And I'm itching to make the quick Moo Shu Egg from Meals on Wheels accountant Qingxin Cai as soon as I track down some dried wood ear mushrooms.
Some of the most appealing recipes were contributed by Linda Berns, a personal chef and caterer.  They offer a tasty twist to familiar vegetables, like the shredded carrots in this cauliflower dish.  My only adaptation was to reduce the olive oil a bit.
This dish is so good, I may even continue serving it after asparagus finally shows up in the markets.
COLORFUL, LOW-CALORIE CURRY CAULIFLOWER
Serves 4-6
1 medium cauliflower
3 medium carrots
3-4 tablespoons extra virgin olive oil
1 large onion, diced
4 large cloves garlic, minced (3 tablespoons)
2 tablespoons curry powder, or to taste
1/2 teaspoon cumin, or to taste
Salt and freshly ground black pepper, to taste
1 14-16 ounce can diced tomatoes
3-4 tablespoons minced Italian parsley
Wash and break cauliflower into medium size florettes and set aside. Wash and peel carrots.  Trim off ends and shred on the fine blade of a box grater or food processor and set aside.
Add oil to a large skillet over medium heat.  Add onions and garlic and cook slowly, stirring occasionally for 5-10 minutes.  When onions begin to turn golden, add cauliflower and toss to coat with any remaining oil.  Sprinkle with curry, cumin and salt and pepper to taste.  Toss and cook for approximately 5 minutes.  Cauliflower should only begin to soften at this stage.
Add diced tomatoes and their juice to pan and stir to mix.  Cover pan and simmer until cauliflower is tender but not mushy, 5-10 minutes more.
Adjust seasoning to taste.  Garnish with minced parsley and serve hot.
Adapted from "Made with Love: The Meals on Wheels Cookbook," by Enid Borden