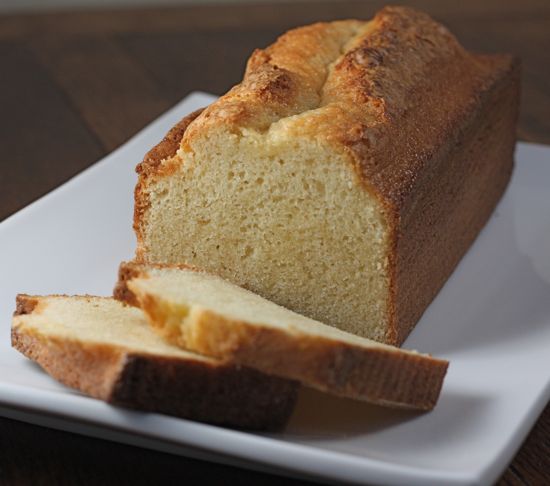 When Shirley Corriher talks, bakers listen.
A biochemist by training, Corriher is the author of two James Beard Award-winning cookbooks, including "BakeWise" (Scribner, 2008).  Few others explain the mysteries of successful baking better.
When she began dictating a recipe for pound cake at last week's Baker's Dozen meeting in San Francisco, I took out my notebook.  So did nearly everyone else in the room.
"This is my new favorite pound cake," the baking expert proclaimed with trademark enthusiasm, a grin spreading across her face.  It's hard to imagine anyone getting  more joy out of their work than she does.
The cake Corriher described is very simple, whirled together in minutes in a food processor.  The texture is pure velvet with a wonderful moist crumb. What sets the cake apart, however, are its beautiful aroma and an intense vanilla flavor that lingers on the palate.  I was hooked at first bite.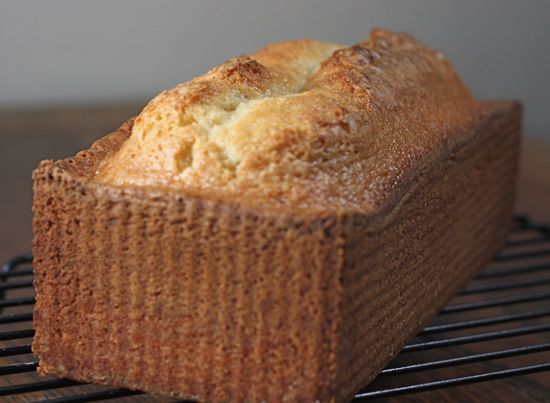 The recipe comes courtesy of Ina Pinkney of INA's restaurant in Chicago and there's a secret, of course.  A full tablespoon of vanilla bean paste is blended into the batter. (I tracked down a 4 ounce jar from Nielsen-Massey at Sur la Table for $10.95.) The flavor is much deeper than the usual pure vanilla extract.
The fine-grained texture is the result of thoroughly blending the dry ingredients before adding them to wet batter.
"Beat the fool out of it," advised Corriher, who pointed out that badly distributed leavening produces uneven holes in a cake's texture.  Sifting is not enough, she has found.  Now she recommends beating flour, salt and baking powder together with a mixer, fork or whisk for 30 seconds before adding them to the batter.
Pinkney calls for an uncommon baking pan, a heavy steel, straight-sided 9 inch by 4 inch by 4 inch Pullman loaf model from USA Pans.  I was lucky enough to find one at ChefWorks in Santa Cruz, but the price was steep at $31.50. Cliff's Variety Store in San Francisco also was taking orders last week.

The pan produced a perfectly browned cake with a lightly crisp crust. Even so, I don't know many home bakers willing to spend that much on a single pan.  To see if I could get as good a result with an ordinary pan, I baked a second cake in a standard, relatively lightweight 9 ¾ inch by 5 ¾ inch by 2 ¾ inch loaf pan.
Although the second cake tasted just as good as the first, it wasn't quite as attractive.  The top sank in the center upon cooling even though it didn't seem seriously underbaked when I sliced it.  Perhaps because the pan was wider and the metal lighter, the cake rose too much before the batter set, then collapsed.
I'd rather see the top sink a bit, however. than let the edges get too dry.  And this pound cake is just too good to pass up because of the price of the perfect pan. As Corriher notes in "Bakewise,"  you can always invert a cake so the sunken top is hidden.
The cake would be perfect for the holidays.  It's easy to make, stays moist for several days and ought to freeze well. Toasted, it's a natural partner for ice cream, poached fruit, or chocolate sauce.  I like it smeared with Nutella.
The possibilities are endless.
INA PINKNEY'S FAMOUS NEW OLD FASHIONED
VANILLA BEAN POUND CAKE
Makes one 9-inch loaf
1 cup (2 sticks) unsalted butter
1½ cups cake flour
1 teaspoon baking powder
½ teaspoon salt
1¼ cups sugar
4 large eggs
1 tablespoon vanilla bean paste
Preheat oven to 350 degrees with rack in the middle position. Butter and flour a 9-inch loaf pan, preferably a straight-sided Pullman pan.  (Do not use lid.)
Melt butter gently in microwave or in saucepan on stove top and let cool slightly.
Place sugar, eggs and vanilla paste in the work bowl of a food processor fitted with a metal blade.  Whirl together for 2 to 3 seconds, until foamy.  Stir the melted butter well.  With motor running, drizzle the butter slowly through the feed tube into the batter.  Blend for about 3 seconds once butter is incorporated.
Whisk together flour, baking powder and salt in a medium bowl for about 30 seconds, until well blended. Add flour mixture to the work bowl, distributing evenly over the surface of the batter. Pulse 5 or 6 times, until flour is well blended.  You may need to scrape down sides of the bowl and pulse again 2 or 3 times.
Pour batter into prepared pan and bake for 15 minutes.  Turn oven temperature down to 325 degrees and bake for 30-40 minutes more, until a tester inserted into the center of the cake comes out clean but moist.  Rotate the pan halfway through baking.
Let cake cool in pan for 10 minutes, then turn out onto a wire rack and let cool completely.
–Adapted from Ina Pinkney