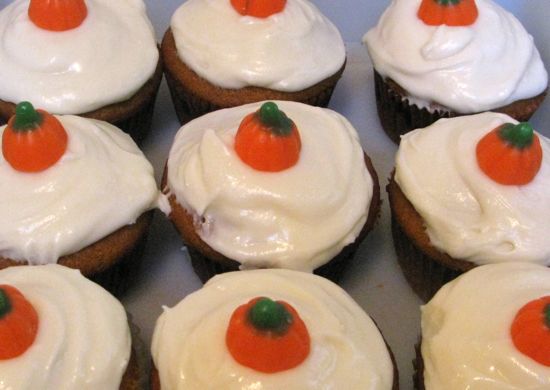 Pumpkin season is upon us.  From the first jack-o-lantern on the porch to the last slice of Thanksgiving pie, no vegetable is more closely identified with fall than the many varieties of Cucurbita pepo.
I've always loved the complex, spicy flavor of pumpkin baked with a heady blend of cinnamon, nutmeg, allspice and cloves. This year, however, I was ready for a change. I craved  a light and tender cupcake with little more than a lively undercurrent of fresh ginger to highlight the pumpkin's natural flavor.  It had to taste as clean and fresh as a fall morning, not too sweet and not too spicy.  Why should children get all the treats at Halloween?
Yet search as I might, I couldn't find a recipe that matched my requirements.  The pumpkin cakes in my baking books were either too heavy with spices or  swimming in oil.  And even though I'm a fan of  Michael Ruhlman's "Ratio" (Scribner, 2009), no basic  formula was going to solve my problem.  Adding pumpkin to a cake shifts the chemistry and I needed more guidance.
Finally, I spotted a pumpkin spice cake recipe in "The Art and Soul of Baking," by Cindy Mushet (Andrews McMeel, 2008). It called for butter rather than oil and I was on my way.  This cake was more delicate than most, with an amazingly light texture and just the right balance of pumpkin and sugar.  By substituting freshly grated ginger for the spices, I hit the mark on the first try.
The maple cream cheese frosting I put on the cupcakes is hardly original.  But the flavor combination is a classic and so good I couldn't bring my self to abandon it.
This recipe works with either canned or homemade pumpkin puree.  It may be a little harder to find canned pumpkin this year, though. A shortage from last year means processors have been rushing to get this year's harvest on the shelves in time for peak baking season.  Some stores ran out earlier this month.
To make your own puree: Cut the top off a pie-sized pumpkin (about 4 pounds), scoop out the seeds and slice into large pieces.  Place pieces on a baking sheet and roast in a preheated 350 degree oven for about 45 minutes, or until the flesh is soft and easily pierced with a small sharp knife.  Remove from oven and let pieces cool until easy to handle.  Scrape the flesh from the rind and whirl in a food processor or blender until smooth.  Discard rind.
GINGER PUMPKIN CUPCAKES
Makes 18-20 cupcakes
2 cups cake flour
1 teaspoon baking soda
¼ teaspoon baking powder
¼ teaspoon salt
½ cup (1 stick) unsalted butter at room temperature
1½ cups sugar
2 eggs
3 tablespoons grated fresh ginger
1 teaspoon vanilla
1 cup pumpkin puree
½ cup buttermilk
Preheat oven to 350 degrees.  Place paper cupcake liners in baking tins.
Sift flour with baking soda, baking powder and salt into a small bowl and set aside.  In the bowl of an electric mixer, cream butter with sugar until very light and fluffy, 2 to 3 minutes.  Add eggs one at a time, beating well after each addition.  Stir in ginger, vanilla and pumpkin puree and mix on low just until blended.  Gently fold in a third of the flour mixture, followed by half of the buttermilk, mixing well after each addition.  Then mix in a third more of the flour, the rest of the buttermilk and the remaining flour. All the flour should be incorporated but be careful not to overmix.
Spoon batter into lined baking tins, filling each cup about ¾ full.  Bake 15-20 minutes, until  tops spring back at a light touch.  Let cool briefly in tins, then remove to a wire rack to cool completely.  Frost.
Maple Cream Cheese Frosting
3 ounces cream cheese
¼ cup (½ stick) unsalted butter
2 tablespoons dark maple syrup (Grade B, if available)
1½-2 cups powdered sugar
In the bowl of an electric mixer, beat cream cheese and butter together until fluffy.  Beat in maple syrup and then enough powdered sugar to make a spreadable frosting.
-Inspired by "The Art and Soul of Baking," by Cindy Mushet