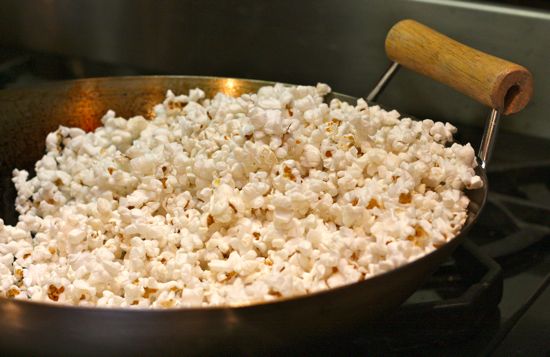 Popcorn was the last thing on my mind when I bought a carbon steel wok last fall. My goal was to get a pan that could withstand high enough temperatures to actually sear meat and vegetables in a stir-fry.
But new woks need seasoning to get that wonderfully slick, virtually non-stick surface I coveted. My efforts in that direction were agonizingly slow until I found Grace Young's account of seasoning a wok by making popcorn in "Stir-Frying from the Sky's Edge" (Simon & Schuster, 2010). She points out that popping corn distributes a thin coat of oil all over the pan and the high heat helps it adhere.
What I wasn't prepared for was how good the popcorn would be. Every kernel popped up big and fluffy with just enough oil to help the salt stick.
I used extra virgin olive oil – despite conventional wisdom that it's not really suited to high temperatures – for popping and truffle salt for seasoning.  The results were mind-bogglingly good and the air popper my family had used for years is now consigned to the pantry.
One of the chief benefits is that we no longer need to add melted butter to make the popcorn palatable.  The small amount of good quality olive oil used in popping takes care of that.  Seasonings stay on better, too.
The process is simple.  The only equipment required is a wok with a lid.  Of course you could use a large soup pot, too, but I doubt it needs seasoning.  Although Young lines her lid with aluminum foil, I just wipe it clean with a paper towel when I'm done.
Plain sea salt is good for seasoning. but it's much more fun to experiment.  We love truffle salt straight out of the jar.  When we're feeling festive, however, we might throw in a cup of finely grated Parmesan with  a couple tablespoons of minced thyme and salt to taste.
Recently, we started playing around with furikake, the Japanese rice seasoning.  Since my jar was a little stale and I didn't want to go out on a rainy day, I made some from pantry ingredients and it was quite good.  The interplay of sesame seeds, chili flakes and toasted seaweed with popped corn turns a simple snack into an intriguing nibble worthy of a party.
I plan to pop a lot of corn between now and the Oscar ceremonies a week from Sunday.  There are still a bunch of nominees out on DVD that I haven't seen yet.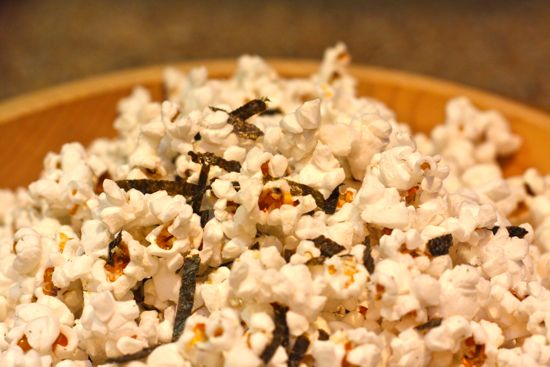 WOK POPCORN

Make
s
about 8 cups
2 tablespoons extra virgin olive oil
1/3 cup popcorn kernelsPlace olive oil and 3 kernels of popping corn in the bottom of the wok, cover and bring to medium high heat.  When all three of the kernels have popped, lift the lid and quickly throw in remaining  kernels.  Cover immediately, lower heat to medium, and shake the pan to keep the kernels from burning.  When popping slows almost to a stop, remove pan from heat and let it sit, covered, a minute or so before opening.   Pour popped corn into a bowl and season as desired.
Furikake Seasoning
Makes about 1/2 cup
2 sheets nori  (dried seaweed)
1 tablespoon salt
1 teaspoon chile flakes
4 tablespoons sesame seeds, toasted
1/2 teaspoon sugar
Toast nori by holding with tongs above the heating element of the stove for a few seconds until it becomes soft or by placing a single sheet in the bottom of a dry skillet over medium low heat.  Fold nori in half and in half again, then cut into thin ribbons.
In a small bowl, toss nori with remaining ingredients.  Sprinkle to taste over freshly popped corn and store the leftovers in an airtight container for later use.
Aleta Watson