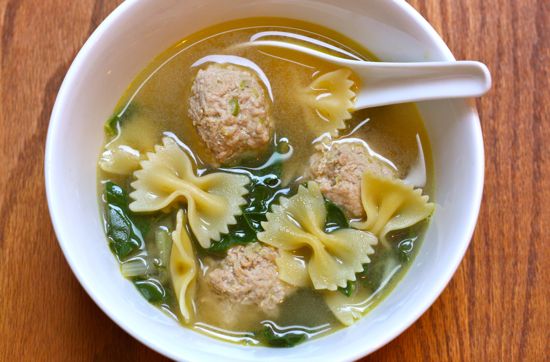 We've been battling off a persistent virus for weeks at our house.  Just as we start to feel better, it creeps back with scratchy throats and dull headaches.
What we need now is soup, hot and soothing with chicken broth, lots of vegetables and  a good dose of ginger.  When I spotted this take on won ton soup in Nina Simonds new cookbook, "Simple Asian Food" (Rodale, 2012), I knew I had to make it.
Simonds long has been one of my favorites.  She translates Asian flavors into lively dishes that don't require a pilgrimage to a distant Asian market to pull off.  She's also an advocate of healthy eating who sits on the Nutrition Roundtable at Harvard's School of Public Health.
The new cookbook is filled with tempting dishes, but the soups are most appealing to me at the moment.  I also have my eye on the cinnamon beef noodles and Saigon-style chicken noodle soup, Simond's simplified variation on pho.
This gingery faux-wonton soup was everything she promises.   Cloud-like pork meatballs, studded with chopped ginger, float in a light chicken broth. Bow-tie noodles stand in for wonton wrappers and a generous portion of chard delivers calcium, iron and vitamin C.  It all comes together much more quickly than you would imagine.  And there's none of the fuss of filling wontons when you're not feeling that great anyway.
The only changes I made to her recipe were to increase the amount of pasta a little and use only half of the meatballs.  I froze the rest for a future soup.  A pound of meatballs just felt like too much meat for only six cups of broth.  Alternatively you could increase the broth to 8 cups or more.
Next time, I'd probably make the meatballs a little smaller, too.  But that does take a little more time and effort.
If this soup doesn't cure what ails you, at least it will ease the suffering.
GINGERY FAUX-WONTON SOUP WITH BOW-TIE PASTA
Serves 4 generously as a main dish
For the meatballs:
1 pound lean ground pork
3 1/2 tablespoons chopped fresh ginger
1/4 cup chopped scallions, white parts only
3 tablespoons soy sauce
2 tablespoons rice wine or sake
1 egg, lightly beaten
1 1/2 teaspoons toasted sesame oil
1 1/2 tablespoons cornstarch
For the soup
1 bunch Swiss chard (about 1 pound)
1 teaspoon olive oil
1 1/2 tablespoons chopped garlic
6 cups chicken broth, preferably low-sodium
1 1/2cups bow-tie pasta (farfalle)
1 teaspoon salt or to taste
1/2 teaspoon freshly ground black pepper
To make the meatballs:
  Vigorously stir together the pork, ginger, scallions, soy sauce, rice wine, egg, sesame oil and cornstarch in a medium bowl. Dip a tablespoon in a cup of water to prevent sticking and use it to dip out a generous spoonful of the pork mixture.  Wet your hands and roll the mixture into a loose ball.  Place meatball on a baking tray lined with waxed paper and repeat to make about 20 meatballs.   Refrigerate meatball to firm a little while you prepare the soup.
To make the soup:  Trim off  several inches of the thick chard stems and discard, along with any wilted leaves.   Strip chard leaves off the stalks and slice leaves crosswise into 1/2-inch ribbons.  Chop stems into 1/2-inch thick pieces.
Heat oil in a heavy soup pot over medium high heat for about 10 seconds and add the garlic and chopped stems.  Stir-fry for 2 to 3 minutes.  Add chicken broth, partially cover the pot, and bring broth to a boil.  Reduce heat to medium, add meatballs and bow-ties and cook for 10-12 minutes, until pasta is almost tender.   (You may want to hold back some of the meatballs to freeze for a later meal if the pot seems too crowded.)  Add sliced chard leaves, partially cover, and continue cooking for 1 to 2 minutes.  Skim the surface of the soup if foam rises to the top.  Season to taste with salt and pepper.  Serve immediately.
Adapted from "Simple Asian Meals," by Nina Simonds