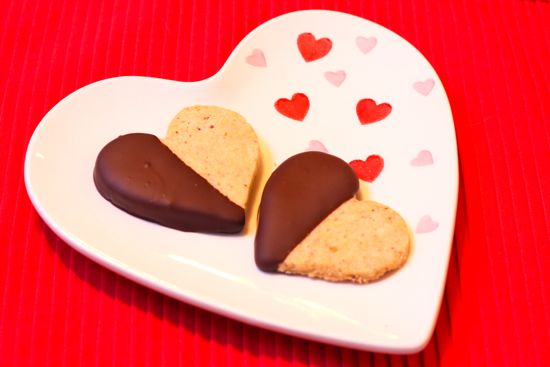 Hazelnuts and chocolate were meant for each other.   The rich, browned butter flavor of the nuts fairly cries out for the embrace of dark, dusky chocolate.  Together, they're unbeatable.
I find the combination as inspiring as it is addictive.   (No jar of Nutella, or the organic alternative, Nocciolata, is safe around me.)
So it's no surprise that I would be obsessed by the idea of a hazelnut cookie dipped in bittersweet chocolate for Valentine's Day.  The cookie of my dreams would have a great sandy texture with just enough crunch to contrast with a smooth, dense coat of very good chocolate.   It should be elegant enough to pair with a flute of champagne but substantial enough to satisfy a serious sweet tooth.
The search led me to the classic Linzer, which usually sandwiches jam between spicy, buttery cookies.  I played with proportions, left out the spices to focus attention on the nuts and baked up a cookie worthy of a Valentine.  Dressed up in a velvet cloak of chocolate, it had my number.
Usually, a cookie with so much butter is as hard to handle as it is good to eat.  Right out of the refrigerator, the dough is difficult to roll. But after a few minutes, it's too soft to cut into shapes.
Dorrie Greenspan, the baking genius, offers a clever solution in "Baking: From My Home to Yours" (Houghton Mifflin, 2006):  Roll the dough out between sheets of waxed paper before you chill it, then cut out the hearts and transfer them to a baking sheet while the dough is very cold.  It's just short of a miracle.
To temper the chocolate, I used a microwave shortcut rather than the traditional method I used for chocolate bark (with hazelnuts, of course) in an earlier Valentine's Day post.  I don't think I would use it for candy, but it worked very well for cookies dipped not long before eating.
The chocolate was Callebaut, which is selling its couverture pieces at my local market now.  E. Guittard chocolate wafers are another good choice and any high-quality chocolate will suffice if you chop it roughly first.
You could bake the cookies ahead and freeze them if you wish. For the best results, though, dip within a day or so of serving.  The cookies soften if they're stored too long after dipping.
That shouldn't be a problem. Cookies this good don't last long.
HAZELNUT HEART COOKIES DIPPED IN CHOCOLATE
Makes about 36 2-inch cookies
2 cups all-purpose flour
1 cup raw hazel nuts
2/3 cup confectioner's sugar
1/4 teaspoon sea salt
1 cup (2 sticks) unsalted butter at room temperature
2 large egg yolks
2 teaspoons vanilla
8-9 ounces dark chocolate, shaped or chopped into small chunks
Preheat oven to 350 degrees.  Place hazelnuts on a baking sheet in a single layer and roast for about 15 minutes, until nuts begin to brown lightly and the papery skin blisters.  Remove from oven and dump nuts onto a clean kitchen towel.  Wrap nuts in towel and rub vigorously until most of the skins are removed.  Some skins are stubborn and won't come off but that's OK.  Turn off oven and let nuts cool to room temperature.
In a food processor, combine flour, nuts, sugar and salt.  Pulse processor on and off until nuts are finely ground and disappear into the flour mixture.  Cut each stick of butter into 4 or 5 slices and add to the processor.  Pulse again until the mixture begins to look crumbly.  Add egg yolks and vanilla and pulse until dough begins to clump around the blade.  Take care not to mix too long.  You don't want the dough to round up into a ball in the processor.
Dump the dough out onto a large piece of plastic wrap.  Using the wrap to keep dough from sticking to your hands, knead a couple of times, if necessary, to incorporate all the flour, and bring together in a ball.  Divide ball in half and place each half between two large sheets of waxed paper or plastic wrap.  Flatten each clump of dough by hand into an even disk.  Then roll out to a thickness of about 1/4 inch.  You may have to turn the dough over and lift the paper up occasionally to avoid rolling wrinkles into the dough.  Transfer the slabs of dough to cookie sheets and refrigerate for at least 2 hours or freeze for 45 minutes.
When you're ready to bake, preheat oven to 325 degrees and line two baking sheets with parchment paper.   Remove one slab of dough from refrigerator and take off top sheet of waxed paper.   Cut into hearts with a 2-inch cookie cutter, spacing the cuts as closely together as possible.  Remove cut cookies with a small metal spatula and transfer to baking sheets, leaving about 1 inch space between cookies.  Gather up remaining scraps into a ball and refrigerate while cutting second slab of dough.   Combine scraps, roll out again and cut remaining cookies.
Bake cookies, one sheet at a time, for about 20 minutes, rotating baking sheet from front to back after 10 minutes.  Cookies should be light gold and firm to the touch when done.  Transfer cookies to a wire rack and let cool.
When you're ready to dip, place the chocolate in a narrow, deep bowl that is safe for use in the microwave.  Heat chocolate in 15-second cycles, stirring with a silicon or rubber spatula between cycles until most of the chocolate has melted but some small pieces remain visible.  (Watch carefully – you don't want to scorch the chocolate. You may need to lower the power setting of your microwave if it is very powerful.)  Stir until all the pieces of chocolate have melted and the mixture thickens slightly.  A guide with step-by-step photos is available here.
Working quickly, dip half of each cookie into the melted chocolate and gently shake or tap against the side of the bowl to let excess chocolate drip off.  Place dipped cookies on a large piece of waxed paper to cool and harden.  Store between layers of waxed paper in an airtight container until serving.
Aleta Watson