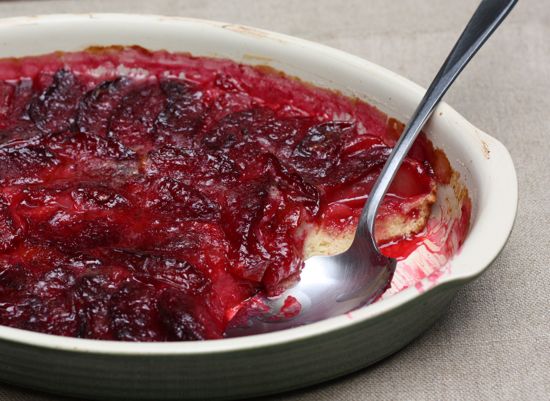 Summer is winding down and the stone fruit season is almost at an end.
Apricots are long gone. Peaches have passed their peak.  Still, plum lovers can rejoice. Some of the most complex and appealing varieties of this multi-faceted fruit are still flourishing.
Gorgeous elephant hearts, their lush burgundy flesh ready to burst out of pale purple skin, were irresistible at the Aptos farmers market last week.  Then Sunday I was seduced by cute little French prune plums, the original sugar plum, at the Live Oak farmers market.  Long before the dried version of the fruit became the butt of so many jokes that marketers changed the name to dried plums, they were a major cash crop in the orchards of Santa Clara Valley.  The French still treasure them, both fresh and dried, but they're hard to find outside of farmers markets.
These extraordinary varieties taste nothing like supermarket plums, which usually are picked so early that their flavors never really develop.  They're sweet but complex, much like a dessert wine.  The tart zing of the thin skin is fleeting and only adds to their interest.
This kuchen from Deborah Madison's "Local Flavors" is a great showcase for beautiful, deeply flavored plums.  Madison is one of my favorite cookbook authors and her palate is pitch-perfect.
The German-style coffee cake, laced with butter, plays a nice counterpoint to the juicy sweet and tart fruit.  Best of all, the batter comes together in just minutes in a food processor.  Pat the dough into a baking dish, top with sliced fruit and sugar, bake, and you're set to go.  Eat it warm if you can time it right, although it's exceptional at room temperature, too.
If you don't have cardamom hanging around your spice rack, Madison suggests substituting cinnamon.  You'll lose the delicate flavor and magnificent aroma that only cardamom delivers, though.  It may be one of the most expensive spices but it's worth every penny.
PLUM KUCHEN
Serves 6
1 cup plus 2 tablespoons all-purpose flour
1/3 cup plus 3 tablespoons sugar
1/4 teaspoon sea salt
4 tablespoons cold unsalted butter
1 egg
1 egg yolk
1/2 teaspoon vanilla extract
1/8 teaspoon almond extract
1 teaspoon freshly grated orange zest or 1 drop orange oil
1/4 cup milk
10-12 medium plums
2 tablespoons unsalted butter, melted
1/2 teaspoon ground cardamom
Preheat oven to 375 degrees. Lightly butter an 8-cup gratin dish or tart pan. Pulse flour, 1/3 cup plus 2 tablespoons sugar and salt in a food processor, then cut in the butter to make fine crumbs. Beat egg and yolk together with vanilla, almond extract and orange flavoring, then add enough milk to make a total of 1/2 cup liquid. Add liquid to flour, mixing enough to make a thick dough. It will be fairly sticky. Brush hands with additional flour and pat dough into baking dish, pushing it up around edges to make a rim.
Slice plums in quarters horizontally and carefully remove pits. Overlap plums to cover dough. Drizzle melted butter over fruit and sprinkle on remaining 1 tablespoon sugar and cardamom. Bake until crust is golden and plums are soft, 35-45 minutes. Serve warm if possible.
Adapted from "Local Flavors" by Deborah Madison (Broadway, 2002)