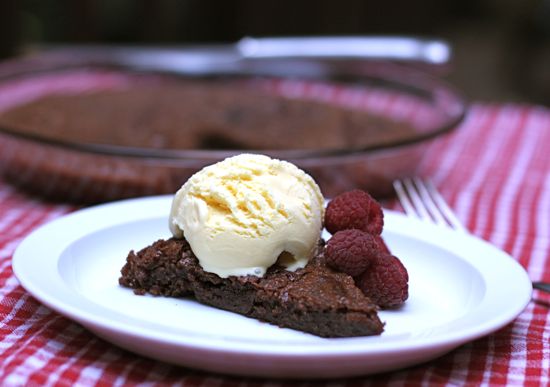 My kitchen is finished at last.  The sink is in and the stove works.  I'm in heaven.
A month isn't that long to be without a kitchen in the world of home remodeling, I know, but I felt the deprivation sorely.  Mostly, I missed my oven.    It was easy enough to boil, steam, saute and grill on the camp stove and grill, but baking was out of the question.
Or so I thought for several weeks.  Then I remembered the wonderfully easy, fudgy brownie recipe that I stumbled across in journalist Linda Ellerbee's memoir, "Take Big Bites," a few years ago.  A microwave and a toaster oven were all I needed to get my home-baked chocolate fix.
I think of this recipe as a 21st century cousin to the fudge Vassar students stirred up over spirit lamps in their rooms more than 100 years ago.  It's simple, takes only a few ingredients and is truly addictive.  It would work just as well for a hungry college student making do in a dorm as it did for this frustrated baker operating without a real oven.
Ellerbee calls the  brownie "Mama's Rescued Fudge Pie" because she thought her mother's recipe was lost forever until a friend produced a copy of the original years later.  She uses Baker's unsweetened chocolate and that will work fine if you're on a budget.  But I had received a treasure trove of Valrhona chocolate to try out so I substituted 68 percent cacao "Le Noir" for the unsweetened and cut the sugar a bit.  A homey treat was transformed into a memorable dessert with impressive chocolate flavor.
The pie was so good in fact that I baked another a few days later to take to a pot luck.  This time I added 1 more tablespoon of flour to firm the texture a little.  It was a hit with old-fashioned vanilla ice cream from Maryanne's, a popular Santa Cruz ice cream maker.
Baking in a toaster oven does present challenges.  First, the oven needs to be big enough to hold a pie pan although you could divide the batter into smaller pans and bake in batches.  Just keep the layers fairly thin so they bake quickly.
You also have to watch the pie carefully as it bakes.  Even though I've reduced the baking temperature to 375 degrees, the pie is likely to cook more quickly because the heating element is so close to the pan in the small oven.  I found mine was done at least 5 minutes earlier than the recipe called for and one got a little too dark on top when my attention faltered. (I just sprinkled a little shaved chocolate on top, let it melt, and spread it around like icing.)
If you want fewer dishes to wash, you can melt the butter and chocolate and mix the batter right in the Pyrex pie plate you bake it in, as Ellerbee suggests.  I've found I get better results if I mix the batter in a separate container and pour it into a pan that has been lightly buttered.  It looks nicer and comes out of the pan more easily.
That's not an issue, though, if you find yourself eating this pie warm, straight out of the pan. The aroma is that tempting.  The flavor is even better.
MAMA'S RESCUED FUDGE PIE
Serves 8
2 ounces bittersweet chocolate (see Note)
1 stick (½ cup) butter, plus more for pan
¾ cup sugar
¼ cup plus 1 tablespoon flour
2 eggs
1 teaspoon vanilla
¼ teaspoon salt
Preheat oven to 375 degrees. Place chocolate and butter in a 4-cup Pyrex measure or microwave-safe bowl. Heat on high heat for 1 minute, stir, and heat for 30 seconds more. Let sit for a minute or so and stir until chocolate dissolves completely. Add sugar, flour, eggs, vanilla and salt. Stir until well combined. Pour into lightly buttered 9-inch pie pan.
Bake for 25 minutes (20 minutes or less in a toaster oven). Let cool for as long as you can wait. If you can't wait, vanilla ice cream helps cool a slice of pie on your plate.
Note: If you prefer to use unsweetened chocolate, as Ellerbee does, you should increase the sugar to 1 cup and reduce the flour to ¼ cup.
Adapted from "Take Big Bites" by Linda Ellerbee (Berkeley, 2005)
If you're wondering how the kitchen turned out, here it is: