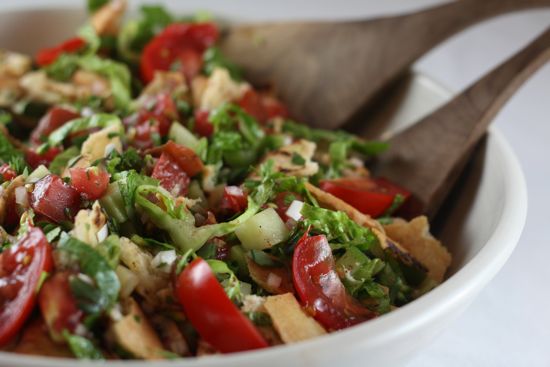 This is my favorite time of year, when lush, sun-warmed tomatoes are everywhere in the farmers market.  Although I'm a devotee of heirlooms such as Cherokee Purple and Big Rainbow, I find it hard to resist any tomato plucked dead ripe off the vine.
When Molino Creek Farm in Swanton was saved from devastation in last month's Lockheed fire, I was overjoyed – not only because it would be a tragedy for anyone to lose their home to wildfire, but also because some of the best dry-farmed Early Girl tomatoes come from there.  Small and firm with a delightful balance of sugar and acid, they're the perfect tomato for fattoush, the Lebanese riff on the more familiar tabbouleh.
In fattoush, torn pieces of toasted pita bread stand in for the bulgur wheat of tabbouleh, changing the salad's texture dramatically.  The shards contribute satisfying crunch when tossed together at the last minute with a lemony dressing, the freshest possible tomatoes and crisp greens.  Be forewarned, however, this salad is not a good candidate for a make-ahead dish or leftovers.  The pita turns soggy in no time and has all the appeal of wet cardboard.
I found this recipe in Joyce Goldstein's "Mediterranean Fresh" (W.W. Norton, 2008), an impressive collection of substantial salads from an incredible chef.  She calls for sumac, a Middle Eastern spice sold at ethnic markets, and purslane, a succulent green more often considered a weed in North America but increasingly available at farmers markets as well as Mexican grocers.    Although you can put together a very good salad without them, the pleasantly sour sumac is essential for authentic flavor.  Purslane contributes another layer of texture and a hint of tartness.
FATTOUSH
Serves 4-6
1 cup fruity extra virgin olive oil
½ cup fresh lemon juice
2 teaspoons ground sumac (optional)
Sea salt and freshly ground black pepper
8 small pita breads
3 medium tomatoes, cut into ½ -inch dice
2 small cucumbers, peeled and cut into ½ -inch dice
½ cup minced red onon
6 tablespoons minced green onions
1 cup chopped flat-leaf parsley
½ cup slivered fresh mint
2 cups chopped purslane (optional)
4 cups loosely packed romaine strips, 1-inch wide
Whisk together olive oil, lemon juice, sumac, and salt and pepper to taste in a small bowl.  Set aside.
Preheat oven to 350 degrees.  Place pitas on a baking sheet and bake about 15 minutes, until dry.  Remove from oven and let cool until they're comfortable to handle.  Break into bite-sized shards.
Combine tomatoes, cucumber, red onion, green onion, parsley and mint in a large bowl.  Add pita, purslane and romaine.  Toss with enough dressing to coat all the ingredients lightly.
Serve immediately.
Adapted from "Mediterranean Fresh," by Joyce Goldstein.