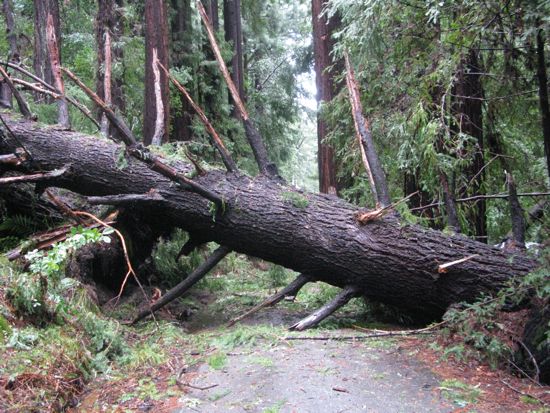 Life has thrown me a few curve balls in recent days.  One of the most inconvenient was the loss of power, water and access to the files on my desktop computer for nearly a week.
I do have an appetizing food photo to go with this post, truly I do.  Sadly, it's still locked up on the other computer, though. So I'm going to beg your indulgence and offer this shot of the culprit in all this–the 200-year-old fir tree that decided to depart this life during a blustery storm last week.  It uprooted and fell with a tremendous thud, crushing our water tank, blocking the road and taking down power and cable lines.
Thankfully, I had already worked out this recipe for oricchette with broccoli rabe.   Just thinking about this dish brightens my day.
It's a variation on the Italian classic and one of the best ways I know to use that leafy vegetable also known as rapini.  The name of the pasta translates to "little ears" and the wilted greens of the sauce cling nicely to the small, cupped shapes.  Penne, ziti or rotelle will do the job nearly as well, however, if you can't find oricchete at your market.
Despite its name, broccoli rabe is thought to be a relative of the turnip rather than the broccoli most commonly found in the supermarket.  Dark, peppery and a bit bitter, it can be found at farmers markets and specialty grocery stores in the fall and winter months.  Look for bunches with vibrant green leaves, tight florets and slender stalks.  Reject those with yellowing or wilting leaves.
What makes this recipe so delightful is the addition of goat cheese, which brings a luxurious texture to the dish and softens the bite of the bitter greens.  The inspiration comes from Linda Butler,  of Lindencroft Farm in the Santa Cruz Mountains, who wrote about her love of broccoli rabe in Saveur magazine this month.  She uses goat cheese in her variation on the traditional recipe.
I've also taken a tip from Tuscan cooking and introduced toasted breadcrumbs for more textural interest along with a bit of bacon for a salty, savory note.  It's not the same as pancetta, it's true, but it's readily available and much more economical. Besides, doesn't bacon make everything better?
This is a great one-dish meal that can be prepared with a minimum of time and only two pans.  It's comfort food extraordinaire– just what I want when all my best-laid plans start crashing about me.
Oricchette with broccoli rabe, goat cheese and bacon

Serves 4
3 tablespoons olive oil, divided use
½ cup fresh breadcrumbs (optional)
2 bunches broccoli rabe
1 pound oricchiete pasta
4 slices thick-cut, uncured bacon, coarsely chopped into ½-inch squares
6 cloves garlic, thinly sliced
¾ teaspoon red pepper flakes
5 ounces goat cheese, cut into small chunks
1/3 cup freshly grated pecorino Romano or Parmigiano cheese
Salt and freshly ground black pepper to taste
In a large skillet, warm 1 tablespoon of the olive oil over medium heat and add breadcrumbs, stirring to coat evenly with oil.  Season with a pinch of salt and cook, stirring often, until crumbs are golden brown.  Remove from skillet, place on a small plate to cool, and reserve.  Wipe out the skillet and set aside for later use.
Meanwhile, bring a large pot of well-salted water to a boil.  Wash broccoli rabe and trim off stems.  Cook broccoli in boiling water until just tender, 2-3 minutes.  Using a slotted spoon or wire mesh skimmer, remove greens from pot, saving the water.  Rinse greens in cold water to stop the cooking, let drain and chop coarsely.
To the same pot of boiling water, add oricchette and cook until al dente, 8-10 minutes.
While pasta is cooking, warm 2 tablespoons of olive oil in a large skillet over medium heat.  Add bacon and cook until it begins to brown and crisp.  Add greens and sauté until lightly browned.  Add garlic and red pepper and cook a few minutes more.
Drain pasta, reserving 1 cup of cooking water.  Add pasta to skillet with greens and cook over high heat, stirring frequently, for 2 or 3 minutes.  Add as much of the pasta cooking water as necessary to create a lightly saucy consistency.  Remove skillet from heat and add goat cheese, stirring until melted and creamy.  Stir in the grated cheese, sprinkle with toasted breadcrumbs and serve.
Aleta Watson