Once upon a time my favorite party fare  was  the simple dip made by stirring an envelope of Lipton's onion soup mix into a carton of sour cream.  Salty, savory and all too tempting, it was a fixture at every party. I always found it hard to step away from the bowl.
Today, I won't touch the stuff.  All those fake flavors and dehydrated ingredients no longer appeal.  But I still love a good crunchy chip and a tasty dip.
So once or twice a year, I make onion dip from scratch, slowly caramelizing the onions until they turn soft and sweet.  It takes more work, it's true, but the flavor is so much better.  And if it still isn't good for me, I tell myself it's a rare indulgence.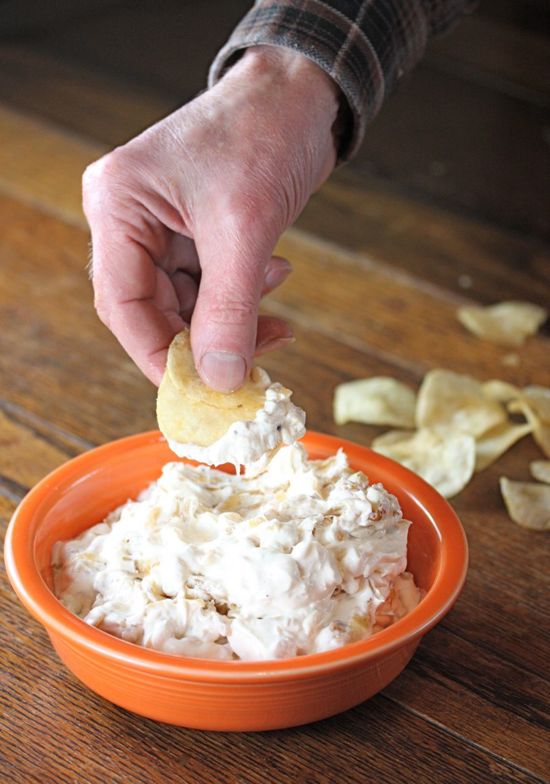 Super Bowl Sunday, arguably the biggest snack day of the year, is the perfect occasion for this splurge. I always like the food better than the game anyway.
The recipe comes from Ina Garten's first book, "The Barefoot Contessa Cookbook" (Clarkson Potter, 1999).  Like most of her recipes, it doesn't stint on the fat. but that's why her food always tastes so good.  I've substituted reduced fat cream cheese and yogurt for the regular cream cheese and sour cream of the original at times and the flavor was still terrific.  But it's hard to beat the original.
The key here is to brown the onions for at least 20 minutes over medium-low heat until they turn golden brown and amazingly sweet.  They don't need to be stirred constantly, but you don't want to neglect them so much that they begin to crisp on the edges. A heavy skillet makes the job easier.
One bite of this dip and you'll turn up your nose at the mix, too.
Pan-fried Onion Dip
Makes 2 cups
2 large yellow onions
¼ cup (½ stick) unsalted butter
¼ cup vegetable oil
¼ – ½ teaspoon ground cayenne pepper, to taste
1 teaspoon kosher salt
½ teaspoon freshly ground black pepper
4 ounces cream cheese, at room temperature
½ cup sour cream
½ cup good mayonnaise
Cut onions in quarters vertically from the root end and then slice into 1/8-inch thick quarter rounds.  (You will have about 3 cups.)  Heat butter and oil in a large saute pan over medium heat.  Add onions, cayenne, salt and pepper and saute 10 minutes.  Reduce heat to medium-low and cook, stirring occasionally, 20 more minutes, until onions are browned and caramelized.  Allow onions to cool.
Place cream cheese, sour cream and mayonnaise in bowl of electric mixer fitted with paddle attachment and beat until smooth. Add caramelized onions and mix well.  Taste for seasonings.  Serve at room temperature.
Adapted from "The Barefoot Contessa Cookbook," by Ina Garten (Clarkson Potter, 1999).