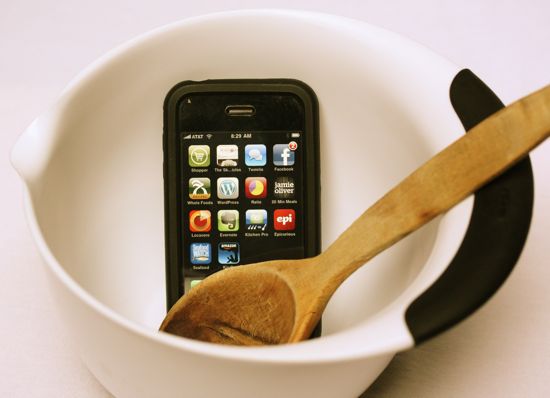 I confess I'm a gadget junkie.  I come by it honestly.  My dad has always been fascinated by the newest technological wonder and he's built an impressive collection of toys over the years.  I'll never catch up, try as I might.
I work to keep my addiction under control, though, now that I no longer get a regular paycheck.  That's what makes the iPhone apps so much fun.  (I know, I know.  You have to buy the phone first but I've done a good job of rationalizing that purchase.)  The apps are cheap–as long as you don't go overboard and download everything that looks remotely useful.
In the six months since I got my phone, I've been checking out and playing around with apps.  Some didn't make the cut.  Others were one-trick ponies.  But I've come to rely on a handful, especially when I'm away from home and working in an unfamiliar kitchen without my collection of trusted cookbooks. Here are some of my favorites: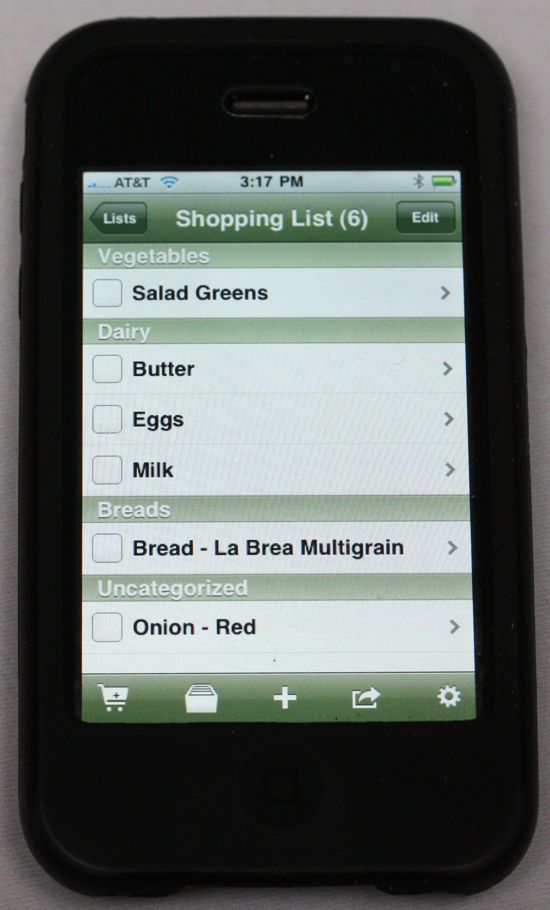 Shopper (99 cents)  At heart, this is a very simple shopping list organizer and that's the way I like it.  You enter the items with the iPhone keyboard or select them from the menu and they're automatically organized by the section where you'll find them in the supermarket.  You can get fancy and share lists, create separate lists for different markets, comparison shop from local store flyers, or enter prices of the items you use regularly. But I never do.  That's just too much work.
Although some reviewers have complained about advertising, I've never seen any on my lists.  Perhaps that's because I don't buy many big brand items.  A upgraded version is coming out soon that will be ad free–at a higher price, of course.
Shopping lists may be a matter of taste, though.  My husband loved the list he had on his Palm so much that he never warmed up to this one.  He's installed MyShoppingLists (Sudheer Parwana $1.99) on his iPodTouch and I don't like it much.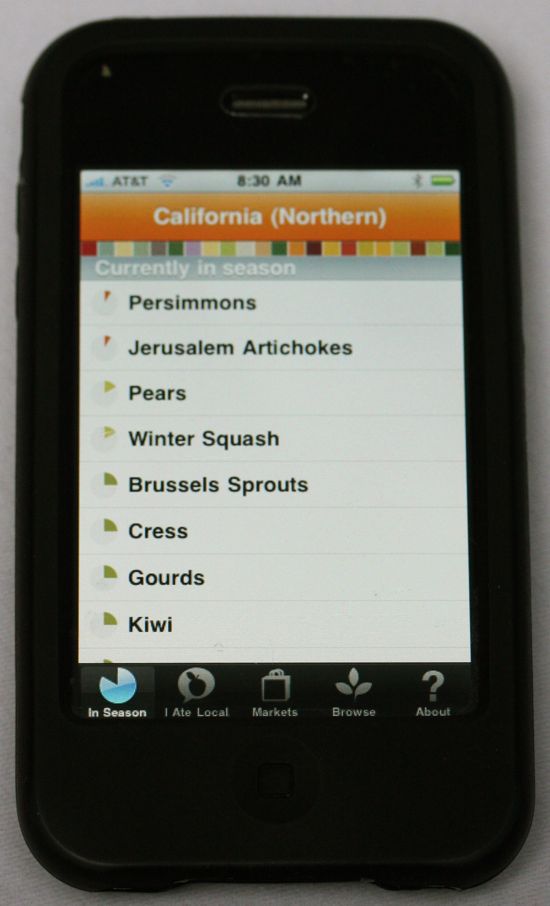 Locavore ($2.99) Since I write mostly about what's in season, I like to know  what's going to be in the market when I plan my blog posts.  This little app is a wonder.  It tells me what fruit and vegetables are  in season, what's going to be gone in a couple of weeks and what's arriving soon.  And it's customized for my location.  When I travel, it will tell me what's available where I am.
This is no mean feat.  I used to consult several different charts tacked to my bulletin board for this information and it wasn't nearly as comprehensive. This app tracks 234 fruits and vegetables, both the familiar and the exotic.
If the product availability information weren't enough, you can browse for most any produce item and the app will tell you where, if anyplace, it's in season, connect you to more info on Wikipedia or link you to recipes on Foodista.com.  A GPS feature maps out farmers markets and farms near you.
Anyone who is trying to eat locally and in season needs this app.
Ratio ($4.99) Michael Ruhlman broke the cookbook mold when his latest offering, "Ratio" (Sribner, $27), was published last year.  The soul of the small volume is a collection of formulas–ratios–that professionals use for preparing everything from bread to creme brulee.   Now those ratios are available in a clever app that encourages cooks to get creative.
Plug in how much flour you want to use for pancakes, say, and a ratio will tell you the quantities of milk, eggs and butter required.  Basic instructions are included under the "details"  tab.
This information is just what you need when you're in a relative's kitchen preparing to cook breakfast.  The only drawback is the ratios work best by weight so you really need a kitchen scale, which your host may not possess.  There's a provision for converting the weight of ingredients to cups, but there's no option for teaspoons or tablespoons.  That can be pretty limiting.
Nonetheless, I like having these ratios available to consult while I'm grocery shopping or away from from my hard copy of "Ratio" at home.   You could store your own recipes in the app, but I haven't yet. (Do you sense a theme here?)
Epicurious (free) If I'm going to look up recipes on the fly, I'm going to go to Epicurious.  It's the only big data base on  the web with recipes I trust and it includes  more than 30,000 recipes from the late lamented Gourmet as well as Bon Appetit and a slew of cookbooks. There are 272 entries for roast pork alone.  It's easy to search, the photos are nice, and the recipes can be viewed in landscape format, which is much easier to read in the kitchen.
Another nice app for recipes comes from Whole Foods (free) although it's limited.  One of its best features is an "On Hand" search that offers recipe suggestions for the ingredients you have in your refrigerator and cupboards.  I was disappointed that it didn't come up with pasta carbonara when I typed in bacon, eggs and pasta.  Maybe it's not healthy enough for the database.  The app also maps the location of the nearest Whole Foods market, of course.
Kitchen Calculator Pro (99 cents) When I was working in newspapers, my fellow reporters and editors used to joke that if we were any good at math we'd have jobs that paid real money.  It's true.  Just the thought of multiplying fractions to scale up a recipe from 4 to 6 servings gives me the willies.  This app does it for me.  It also converts units from cups to teaspoons or quarts to liters and it can convert weight to volume (handy for ratio questions) for a long list of common ingredients.
I didn't find the interface intuitive since the home page is mostly icons–I'm a word person after all.  But the help function works well.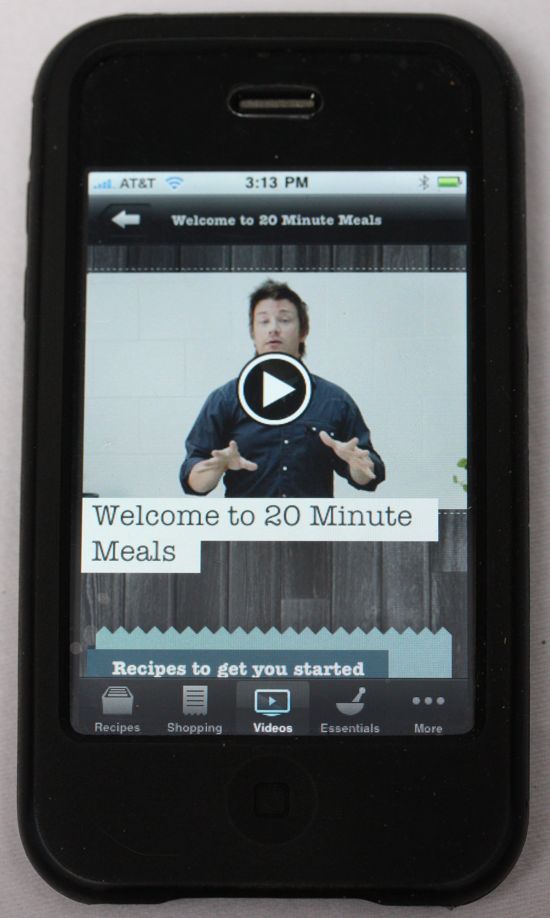 20 Minute Meals – Jamie Oliver ($4.99) I've long been a fan of British food phenomenon Jamie Oliver's tasty, no-nonsense cooking but this app would stand out for its production values alone.   Each of the 50 recipes comes with step-by-step photos as well as complete instructions–presented in landscape format in easy to read type–and occasional voice-over cooking tips from Jamie.  They're simple but not dumbed down.  As an added attraction, they're filed in the phone's memory and you don't need an Internet connection to use them.
This app is ideal for beginning cooks.  In more than an hour of videos, Jamie offers advice on how to stock your pantry, what cooking equipment you need and even how to prepare garlic.   He's charming, down-to-earth and helpful.  I learned a new trick for chopping onions.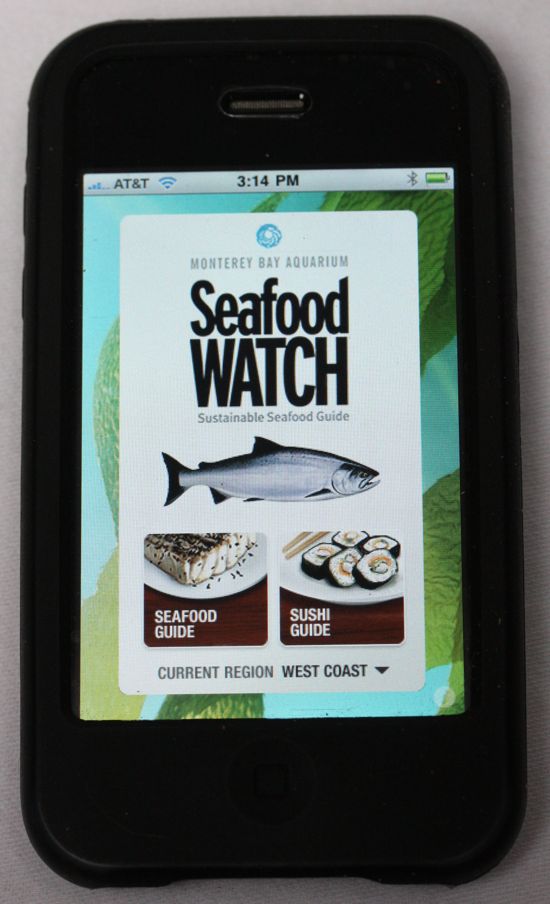 Seafood Watch (free) Buying fish has become a minefield.  Some of the seafood I like best, including red snapper, has either been overfished. Or it threatens the environment, as in farmed shrimp and salmon.
I used to carry the Seafood Watch guides from the Monterey Aquarium in my wallet to help me navigate restaurant menus and shop responsibly at the market.  Now I just check out this handy app on my phone. It lists the best choices, good alternatives and what to avoid for your part of the country.  There's a guide for sushi lovers, too, that includes the Japanese name for each fish.  Recommendations are updated regularly.
There's no end to iPhone apps, it seems.  I just found one that helps you eyeball how much dry spaghetti you'll need depending on how many people you're serving and then time the cooking –Pastatime ( 99 cents).  There's one that scans bar codes to track your daily intake from packaged food–DailyBurn (free).  Another serves as a pocket guide to cheese –Fromage ($2.99)
What apps have you found useful in the kitchen?