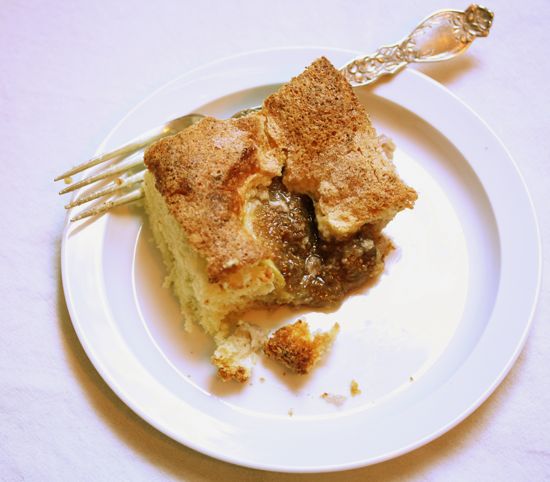 2010 is going down in my books as the year of the fig.  Tomatoes may have disappointed, casualties of the unusually cool Northern California summer, but the figs have been magnificent.
Black Mission figs began arriving at the farmers market from the Central Valley a couple of weeks ago and we've been eating them out of hand, off the grill, or baked in this cake.  They've been exceptionally sweet and juicy.
Then the huge brown Turkey figs and delicate green Adriatic figs showed up and they've been wonderful, too.
If your only encounters with figs have been in those dry Fig Newtons your mom packed in your lunchbox, you're in for a surprise.  A perfectly ripe fig is a voluptuous fruit, soft and yielding in texture.  It's subtly sweet with hints of honey and vanilla.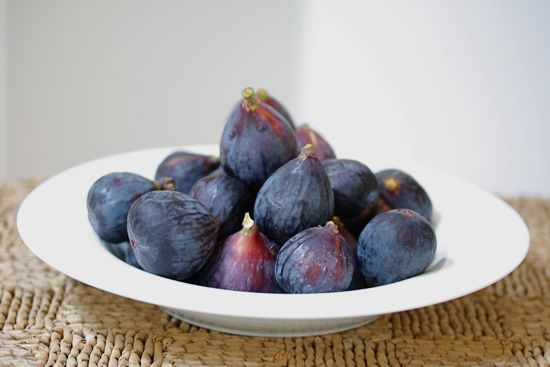 The trick is to get a ripe one.  Figs don't ripen properly once they're picked and under-ripe fruits aren't worth eating.
Choose figs that are soft, moist and heavy for their size.  They should feel like little water balloons in your palm.  Some cracking along the sides, slight wrinkling at the neck and a drop of syrupy juice at the blossom end are good signs of ripeness.
Eat them or bake them in this homey cake right away.  They are extremely perishable and don't last more than a day or two before they begin to mold.  Store them on the kitchen counter in a single layer without touching.
The cake is an adaptation of a Viennese recipe from my friend Rebecca's Austrian aunt and grandmother.  They usually made it with apricots, but I've made it with plums and just knew it would be an ideal backdrop for figs.
It's a classic European-style sponge cake with a light, tender texture and open crumb that soaks up the fig juices beautifully–although it's better made with fruit that is still a little firm and doesn't collapse altogether during baking.  The addition of grated orange peel makes the flavors pop.
I've translated the European weights into cups and tablespoons and put much more detail into the instructions.  The original recipe was pretty minimal, expecting the cook to know a lot about baking.  While the cake works if you just "mix egg yolks with sugar," as the recipe directs, the texture is far better if you beat the yolks until pale and thick before gradually adding the sugar.  The slightly complicated layering of yolks, beaten whites and sifted flour mixture also delivers a lighter and more tender cake than merely stirring the flour  and baking powder into the yolks and sugar, then folding the beaten whites into the stiff batter.
Once you've made the cake with figs, all sorts of other possibilities will emerge.  I think it would be great with blueberries and Rebecca suggests you can make it with fresh cherries.
FIG CAKE
Serves 8
8-10 medium to large fresh figs
7 eggs, separated
1 cup sugar, divided use
1 teaspoon grated orange zest
¾ cup plus 2 tablespoons bleached all-purpose four
1 teaspoon baking powder
Preheat oven to 350 degrees and line the bottom of a 7½-inch by 11½-inch baking pan with parchment.  Do not grease the sides of pan.
Gently rinse figs and pat dry with a kitchen towel.  Remove stem, slice figs in half lengthwise and set aside.  Do not peel.
Place egg yolks in a medium mixing bowl and beat with an electric mixer on medium low for a few seconds to combine.  Increase mixer speed to medium and add ¾ cup plus 1 tablespoon of the sugar in a steady stream, continuing to beat for about 3 minutes more until the yolks are pale yellow and as thick as cream.  Stir in orange zest and set aside.
Measure out 2 tablespoons of the remaining sugar to use with the egg whites. (You'll have 1 tablespoon left for topping the cake before baking.)  Place flour and baking powder together in a sifter and set aside.
Place egg whites in another bowl and beat the whites with a whisk attachment on medium low speed until frothy.  Increase speed to high and add about 1 teaspoon of the 2 tablespoons of sugar and beat about 1 minute, until soft peaks form.  With mixer running, add the remainder of that portion of sugar in a steady stream and continue beating about 30 seconds more, until mixture is glossy and stiff peaks form.
To make the batter, spoon about half of the beaten egg whites over the yolk mixture and gently fold in with a rubber or silicone spatula to lighten.  Sift about half of the flour and baking powder mixture over the batter and fold it in.  Spoon remaining egg whites over the batter and sift the remaining flour mixture atop of that.  Gently mix by cutting down through the center of the batter with your spatula and folding from the bottom over the top, being careful not to over-mix.  You want the batter to be light and airy so the cake will rise properly.
Pour the batter into the baking dish. Top with fig halves and sprinkle them with sugar.  (The figs will sink into the batter).
Place pan on the center rack of the oven and bake until the cake starts to brown, about 25 minutes.  Reduce oven heat to 325 degrees and continue baking until top is a deep golden brown and the blade of a small sharp knife comes out clean when inserted into the cake.  Total baking time will be 30-40 minutes.
Aleta Watson