I can't cook without lemons in the kitchen. A shot of fresh juice or dusting of lively zest is often just what a recipe needs to sharpen flavors and make a dish memorable.
Thick-skinned Eurekas from the grocery store will do, but the fragrant Meyer lemons more commonly grown in backyards are my favorites. Strictly speaking, they're not lemons at all, but a cross between a sweet orange and a lemon, bringing the best of both citrus fruits to the table. The juice is a little softer and the aroma more intoxicating than ordinary lemons.
So, when my friend Sheila generously offered me a bag of Meyers from her hyperproductive tree, I leaped at the opportunity. I wasn't counting on such a large bag, though, and when I got it home I began to worry that some would rot before I could use them all. My freezer was already stocked with lemon juice. There was lemon marmalade in the pantry and limoncello in the fridge. What should I do with the unexpected bounty?
Why, preserve them Moroccan-style in salt and their own juice, of course. Although preserved lemons take three or four weeks to mature, they'll last a year in the refrigerator. Over time the bright flavors soften and mellow, developing deep and savory undertones.
Preserved lemons and olives do wonderful things for chicken in a the classic Moroccan tagine, or stew. It's an amazing dish guaranteed to impress dinner guests. Deceptively quick and simple to prepare, it tastes as if you'd been cooking all day.
Salted lemons also work their magic in dishes as diverse as a lamb tagine with artichokes, a spinach salad, a simple vinaigrette, or a bowl of French lentils.
There's only one drawback: You need to plan ahead. Unless you have a good Middle Eastern grocer nearby, you can't just run out and buy preserved lemons when you get a hunger for an exotic tagine or salad. They're available to order on the Internet now, but that takes time, too.
You can speed things up a little with a quick brine that produces a decent pickled lemon in just five days. I've had good success with the technique outlined in Paula Wolfert's seminal cookbook, "Couscous and Other Good Food from Morocco" (Harper, 1973).
Essentially, you make eight very shallow vertical cuts with a thin, sharp knife in each lemon, being careful not to cut into the pulp. Boil the lemons, covered with very salty water (about 1 tablespoon per lemon), in a stainless steel saucepan until very soft – at least 30 minutes. Then pack in a clean jar, cover with cooled cooking liquid and leave to pickle for five days before using.
The best results, though, take more time. You can preserve as many or as few lemons as you wish and you'll want to use organic or, at the very least, unsprayed fruit since you'll be eating the peel. In any case, scrub the peel well with a stiff brush before cutting and packing with salt. The jar should be sterile and the salt should be pure, either Kosher or sea salt.
Many Moroccan cookbooks have instructions for the longer term method. I like Kitty Morse's technique in "Couscous" (Chronicle Books, 2000) because the lemons look prettier in the jar: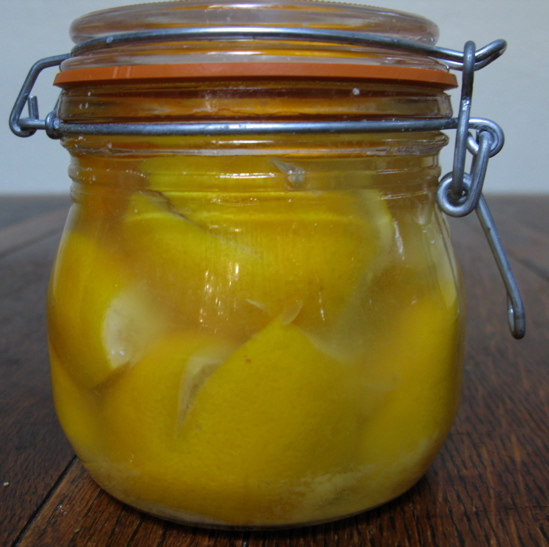 Scrub and rinse the lemons. Slice each one vertically almost in half, stopping a quarter of the way from the bottom. Then flip the lemon over, rotate it 90 degrees and slice it almost in half again. You'll have two opposing deep cuts but the lemon will remain intact.
Pack the cut surfaces with as much salt as they will hold and tuck each lemon tightly into the clean jar. Seal the jar. The lemons will begin releasing their juices almost immediately, creating a salty pickling brine.
Open the jar after three or four days, press the lemons down with a wooden sp0on and add more lemon juice if necessary to cover the peels entirely. Close the jar and leave in a cool place for at least a month to allow the rinds to soften completely.
Use the preserved lemons as desired. Don't worry if a little harmless white mold develops on a lemon. Just wash it off or cut it away before using the rind.
Now you're ready to make the Moroccan chicken tagine from Claudia Roden's "Arabesque" (Knopf, 2005). It's worth the wait.
Tagine of chicken with preserved lemon and olive
Serves 4
3 tablespoons extra virgin olive oil
2 onions, grated
3 garlic cloves, crushed
½ teaspoon crushed saffron threads
½ teaspoon ground ginger
1 chicken cut into 6 or 8 pieces
Salt and black pepper
Juice of ½ lemon
2 tablespoons chopped cilantro
1 tablespoons chopped Italian parsley
Peel of 1 large or 2 small preserved lemons
12-16 green or violet olives
Heat olive oil over low heat in a wide, shallow casserole or Dutch oven that can hold the chicken in one layer. Add onions and cook, stirring frequently, until onions are soft. Add garlic, saffron and ginger.
Season chicken with salt and pepper and place in a single layer in the bottom of the pan. Add 1¼ cups water, cover pan and simmer, turning pieces every five minutes or so. Remove breast pieces after 15 minutes and set aside. Cook the remaining pieces for about 25 minutes, adding more water if necessary to keep the pan from going dry. Return breasts to the pan.
Stir in lemon juice, cilantro, and parsley. Cut preserved lemon peel into strips and add, along with olives. Cook, covered, at a low simmer for 5-10 minutes more. If liquid is still thin, remove chicken and raise heat, stirring constantly to reduce to a thick sauce. Lower heat and return chicken to pan to warm again.
Serve on a large platter with the lemon peel and olive mixture spooned over the chicken.
Note: The stew is called a tagine after the shallow clay vessel with a conical lid in which it traditionally was cooked in Morocco. You don't need the special pot, however, to produce a very good tagine.
Adapted from "Arabesque," by Claudia Roden