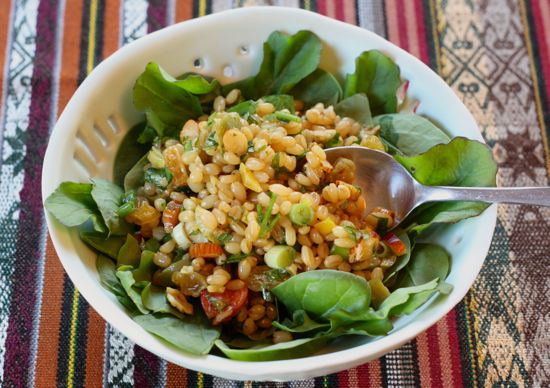 Sadly, the tomatoes and cucumbers are gone.  The plants just quit producing when temperatures dipped into the 40s at night, so they had to go.
But the spinach and arugula plants are still pumping out plenty of leafy greens. Paired with bold Mediterranean flavors and chewy grains, they make a salad perfectly suited for fall.
The inspiration for this salad came from the wildly popular cookbook, "Jerusalem: A Cookbook," by Yotam Ottolenghi and Sami Tamimi (Ten Speed Press, 2012).  This book is such a hit, it even has its own Facebook page and hashtag (#tastingjrslm).
It's no wonder so many people are cooking their way through the recipes from front to back. The flavors and textures of the dishes are amazing.
Every recipe I've tried so far has been impressive.  But the way the authors bring together the tang of lemons, the deep savor of olives, the crunch of toasted almonds and the sweetness of golden raisins in the bulgur  topping for one of their eggplant dishes is nothing short of genius.
I decided to build my salad on a similar flavor profile, using puffy, chewy wheat berries as the grain.  The results were even better than I had hoped.  The wheat berries add an extra layer of texture and a slightly nutty flavor that plays well with the other ingredients.  Each bite is better than the last.
The dressing uses preserved lemons and I added a little smoked paprika for a mildly spicy edge. You can preserve your own lemons from this recipe or buy them at a well-stocked grocery store or Middle Eastern market.  Or feel free to substitute grated lemon zest.  It won't be quite as complex, but it will bring its own zing to the salad.
This dish does require a little advance planning.  The wheat berries usually take 30 minutes to an hour to cook, depending on the variety and age.  You can cook the berries with just a little attention while you're doing other things in the kitchen, though.  And you can make them ahead, although the berries absorb the dressing better when warm.
After that, the salad comes together fairly quickly and is so hearty and filling it could be served as the main event for dinner.  It would be a good vegetarian addition to a holiday potluck, too.
As a bonus, the leftovers are terrific.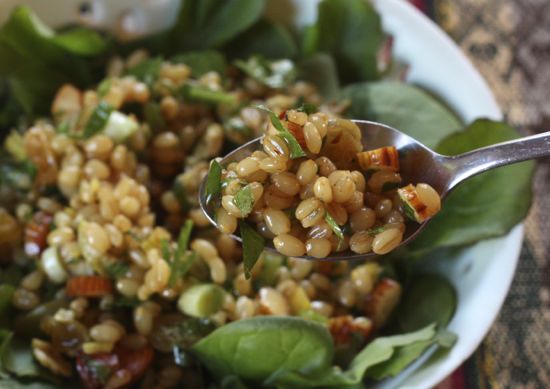 WHEAT BERRY SALAD WITH PRESERVED LEMON AND OLIVES
Serves 6
1 cup wheat berries
3 cups water
Kosher-style salt
1/4 cup extra virgin olive oil
1 1/2 tablespoons lemon juice
1 tablespoon preserved lemon, minced, or grated lemon zest
1 large clove garlic, minced
1/4 teaspoon smoked paprika
2 tablespoons chopped mint
3 tablespoons chopped parsley
1/3 cup sliced almonds, toasted
1/4 cup golden raisins, soaked for 10 minutes in 2 tablespoons hot water
1/3 cup pitted green olives, chopped
1 small bunch green onions, coarsely chopped
1 bunch of arugula, torn into large pieces
2-3 large handfuls of baby spinachPreheat oven to 375 degrees and spread wheat berries in a single layer on a rimmed baking sheet.  Toast in the oven until berries are lightly browned, about 10 minutes. Watch them closely to be sure they don't burn.  When you can smell them, they're ready.
Scrape berries into a large saucepan and add water and about 1/2 teaspoon salt.  Bring to a boil, lower heat to a simmer, and cover with a lid.  Begin checking berries at about 30 minutes by tasting a couple. They should be chewy but not starchy and tough.  If they're not done, continue checking at 5 minute intervals until they're al dente.  The required cooking time will depend on the variety and age of your berries.
While the berries are cooking, make the dressing by whisking together the olive oil, lemon juice, preserved lemon, garlic, and smoked paprika in a measuring cup.
When the berries are tender, quickly drain in a colander with small holes and transfer to a large bowl.   Drizzle with about 2/3 of the dressing and toss.  Let stand for at least half an hour.  Before serving, toss well with the mint and parsley.  Add almonds, drained raisins, olives and green onions and toss again.
Serve salad on a bed of mixed arugula and baby spinach.  Drizzle with remaining dressing.
Aleta Watson