One of the great joys of spring is the debut of fresh fava beans at the farmers market.  The shiny green pods look for all the world like pole beans on steroids and the skin is quite tough. But tucked inside are some of the most delectable legumes you'll ever eat.
If they weren't so wonderful, I'd certainly begrudge the time it takes to get to the edible portion of the beans.  I like to think of it as a rite of spring, however. Stripping open the pods, removing the beans, then blanching them and peeling each one by hand is a meditative process that slows time and allows me to savor the pleasures of the season.
Early in the harvest, when the beans nestled inside slender pods are smaller than a fingernail, favas are great eaten unpeeled and raw, perhaps with a little olive oil and salty cheese.  They have a buttery texture and fresh, herbal flavor with a pleasant hint of bitterness on the finish.
Now that they're showing up in fat pods as much as 8-10 inches long, I prefer them in salads that show off all their best qualities.  This spring, I've been tossing the shucked and peeled favas with a lemony vinaigrette, fresh mint and a sprinkling of gutsy feta cheese.  Preserved lemon lends an exotic Middle Eastern note, bright but slightly mysterious.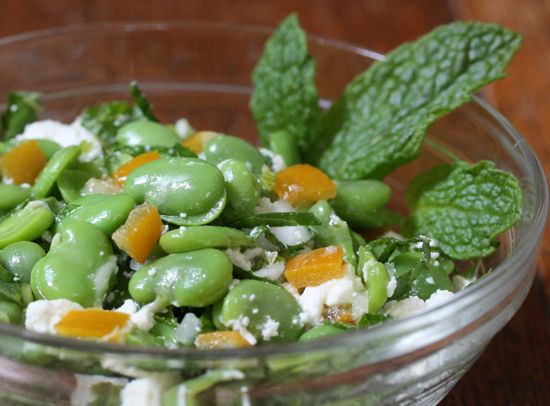 If you've never preserved your own lemons, you might want to check out this 2009 post, which includes a recipe.  It's not much work but it does take advanced planning even if you take the quick fix route.
Alternatively, just substitute the minced zest of one lemon.  It will change the character of the salad a little but you can't go wrong with lemon.
For instructions on preparing favas, take a look at this post from last year, which includes the recipe for another salad with similar flavors.  As you can see, I'm a real fava fan.
FAVA BEAN SALAD WITH MINT, LEMON AND FETA
Serves 4
About 3 pounds of fava beans in their pod
¼ cup extra virgin olive oil
1 tablespoon lemon juice
Salt and pepper to taste
½ small spring onion, minced (about &14 cup)
½ cup mint leaves, sliced into fine ribbons
1 preserved lemon, peel only, chopped
or zest of 1 lemon, removed in strips and minced
½ cup feta cheese
Strip open the pods and shuck the favas, removing them from their white, cottony nests.  Drop the beans into a pot of salted, boiling water for a minute or so until the pale outer skin wrinkles and splits.  Drain the beans and immediately plunge into a bowl of ice water to stop the cooking.  Remove the peel by slitting one end with a small knife or thumbnail and pinching until the glossy green seed pops out.  Set the beans aside in a medium serving bowl.
Make a vinaigrette by shaking lemon juice and olive oil together in a small jar with a tightly fitting lid.  Season with salt and pepper to taste and drizzle enough of the vinaigrette over the beans to coat them generously.  You may have enough vinaigrette left over for another salad.
Add minced onion, mint and preserved lemon or lemon peel, and feta to beans in the serving bowl and toss again.  Add more dressing as needed and adjust seasoning to your taste.  Serve.
Aleta Watson