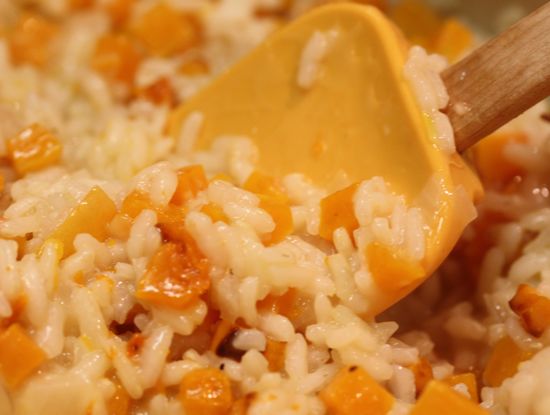 The pickings were pretty slim at the farmers market yesterday – a few greens, some root vegetables, Brussels sprouts, several varieties of apples and butternut squash.
It's a good thing I like the mildly sweet, fruity flavor and velvet texture of the buff-colored winter squash with the long neck and bulbous bottom.  I have a feeling butternut squash going to be a fixture on my winter menus this year.
That won't be such a hardship.  This squash is immensely versatile.  It's great roasted, pureed in soups, or even just steamed with butter. 
I particularly like it in this risotto recipe from the new cookbook, "Gourmet Today," edited by Ruth Reichl (Houghton Mifflin Harcourt, 2009).  The rich flavor of the squash brings a luxurious note to Arborio rice slowly cooked in white wine and chicken stock until creamy.  Plenty of butter, Parmigiano-Reggiano and a shower of chives make it upscale comfort food.
The bright orange flesh of a butternut squash looks very similar to pumpkin but it's sweeter and less watery.  Like a pumpkin, this squash also has a rock-hard rind, although it has far fewer seeds.  Peeling and chopping this vegetable is the hardest part of the preparation.  You'll need a really sharp peeler.  Some cooks recommend using a U-shaped vegetable peeler and I've found it does work a little better than a conventional model, but peeling is never easy.  A sharp, heavy knife also makes the cutting easier.
Once your squash is cut up, you're home free.  The cubes roast in the oven while you prepare the risotto on top of the stove.  Stir in the roasted squash in the last few minutes and you'll have an elegant risotto worthy of company.
BUTTERNUT SQUASH RISOTTO
Serves 4
1 2-pound butternut squash, peeled, seeded and cut into 1/2-inch cubes
2½ tablespoons olive oil
¾ teaspoon salt
¼ teaspoon freshly ground black pepper
4 cups canned reduced sodium chicken broth
1½ cups water
4 tablespoons (½ stick) unsalted butter, divided use
1 small onion, chopped
1 tablespoon minced garlic
1½ cups Arborio rice
½ cup dry white wine
½ cup finely grated Parmigiano-Reggiano, plus more for serving
3 tablespoons minced chives
Preheat oven to 450 degrees.  In a large bowl, toss squash cubes with olive oil, salt, and pepper.  Spread squash on a lightly oiled baking sheet in a single layer.  Roast 35-45 minutes, stirring now and then until squash is browned and tender.  Remove from oven and set aside until risotto is ready.
About 30 minutes after the squash goes into the oven, pour chicken broth and water into a medium saucepan and bring to a simmer over medium heat.  Lower heat to reduce simmer to a few bubbles.
In a wide heavy pot with a capacity of 4 quarts, melt 2 tablespoons butter over medium heat.  Add onion and cook until softened, 3 or 4 minutes, stirring occasionally.  Add garlic and cook 1 minute, stirring constantly to avoid burning.  Add rice and cook, stirring gently, for about a minute.  Then add wine and simmer until absorbed, 1 to 2 minutes.
Now add 1 cup warm broth to the rice mixture and stir until liquid is absorbed.  Continue adding broth ½ cup at a time, stirring between additions until it's absorbed.  You may not use all the broth.  When the risotto is ready it will look creamy and a little loose but the grains will remain slightly al dente at the center.  This should take about 18-20 minutes.
To finish, stir in the roasted squash, remaining 2 tablespoons butter, Parmigiano, and chives.  If the risotto is too thick at this point, thin with some of the remaining broth.
Serve immediately, passing around the additional cheese for diners to add as they wish.
–"Gourmet Today," edited by Ruth Reichl