Sometimes it just takes one extraordinary dish to revise my opinion of an ingredient. Until I tasted the amazing Brussels sprouts salad at the original Pizza Antica while doing a restaurant review several years ago, I had written off the little cabbage-like sprouts.
All my experience had taught me that they were bitter, smelly and best avoided. Usually boiled before serving, they were the side dish to be skipped in cafeterias and restaurants or pushed aside like so many soggy green ping-pong balls.
But the salad was owner and chef Gordon Drysdale's signature dish. Everyone raved about it and you really can't bypass a signature dish when you're a reviewer. So I sighed and placed my order, thinking once again that this job wasn't as easy as everyone else assumed.
The salad that arrived at the table, though, was a revelation. The leaves had been removed one at a time from the sprouts, wilted and tossed with bacon, onions, croutons, boiled eggs and a red wine vinaigrette. The flavors were bright, not stodgy – the faintly bitter sprouts of the leaves playing off the smoky bacon, sweet onions and sharp dressing. The leaves were still a bit crunchy at the base. I was converted on the spot.
Since then, I've discovered that sprouts can be impressive in the right hands. They're terrific roasted, which caramelizes the surface and brings out a pleasant nuttiness. Steaming or braising in broth also produces good results. Just don't boil them or they'll turn mushy before they're cooked through. Overcooked sprouts release a sulphurous smell that have given the vegetable its bad reputation.
This is the best time of year for Brussels sprouts and most of the American crop is grown nearby along California's fog-cooled central coast. The season runs through January. I buy organic sprouts at a Santa Cruz farmers market from Rodoni Farms, which has been growing the little cruciferae since 1935.
Drysdale's salad, now served at four Pizza Antica locations in the San Francisco Bay Area, remains my favorite sprouts dish. I asked him to share the recipe and he graciously agreed. It's a hearty, substantial dish that makes a good fall entree. But it also would be great as a side dish at Thanksgiving.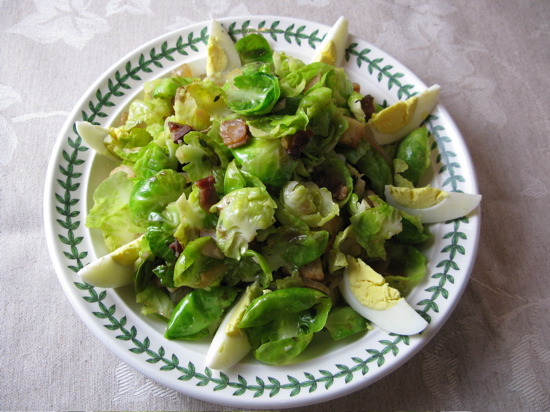 The preparation is a bit involved, and removing the leaves from the sprouts is tedious, but you can do most of the work in advance and finish the salad at the last minute. I find the job is easier if you cut off the stem flush with the sprout and then carve an inverted cone in the base with a small, sharp paring knife before snapping the leaves off the stalk. Don't bother with trying to get every last leaf. The tightly furled hearts can be thinly sliced for the salad or reserved for another use.
You'll need a large pan to sauté the salad. I like to use a 14-inch wok with sides high enough to contain the ingredients as they're tossed.
Be prepared to be astonished. Who knew Brussels sprouts could be this good?
Brussels Sprouts Salad
S
erves 4 as main course, 8 as side dish
For salad:
½ pound slab bacon
2 medium onions, peeled and sliced about ¼-inch thick
5 tablespoons canola oil, divided use
6 slices country style bread, crusts removed and cut in ½-inch squares
2 tablespoons extra virgin olive oil
6 large eggs
2 pounds Brussels sprouts (about 40 sprouts)
For vinaigrette:
3 tablespoons red wine vinegar
½ cup canola oil
1 large clove garlic, minced
1 large shallot, minced
2 teaspoons fresh thyme leaves
Salt and pepper to taste
In advance: Cut bacon into ½-inch squares and cook in a large skillet over low heat until almost crisp. Drain off most of the fat and set aside. Heat 2 tablespoons of canola oil in the same pan just until smoking and cook sliced onions over medium high heat until golden brown. Drain and set aside.
Toss bread cubes with extra virgin olive oil and toast in a 300 degree oven until golden brown and crisp, about 20-25 minutes. Remove from oven, allow to cool and set aside. Place eggs in a pan, cover with cold water and bring to a boil. Turn off heat, cover pan and let eggs sit in the hot water for 8-9 minutes. (Yolks will be a little undercooked. If you prefer more thoroughly cooked yolks, let eggs sit for 12 minutes.) Drain eggs, run cold water over them to stop the cooking, peel and cut into 1/8ths. Reserve, covered in the refrigerator.
Prepare vinaigrette by soaking garlic, shallots and thyme in vinegar in a small bowl for about 45 minutes. Then slowly whisk in ½ cup canola oil, season to taste with salt and pepper, cover and set aside.
Clean Brussels sprouts, removing and discarding the first few dark leaves and cutting off the stem. Pull off the leaves one at a time and place in a large bowl. When you get to the light green center, where tightly cupped leaves are almost impossible to pull off, set it aside for other uses.
Just before serving: Heat 3 tablespoons canola oil in a large saut̩ pan or wok until almost smoking. Add leaves, toss until wilted Рabout 3 minutes Рand season with salt and pepper. Add reserved onions and bacon and toss until heated through. Add vinaigrette, toss to mix well, and taste for seasoning. Add croutons and chopped eggs, toss again to incorporate and serve.
Gordon Drysdale