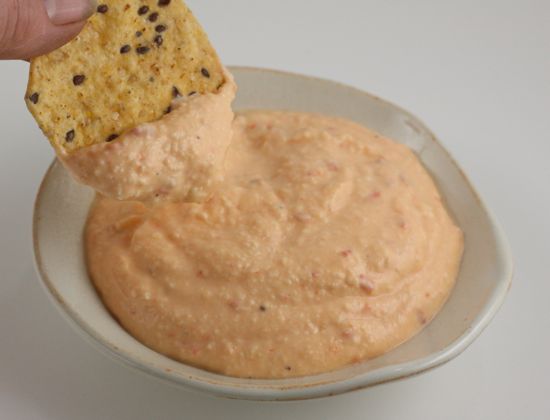 Football season is upon us. Some of us–that would be me–don't really care about the sport.  But the snacks?  I'm a fan!
Give me some good nibbles, and I might even pay attention for a quarter or so while the football fiends yell at the big-screen TV.
This year, I'm offering pimento cheese dip.  It's a variation on the spread that I've written about before, but tamed down to appeal to people who didn't grow up on the bold flavors of the original Southern staple.
My husband, who politely sidesteps the spread, endorses this dip.  So, apparently, do my neighbors, who cleaned the bowl when I took it to a block party a few weeks ago.
The flavors of cheddar cheese and roasted pimentos are still rich and satisfying, but they're a little less in your face.  Whipped cream cheese and sour cream smooth the edges and produce a very scoopable dip.
Southerners may object but everyone else will be happy.
PIMENTO CHEESE DIP
Makes 2 1/2 cups
1/3 cup grated yellow onion, preferably sweet Vidalia or Maui
1/2 pound extra sharp cheddar cheese, grated
1/4 cup whipped cream cheese
3 tablespoons mayonnaise
1 cup sour cream
2-ounce jar pimentos, drained, and coarsely chopped
1/2-1 teaspoon hot sauce, or more to taste
Salt and freshly ground black pepper to taste
In the work bowl of a food processor, combine onion, cheddar cheese, cream cheese, mayonnaise and sour cream. Process until well combined and fairly smooth.  (I usually grate the onion and cheese in the processor, too.)  Add pimentos, hot sauce, salt and pepper and pulse just until the pimento is mixed throughout the spread.  Flecks of red should remain visible.
Transfer spread to a bowl, cover tightly, and refrigerate until about an hour before serving.  Pimento cheese keeps in the refrigerator for about a week.
Aleta Watson