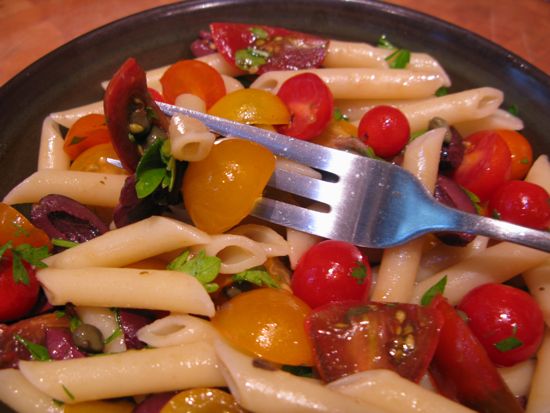 As summer begins to wind down and the days get shorter, even dedicated cooks would rather spend less time in the kitchen and more time playing outside while we still can.
This colorful pasta, bursting with the bold flavors of ripe tomatoes, olives, capers, and – yes – anchovies, has become one of my summer favorites.  It's super simple, versatile, and only requires enough time in front of the stove to boil a pot of pasta.
I found the recipe in the charming little cookbook, "Easy Everyday: Simple Recipes for No-Fuss Food" (Ryland, Peters & Small, 2008).  This is not a collection of dishes thrown together from processed foods.  Everything is freshly prepared from ingredients you would recognize in the raw.  But the techniques are uncomplicated  and the food is quite tasy.
This recipe is essentially a salad tossed with warm pasta.  Most of the ingredients will be found in a well-stocked pantry.
I've tweaked it to use penne pasta and colorful mixed cherry tomatoes rather than spaghetti and chopped tomatoes.  I've also prepared it while camping with a can of chopped tomatoes.
The big flavor boost comes from olives, capers and anchovies – packaged foods to be sure, but only the best.
A dish this simple is open to all sorts of variations.  If you have fresh basil handy, substitute it for the parsley.  Crumbled feta cheese would work just as well as the Parmesan.  Serve it warm as an entree or at room temperature as a side dish at a barbecue.
It's certainly quick.  Stir all the sauce ingredients together while the pasta is cooking, then toss everything with parsley and Parmesan and serve.
What more can you ask in the last days of August?
PASTA PUTTANESCA
Serves 4
1 pound penne pasta
2 baskets cherry tomatoes, halved
1 cup pitted Kalamata olives, halved
3 ounce can anchovies, chopped roughly
3 tablespoons capers, rinsed
Handful of Italian parsley leaves, chopped
¼ cup extra virgin olive oil
Freshly ground black pepper
¾ cup freshly grated Parmesan
Bring a large pot of water to boil.  Add penne, stir well, and cook 10-12 minutes, until al dente.  While pasta is cooking, stir together the tomatoes, olives, anchovies, capers, parsley, and olive oil.
When pasta is done, drain it thoroughly, and return pasta to the pan.  Add the tomato mixture and toss well over medium heat for a few minutes to warm through.  Season with pepper.  Serve with Parmesan on the side for diners to sprinkle on to taste.
Adapted from "Easy Everyday" (Ryland Peters & Small, 2008)