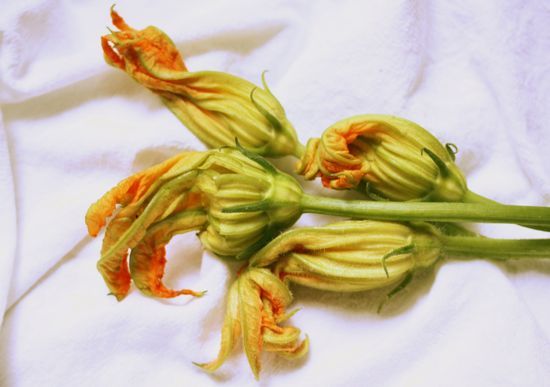 Zucchini blossoms were the jewels of the market last week, fat bouquets of them piled on a farmers table, glowing green, gold and orange in the afternoon light.
We had come to the Watsonville farmers market in search of Mexican produce and found our share of glossy poblano peppers, leafy ezpazote to cook with beans and crunchy purslane, or verdolaga in Spanish.  But the gorgeous zucchini blossoms, celebrated all over the Mediterranean as well as in Latin America, were irresistible.  They're only available in the market for a few weeks every year – about the time everyone has hit their limit of the prolific squash.  We went home with two bunches.
Not until we were driving home did I begin to think about what I would do with my treasures.  Zucchini blossom fritatta was a no-brainer.  It's easy and a wonderful showcase for the delicate herbal flavor of the tender blossoms.
What I really wanted was stuffed and fried zucchini blossoms.  I don't deep  fry, though.  It's much too messy, slightly scary,  and really isn't good for me anyway.
What I came up with was zucchini blossoms relleno, baked in a casserole with a simple tomato sauce on the side.  It's a takeoff on a dish I used to make out of an old Sunset Mexican cookbook, stuffed with an updated filling I created for chiles relleno.
The combination of fresh corn, onion, diced chile, and salty queso fresco with the blossoms and an eggy batter is unbeatable.  The flavors are fresh and the corn adds nice texture.
True, it's not quite as crisp as if the blossoms had been fried but it's a lot easier to pull off. And much better for your health.
Stuffing the blossoms is a tad tricky. You need to hold the flowers open with one hand while you spoon the stuffing in with the other and they keep closing up.  After that, though, it's smooth sailing.
Line a buttered baking dish with the stuffed blossoms, sprinkle with a bit more cheese, top with a thin egg batter and pop it into the oven.  While it's baking, stir together a basic tomato sauce–using canned, chopped tomatoes to cut down on the prep work – and let it simmer.
Pull the casserole out of the oven and you have an ideal dish to celebrate the last days of summer.
ZUCCHINI BLOSSOM RELLENOS
Serves 4 as an appetizer, 2 as a light supper
1 small poblano pepper
3 tablespoons extra virgin olive oil, divided use
about 1 cup minced white onion, divided use
3 cloves garlic, minced, divided use
1 medium ear of fresh corn
Salt and pepper to taste
½ cup crumbled queso fresco or mild feta cheese
8 large zucchini blossoms
26-oz box or can of chopped tomatoes
½ teaspoon dried oregano
Butter for greasing casserole
4 eggs
2 tablespoons flour
¼ teaspoon baking powder
Char the pepper over an open flame or under a broiler until the skin is evenly black all over, but be careful not to burn the flesh.  Place the pepper in a sealed paper bag or in a covered bowl for 10-15 minutes to steam while it cools enough to handle.  Meanwhile, cut the corn off the cob with a knife or stripper (I use this cute one from Kuhn Rikon).  Peel and remove seeds from pepper, then mince.
Warm 2 tablespoons of olive oil over medium  heat in a small nonstick skillet.  Add ½ cup of the onion and about a third of the minced garlic and saute gently until onion is soft and translucent.  Add corn kernel and minced pepper and cook a few minute more.  Cover, lower heat, and continue cooking until corn is tender.  You may need to add a couple of tablespoons of water to keep the mixture moist.  Remove lid and take pan off the heat while you rinse and thoroughly dry the blossoms.  When mixture has cooled, stir in about ¾ of the cheese, reserving a couple tablespoons.
Preheat oven to 375 degrees.  Carefully stuff each blossom about half full, being careful not to tear the petals, and gently twist tops to close.  Place stuffed blossoms close together in a greased 7-inch by 10-inch or similar size baking dish. Sprinkle with remaining cheese.
In a small bowl, whisk together eggs, flour and baking powder.  The batter should be as thin as pancake batter since you want to coat the blossoms rather than bury them.  If necessary, add a couple of tablespoons of cold water.
Bake for 30 minutes, until puffed and nicely browned.
While the blossoms are baking, saute the remaining onions and garlic in 1 tablespoon of olive oil over medium heat in a 2 quart saucepan for 3-4 minutes. Add tomatoes, oregano and salt to taste and simmer, uncovered, for 20-30 minutes. Add water if the sauce becomes too thick.
Serve baked rellenos with tomato sauce on the side.
Aleta Watson