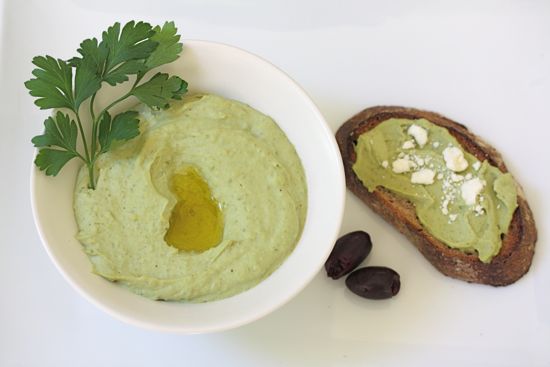 Yes, hummus traditionally is made with chickpeas.  Its name, in fact, is derived from the Arabic word for the little round legumes you might know as garbanzo beans.
So this dish doesn't really qualify as hummus.  Yet fresh fava beans, with their faintly sweet, herbal flavor and beautiful pale green color, make such a terrific variation on the now familiar dip that it would be a  shame to get hung up on authenticity.
In the bowl, the savory spread may look a bit like guacamole, but in the mouth its antecedents are clear.  Garlic, lemon juice, olive oil and the creamy sesame paste called tahini bring classic flavors to this new take on the Middle Eastern original.
I had never thought of preparing favas this way until I was offered a crostini spread with a fava hummus at the Scotts Valley farmers market a couple of weekends ago.  It was so good, I knew I had to create my own.
It turns out that there is plenty of precedent for this dish.  Favas are an ancient crop dating back at least to Biblical times and an important staple in North Africa, particularly Egypt. Traditional hummus is often served with a topping of cooked favas.
In Morocco, favas are the foundation of byesar, a popular dish of pureed beans that is a culinary cousin of hummus.  Most often,  it's made with dried favas that are cooked and pureed before being blended with garlic, olive oil and cumin.
Fresh favas bring a bright, almost grassy, note to the spread.  They take a little effort to prepare since you need to remove the beans from their leathery pods before cooking and then squeeze them out of their skins.  But it's mindless work that can be done while you're talking on the phone, watching television or visiting with friends.
This is a good recipe for the larger late season favas now in the market since they tend to be starchy and benefit from longer cooking.  It's fairly flexible and you can adjust the amounts of tahini, garlic, lemon juice and cumin to suit your personal taste.
Usually hummus is served with triangles of pita bread and perhaps a sprinkle of the sumac-based spice blend known as zatar.  I prefer it, though, spread on a slice of toasted whole grain peasant bread, topped with salty feta cheese and a dash of mild and fruity Aleppo pepper from turkey.  With a glass of crisp white wine, it's a great starter for a casual summer dinner party.
FAVA BEAN HUMMUS
Makes about 1¾ cups
1½ pounds fresh fava beans (about 2 cups when shelled)
3 tablespoons tahini
2 medium cloves garlic, coarsely chopped
Juice of 1 lemon or more, to taste
½ teaspoon cumin
4 tablespoons olive oil
Salt
Paprika, Aleppo pepper or zatar for sprinkling (optional)
Remove fava beans from their pods and place in a medium saucepan.  Discard pods. Cover favas with water by about about 2 inches, add a pinch of salt, and bring to a boil.  Reduce heat to a simmer and cook for 20-25 minutes, until the favas are soft when pressed between your fingers.  Drain, reserving about half a cup of the cooking water, rinse in cold water and allow to cool until they're comfortable to handle.  Then slit one end of the dull membrane covering each bean with a fingernail or small paring knife and pinch to squeeze out the shiny green beans within. Discard the membranes.
In a food processor, combine the cooked fava beans, tahini, garlic, lemon, cumin, 3 tablespoons of olive oil and salt to taste.  Whirl until mixture is smooth, adding cooking water if needed to make a creamy paste suitable for dipping or spreading on bread.  Taste and adjust seasoning, adding more lemon juice if necessary.
To serve, mound spread in a small bowl, making an indentation on top to hold the remaining tablespoon of olive oil.  Sprinkle with paprika, Aleppo pepper or zatar if desired.
Aleta Watson