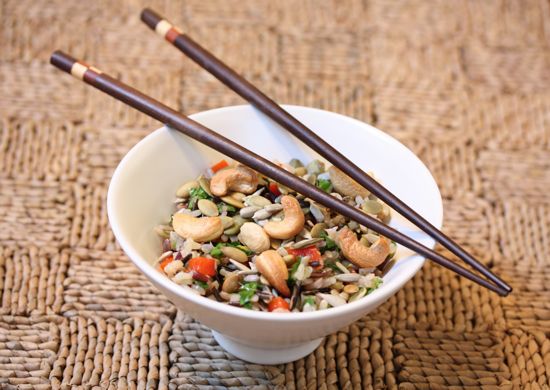 Suddenly, the days are downright hot at our house and all we want to do for dinner is grill.
A couple of inventively seasoned handmade sausages from our favorite farmers market vendor, Chris LeVeque of El Salchiero, and some seasonal vegetables hot off the Weber make a terrific meal when the temperature hits 90 degrees on the deck.  But I always like to add some complex carbs to the mix, too.
This salad of whole grain rice and crunchy nuts is just right for those evenings.  It offers a fascinating mix of textures and flavors set off by a vibrant orange dressing.  Although it's ideal for a warm evening at home, it would be just as welcome at a summer potluck.
At the heart of the salad is a mixture of five varieties of brown and wild rice from Lundberg Farms, sold at most Northern California supermarkets as Wild Blend.   This rice tastes so good, it doesn't really need any accompaniment.  What's more, it's grown sustainably in California.  If you can't find it, any mixture of brown rice should work, though.
Inspiration for this recipe came from the wild rice with almonds salad I enjoyed at Earthbound Farm last month when I attended the Monterey Bay Aquarium's Cooking for Solutions institute on sustainable foods.   I intended to recreate that salad when I came home, but then I recalled another rice salad I had written about some years earlier as part of a story for the Mercury News about the Carmel Valley farm and produce stand.
That recipe was a featured dish at the farm stand's Organic Kitchen at the time.  It starred Wehani rice, an aromatic relative of basmati, also developed and grown by Lundberg Farms.  The leap wasn't far to the wild and brown rice blend I like so much.  I've bumped up the seasonings to make the dressing a bit more assertive, too.
I usually make rice in an electric rice cooker, but brown rice can end up a little sticky and I wanted the grains to remain separate and fluffy for this recipe.  So I adopted a technique of boiling rice like pasta in plenty of water from Lynne Rossetto Kasper, host of Public Radio's "The Splendid Table."  It's almost foolproof.
Once the rice is cooked, the salad only takes minutes to toss together with nuts, red bell pepper, parsley, and the tangy citrus vinaigrette. It tastes so good, you may not even notice that it's good for you, too.
(If you want to try some of Chris' great sausages, seasoned with anything from fava bean pesto to Buddha's hand citron, he sells at the Scotts Valley farmers market on Saturdays and the Live Oak market on Sundays.  Sometime this summer, he plans to open a shop in the heart of the emerging gourmet ghetto on Ingalls Street in Santa Cruz.)

WILD AND BROWN RICE SALAD WITH CITRUS DRESSING
Serves 4
1 cup raw Wild Blend rice, or any mixture of brown rice
1/3  cup hulled raw pumpkin seeds
1/3  cup raw cashews
1/3 cup hulled raw sunflower seeds
1/3 cup diced red bell pepper
2 tablespoons chopped parsley
1 medium clove fresh garlic, minced
1 teaspoon grated ginger
1 teaspoon orange zest
1 teaspoon sugar
1 1/2 tablespoons rice vinegar
3 tablespoons fresh orange juice
3 tablespoons extra virgin olive oil
Salt and pepper
Bring about 3 quarts of salted water to a boil in a large pot.  Stir in rice and boil until grains are tender, about 40 minutes.  You may have to add more boiling water about half way through the cooking.  Drain in a large sieve, transfer to a medium bowl, and set aside to cool slightly.
While the rice is cooking, toast pumpkin seeds, cashews and sunflower seeds lightly in a small skillet over medium heat.  Watch them carefully to make sure they don't begin to burn.  Remove nuts from pan and set aside to cool.
In a small bowl, mix garlic, ginger, orange zest, sugar, rice vinegar and orange juice for vinaigrette. Slowly whisk in oil and season to taste with salt and pepper.
Add pumpkin seeds, cashews, sunflower seeds, bell pepper and parsley to bowl with rice.  Dress with vinaigrette and serve.
Adapted from Earthbound Farm's Organic Kitchen recipe