I grew up eating biscuits.
After my mother went back to work, they started with a box of Bisquick more often than not.  But she had the proverbial light hand and her biscuits always came out of the oven fluffy and tender with a golden crust that crunched ever so slightly at first bite.  We frequently ate biscuits as shortcake when strawberries were in season.
Sadly, I didn't inherit my mother's delicate touch and have always used a food processor to make biscuits – until now. "Southern Biscuits," by Nathalie Dupree and Cynthia Graubart (Gibbs Smith, 2011), gives such clear and detailed instructions on the gentle art that my handmade biscuits almost meet my mother's standards today.  And as much as it pains me to admit, they're far lighter than anything I've ever made in my trusty Cuisinart.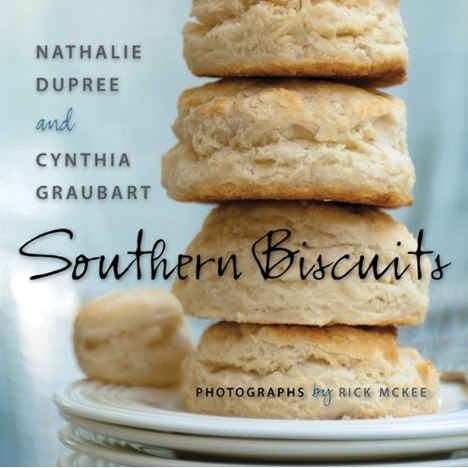 These brown sugar shortcakes – really just barely sweetened biscuits – are at once buttery and rich, airy and light.  They've become my family's preferred base for luscious local berries and softly whipped cream.  As a bonus they're easier to make than most biscuits and don't require kneading or cutting into rounds before baking.
Dupree long has been one of the big names in Southern cooking.  She's written 11 cookbooks, including two James Beard Award-winners, and hosted more than 300 cooking shows on television.  Graubart is an author and former television producer who became friends with Dupree when she worked on one of her television series.
Together, they have created a collection of every type of biscuit imaginable, from the simplest biscuits made with sour cream in the place of butter and milk to flaky pecan party biscuits.  They even give recipes for dishes to make with leftover biscuits, if you have any.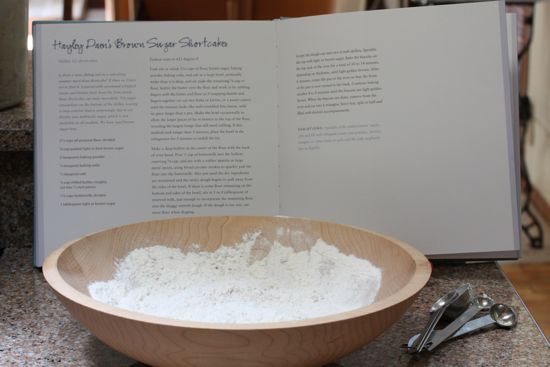 What sets this cookbook apart, however, is the encyclopedic and meticulously illustrated chapter on biscuit basics, starting with the issue of flour.  The flour preferred by Southerners for the lightest biscuits is milled from a soft winter wheat that is lower in protein and produces less gluten than the all-purpose flour more commonly found in the West.
If, like me, you can't find Southern brands such as White Lily and Martha White at your market, Dupree and Graubart suggest mixing cake and all-purpose flours.  They also explain how to make your own self-rising flour mix, an ingredient often called for in Southern recipes but sometimes difficult to find in other regions.
The real treasure, though, is the description of how to mix fat into the flour properly, which is a key to great biscuits.  The authors recommend cutting cold butter into two different size pieces.  The tiny cubes are rubbed into the flour between thumb and finger with a quick motion, much like snapping your fingers, until the mixture resembles crumbled feta cheese.  Then the bigger cubes are mixed in with the same technique until no piece is larger than a pea.  The fat should be well-distributed to create flaky layers.
This instruction was a revelation and has made all the difference in my biscuits.
The shortcake, which Dupree attributes to intern Hayley Daen, is mixed together with 1/2 -inch cubes and buttermilk. It also uses ordinary all-purpose flour.  The authors call for the batter to be scraped into two 6-inch iron skillets and baked at a high temperature and the shortcakes do turn out beautifully that way. But I had good results, too, using small cake pans.
Once you've eaten this shortcake topped with ripe berries and a cloud of whipped cream, you're bound to become a fan of Southern biscuits, too.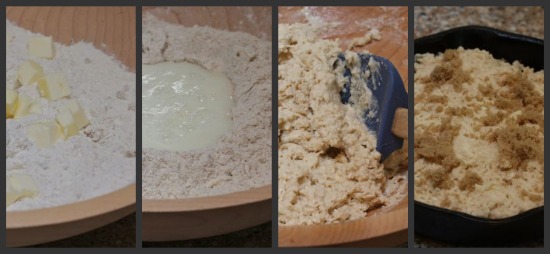 HAYLEY DAEN'S BROWN SUGAR SHORTCAKES
Makes 8 shortcakes
2 1/2 cups all-purpose flour, divided use
1/3 cup light or dark brown sugar
2 teaspoons baking powder
1/4 teaspoon baking soda
1/2 teaspoon salt
1/3 cup chilled butter, roughly cut into 1/2-inch pieces
1 1/4 cups buttermilk, divided use
1 tablespoon light or dark brown sugar
Preheat oven to 425 degrees.  Whisk together 2 1/4 cups flour, 1/3 cup brown sugar, baking powder, baking soda and salt in a large bowl, preferably wider than it is deep.  Set aside the remaining flour.
Scatter butter over the flour mixture in bowl and work in by rubbing fingers with butter and flour as if snapping thumb and fingers together until the mixture looks like a well-crumbled feta cheese, with no piece larger than a pea.  Shake the bowl occasionally to allow the larger pieces of fat to bounce to the top of the flour, revealing the largest lumps that still need rubbing.  If this method took longer than 5 minutes, place the bowl in the refrigerator for 5 minutes to chill the fat again.
Make a deep hollow in the center of the flour with the back of your hand.  Pour 1 cup of the buttermilk into the hollow, reserving 1/4 cup, and stir with a rubber spatula or large metal spoon, using broad circular strokes to quickly pull the flour into the buttermilk.  Mix just until dry ingredients are moistened and the sticky dough begins to pull away from the sides of the bowl  If there is some flour remaining on the bottom and sides of the bowl, stir in 1 to 4 tablespoons of the reserved milk – just enough to incorporate the remaining flour into the shaggy, wettish dough.  If the dough is too wet, sprinkle a little of the reserved flour over it and gently fold in.
Scrape dough into two 6-inch ovenproof skillets.  Sprinkle top with 1 tablespoon brown sugar. Bake on the top rack of oven for 10 to 14 minutes, until light golden brown, rotating pans about halfway through the baking time so that front edge is turned toward the back of the oven.
When biscuits are done, remove from oven and cut into 4 quarters for each pan.  Serve warm, split in half and filled with berries or other fruit, raspberry jam or Nutella.
Adapted from "Southern Biscuits" by Nathalie Dupree and Cynthia Graubart