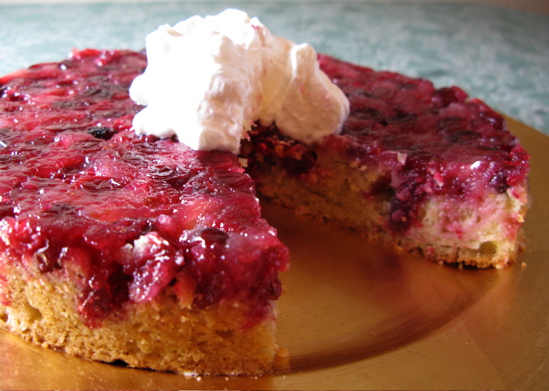 Fresh cranberries are not the sort of produce I usually celebrate.
They're not local – the entire American crop is grown in only five chilly northern states – and just a tiny fraction of the harvest is organic. They require vast quantities of water for cultivation and pose serious environmental challenges.
I love them anyway. Their bright, tart flavor and beautiful ruby red color bring a sparkle to dreary winter days that's hard to give up.
The arrival of bags and boxes of the little jewels in the supermarket heralds the beginning of the holiday season in November. Come January, they're gone . . . unless I remember to stash some in the freezer while they're still available.
At Thanksgiving, we all eat cranberries, whether fresh or canned. They're the humble supporting player to the noble roast turkey at the traditional feast. I like to grind raw berries in a food processor with a cut-up orange, a handful of walnuts and sugar to taste for a lively relish that sings with sweet, tart flavor. It's the perfect counterpoint to often dull turkey.
Yet cranberries really deserve a starring role and they get one in this upside-down cake from my friend Joyce Gemperlein. A food writer and former food editor of the San Jose Mercury News, she's a gifted and generous cook who shared the simple recipe with me this year. "I know it may sound run of the mill," Joyce wrote, "but I get constant requests for it from friends."
No wonder. This recipe doesn't just sprinkle a few cranberries in the batter. It crowns the cake with a thick layer of glistening red berries.
And the cake is just as arresting on the palate as it is on the plate. The texture is moist, the flavors vibrant. It outshines most of the dense, overly sweet pastries of the season and even gives chocolate a run for the money – which is saying something for a chocoholic like me.
This cake is so good that my family scarfed up my first effort despite the fact it was soggy in the middle because someone had turned the oven off when I wasn't looking. (Such are the hazards of too many cooks in the kitchen during the holidays.)
My son liked it so much that he asked for it a few days later for his birthday, when we dressed it up with dollops of softly whipped cream. The next time I made it, I added a couple of drops of orange blossom water to the whipped cream to complement the orange zest in the batter.
Best of all, the cake is really quick and easy to make. I stirred together the first couple of cakes by hand since I was working in unfamiliar kitchens. Creaming the ingredients is more efficient with an electric mixer, though.
Just because I can't resist fiddling, I've cut the butter a little bit and doubled the orange zest to give it a tad more zing. And just for the record, I do use organic berries although they cost significantly more. It makes me feel a little better about this holiday indulgence.
CRANBERRY UPSIDE-DOWN CAKE
Serves 8
8 tablespoons unsalted butter (1 stick), softened, divided use
1 cup sugar, divided use
12 ounces to 1 pound fresh, raw cranberries, rinsed and dried
1 large egg
1 teaspoon vanilla
2 teaspoons grated orange zest
1¼ cups all-purpose flour
1½ teaspoons baking powder
¼ teaspoon salt
½ cup milk
1 cup cream
2 tablespoons sugar
2-3 drops orange flower water (optional)
Preheat oven to 350 degrees.
Butter the bottom and sides of a 9-inch round cake pan with 2 tablespoons of the butter. Sprinkle ½ cup sugar over the bottom and arrange the cranberries in an even layer on top. Set aside.
In a mixing bowl, beat the remaining 6 tablespoons of butter with the remaining ½ cup sugar until creamy. This can be done by hand if you have a strong wrist, but an electric mixer makes it easier. Add egg, vanilla and orange zest and beat until well mixed.
In a small bowl, combine the flour, baking powder and salt. Whisk briefly to mix.
With a wooden spoon, or a stand mixer on the lowest speed, alternate stirring the flour and milk into the batter just until the mixture is well combined. Spoon clumps of batter atop the berries and smooth the top.
Bake in the middle of oven for about 50 minutes, until cake is golden brown and pulling away from the sides of the pan. A small, sharp knife, inserted in the middle, should come out with only few crumbs clinging to it.
Transfer the cake to a rack and let it cool in the pan for 10 minutes. Meanwhile, beat cream with sugar and orange flower water until soft peaks form. When the cake is cool enough to handle, run a thin knife around the inside of the pan. Place a serving plate on top and flip it over.
Serve warm or at room temperature with a generous dollop of whipped cream.
Adapted from a recipe by Joyce Gemperlein