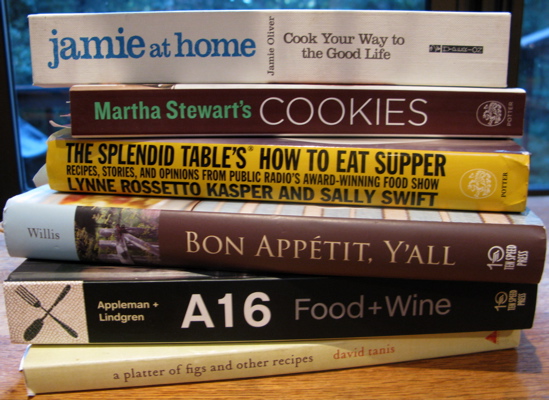 It's hard to imagine a better present for anyone who cooks than a new cookbook. A good cookbook is a friend in the kitchen, introducing new ingredients, explaining unfamiliar techniques, and even inspiring altogether new dishes. It belongs on the counter with food stains on the pages and notes penciled in the margins.
With that in mind, I offer here half a dozen recently published cookbooks that have won my affection this year. Any one of them would make a great gift for your favorite cook (or a place on your own wish list).
You won't find any glossy tomes filled with impossibly complicated recipes from celebrity chefs on this list. The cookbooks that earn a place on my crowded bookshelves are designed for home cooks. They're loaded with food I want to make and eat. While they may include ambitious recipes, they don't require really rare ingredients or uncommon tools.

"Martha Stewart's Cookies," from the editors of Martha Stewart Living (Potter, $24.95), is a new bible for cookie fanatics. The 175 recipes include innovative twists on all the old favorites as well as some incredible new offerings – including chewy chocolate gingerbread, which brings together molasses, ginger and pockets of oozing semi-sweet chocolate.
One of the best features is the table of contents, which groups cookies by their characteristics and displays a photograph of each. Even if you don't know the name of the cookie recipe you want, you can find it quickly by scanning the photos.
I haven't baked anything I didn't like out of this cookbook and I'm still deciding which cookies to make for Christmas. The almond paste cookies studded with pine nuts sound irresistible.
Of all the Italian cookbooks I've checked out this year, "A16 Food+Wine," by Nate Appleman and Shelley Lindgren with Kate Leahy (Ten Speed Press, $35), is the most appealing. It's a guidebook to Southern Italian cooking from the chef of one of San Francisco's most popular restaurants.
The recipes take a different tack than the Tuscan fare usually found in Italian cookbooks published for the American market. The ingredients are more humble but the flavors are deep and satisfying. The instructions sometimes appear daunting – the pizza dough takes three days to develop its flavor – but most are not that difficult and all are written with the home cook in mind.
The hardest part of making the fresh pancetta, cured in salt for three days before roasting, was finding a local butcher who sells pork belly. The homemade version is far more versatile than pre-packaged, paper thin slices, which are all my local grocer carries, and the flavor is terrific. It makes all the difference in a simple pasta carbonara.
Lynn Rossetto Kasper made her name in culinary circles as an expert on the cuisine of the Emilia-Romagna region of Northern Italy but most people know her now as the host of Public Radio's Spendid Table, one of my favorite shows. She and producer Sally Swift bring all the charm, humor and common sense of that program to "The Splendid Table's How to Eat Supper" (Potter, $35).
The recipes are designed for everyday and they're keepers – quick, tasty and often sophisticated. I posted the tomato tart recipe made with puff pastry in September. What sets this cookbook apart, though are all the little hints, digressions and amusing ephemera sprinkled among the recipes.
This is a great choice for someone who wants to break the take-out habit but needs a little hand-holding in the kitchen. Kasper and Swift's enthusiasm for food and cooking are contagious.
When I first flipped through a review copy of "A Platter of Figs," by Chez Panisse chef David Tanis (Artisan, $35), I wasn't impressed. It's a collection of three-course dinner party menus featuring recipes for simple dishes such as grilled chicken breasts, roasted apples and fish tacos.
There just didn't seem to be much there. That is, until I made the apple tart. Who knew that something so basic could be so amazing? Tanis reserves the apple cores to cook with sugar and water for a syrup that captures the essence of apples. The sauce, spooned over the tart just before serving, is the only seasoning and it's inspired. In his white bean soup, the addition of ground fennel seeds and a few drops of rosemary oil transforms the humble dish into something extraordinary.
Any cook could learn from this gifted chef's "less is more" philosophy. It's the same approach to cooking that made Chez Panisse a culinary icon: Start with excellent ingredients and let them shine.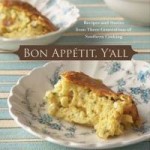 Perhaps none of these selections is as personal as "Bon Appetit Y'all," by Virginia Willis (Ten Speed Press, $32.50). I grew up eating Southern-style food at home and I'm grateful that serious cooks are finally giving that region's cuisine the respect it deserves.
Willis, the daughter of accomplished Georgia cooks, was trained in classical French cooking and brings the two strands of her experience together in what she calls "refined Southern cooking." She pays loving tribute to traditional family recipes such as her grandmother's buttermilk biscuits and "funeral grits" dressed up with cheese, green onions and chile. Yet she also shares French-inspired dishes such Vidalia onion quiche and coq au vin that somehow feel right at home with the comfort fare.
I loved the black-eyed pea salad, a souffle-like spoon bread studded with corn kernels, and the Yukon gold potatoes mashed with cauliflower, garlic and buttermilk.
Let me confess right now that I've never met a Jamie Oliver cookbook I didn't like. Yes, he's a cute and cheeky TV chef but he cooks the sort of food I want to eat. His recipes are invariably fresh, uncomplicated and hugely flavorful.
"Jamie at Home" (Hyperion, $37.50), based on Oliver's latest Food Network show, takes readers into the garden, where his dishes begin. The unusual scrapbook design follows the seasons, presenting beautiful shots of the garden as well as mouth-watering photos of the finished dishes. Growing tips for everything from rhubarb to chiles are interspersed with enticing recipes for the inventive pastas, pizzas, salads, main dishes and desserts that have become Oliver's signature.
This is just the book for people who are serious about eating local food in season and the recipe for mushroom bruschetta is ideal for chilly December days. Although Oliver has written it for two servings, it makes a generous amount and would easily serve four. It would make a deeply savory starter for a holiday dinner party. Or use slices of slender baguette instead of slabs of sourdough and chop the mushrooms smaller to make nibbles to pass around with drinks.
I made my bruschetta with shiitake, chanterelle and tree oyster mushrooms I picked up at the farmers market but any interesting mix of cultivated and wild mushrooms would work just as well. Since few of us grow our own and even fewer are competent at foraging, get the best-looking funghi you can find at the market.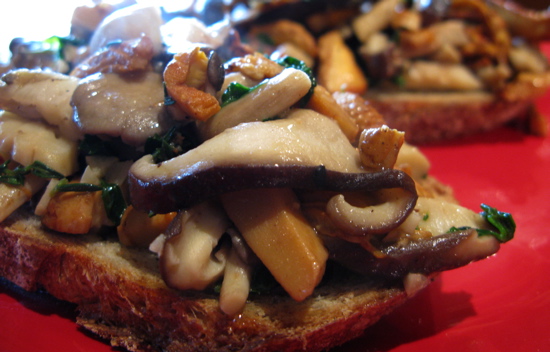 ULTIMATE MUSHROOM BRUSCHETTA
Serves 4
3-4 tablespoons extra virgin olive oil
11 ounces mixed mushrooms
2 cloves of garlic
3-4 sprigs fresh thyme, leaves only
3-4 sprigs fresh parsley, leaves only
Sea salt and freshly ground pepper
1 dried red chile, crumbled or ½ teaspoon chile flakes
1-2 tablespoons butter
1 lemon
4 thick slices sourdough bread
Wipe mushrooms clean and slice or break up large ones (small ones may be left whole) and set aside. Finely chop one garlic clove, slice the other one in half and set both aside.
Heat 3 tablespoons of olive oil over medium high heat in a heavy frying pan large enough to hold all the mushrooms in a single layer. Add mushrooms to the pan and toss in hot oil. Add chopped garlic and fresh herbs and toss again. Add a pinch of salt and pepper and chile to taste. Lower heat to medium and allow mushroom mixture to cook gently for a few minutes. Add a little more oil if the mixture becomes too dry.
After 3 or 4 minutes, when the mushrooms begin to brown, add butter and a squeeze of lemon and toss again. Add 2-3 tablespoons of water to the pan to help create a creamy sauce. Simmer for a few minutes longer, until mushrooms are tender.
Toast bread then rub each slice with the cut side of the remaining garlic clove. Place toast on plates and cover with mushrooms. Serve.
Adapted from "Jamie at Home," by Jamie Oliver